Suds & Sap Festival
Feb 29, 2020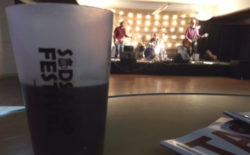 Saturday, February 29
Cornwall Civic Complex
Celebrate at the most Canadian beer festival in all of eastern Ontario!
Sample beer from a number of Ontario's best breweries, wineries and distilleries in a cozy Canadian atmosphere. Come down for the afternoon or spend the evening indulging in maple cotton candy and comfort food from gourmet food vendors along with amazing live entertainment.
Sounds amazing eh!?
Ticket Information
Pale Ale Keeners: $55 (December 14 – January 18)
Brewskie Connoisseurs: $60 (January 18 – February 22)
Last Minute Lager Lovers: $70 (February 22 – February 29)
**All include tasting cup and all alcohol samples. Excluded are the maple products and food vendors. Must be of legal drinking age to attend the Suds & Sap Festival.
Click here to purchase tickets
Accommodations
Extend your stay in Cornwall! There are a variety of amazing accommodations, from cozy bed and breakfasts to full-service hotels. For more information, please click here.
Dine with us!
From casual to fine dining, local favourites to tastes around the world, Cornwall has something for everyone. Check out one of our many great restaurants during your visit! For more information, please click here.
Explore the city!
While you are in the area why not check out one of the City's attractions. Heritage and culture, arts and outdoor adventures; there is so much fun waiting for you and your family here in Cornwall. For more information please click here.