OPG Visitor Centre opens for summer season
May 27, 2019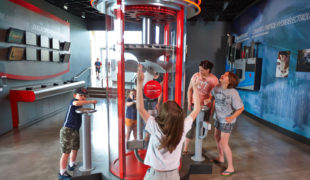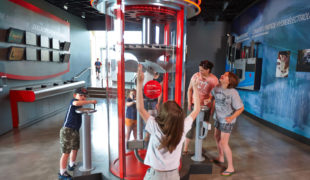 One of Cornwall's most popular attractions is opening for the summer season with a full slate of events to keep families entertained.
The St. Lawrence Power Development Visitor Centre officially opens on Tuesday, May 28th for its summer season and the venue has over a dozen free summer events planned. The centre will be open six days a week (closed Mondays) from 9:30 am to 5 pm from May 28th to August 28th.
"All of our programs are family-friendly and free," said Matt Mulvihill, Site Communications Officer with Ontario Power Generation. "Whether you're interested in science and technology, community service, environmental research or history, the Visitor Centre has something for you."
Located on the banks of the St. Lawrence River, the St. Lawrence Power Development Centre provides visitors with a chance to learn about the history of the St. Lawrence Seaway and Power Project, one of Canada's largest engineering projects. The Centre is equipped with interactive exhibits with explanations ranging from how electricity is generated to information about Mohawk and Native American culture.
The fascinating building not only has a spectacular view of the St. Lawrence and RH Saunders Generating Station, but it also offers a wide range of unique activities. Visitors have the chance to chase a virtual electric eel up a ladder, spin a turbine to create electricity, watch videos about the creation of the dam, and learn to balance power production first-hand by becoming an operator for the day.
Summer events
In addition to the exhibits, the centre offers a variety of free events throughout the summer. This year's schedule includes:
– Tackleshare – Saturday, June 15th
– Budding Scientists with the St. Lawrence River Institute – Saturday, June 22th
– OPG Environment Day – Saturday, July 6th
– OPG Family Fun Day – Saturday, July 13th
– Nocturnal Creatures Workshop with SLRI – Wednesday, July 17th (6:30 pm – 9 pm)
– OPG Science and Technology Day – Saturday, July 20th
– OPG Electricity Day – Sunday, July 28th
– Teddy Bear Picnic – Saturday, August 10th
– Wonderful World on Wildlife with SLRI – Saturday, August 17th
– Falling into Autumn with SLRI – Saturday, September 21st
– Earth Rangers – Saturday, September 28th (showtimes at 11 am, 12:30 pm and 2 pm)
For additional information on these summer events, please email powervisitorcentre@opg.com or call (613) 932-4563.
About the St. Lawrence Power Development Centre
The Visitor Centre is located on the bank of the St. Lawrence River east of the Robert H Saunders Generating Station. This 13,000 square foot gold level LEED building opened in the summer of 2010 and is the new home of OPG's many stories. It recounts the fascinating history of the St. Lawrence Seaway and Power Project and addresses its impact on specific communities such as the Mohawks of Akwesasne and the Lost Villages. There is a variety of video presentations available, and displays on hydroelectric, thermal and nuclear generation, safety around power facilities, the American eel and the St. Lawrence Seaway. As well, a community room is available for use by local organizations.
For more information, please check out their website or Facebook page.
Additional Events
Looking for other fun things to do in Cornwall? Make sure to check out our Events page for info on upcoming events in the area!
Stay with Us!
Planning to explore Cornwall? Extend your stay at one of our many great accommodations! For a listing of local accommodations, click here.
Additional Information
Planning a visit to Cornwall? Cornwall Tourism can help. Email us at info@cornwalltourism.com to request a copy of our Visitor Guide or contact us at (613) 936-0842. You can also stop by our seasonal Visitor Information Centre inside the Cornwall Community Museum in Lamoureux Park. The Museum is located at 160 Water Street West, just steps away from the children's splashpad and play structure. Free parking is available immediately north of the Museum along Water Street.
The seasonal Visitor Information Centre is open seven days a week (8:30 am to 4:30 pm) through the summer months.
Follow Cornwall Tourism on Facebook
Follow Cornwall Tourism on Twitter
Article by Laiah Pare
www.CornwallTourism.com
L'une des attractions les plus populaires de Cornwall ouvre ses portes pour la saison estivale avec un éventail complet d'événements pour divertir les familles.
Le centre d'accueil d'OPG ouvrira officiellement ses portes le mardi 28 mai pour la saison estivale et plus d'une douzaine d'activités estivales gratuites y sont prévues. Le centre d'accueil sera ouvert six jours par semaine (fermé le lundi) de 9 h 30 à 17 h du 28 mai au 28 août.
« Tous nos programmes conviennent aux familles et sont gratuits, a déclaré Matt Mulvihill, agent de communication chez Ontario Power Generation ». « Que vous vous intéressiez aux sciences et à la technologie, aux services communautaires, à la recherche environnementale ou à l'histoire, le centre d'accueil a quelque chose à offrir à tous. »
Situé sur les rives du fleuve Saint-Laurent, le centre d'accueil d'OPG offre aux visiteurs l'occasion de découvrir l'histoire du projet de la Voie maritime et de centrales hydro-électriques du Saint-Laurent, l'un des plus importants projets d'ingénierie du Canada. Le centre propose des expositions interactives avec des explications allant de la façon dont l'électricité est produite à l'information sur la culture mohawk et amérindienne.
En plus d'offrir une vue spectaculaire sur le fleuve Saint-Laurent et la centrale électrique RH Saunders, ce bâtiment fascinant offre un large éventail d'activités uniques. Les visiteurs ont la chance de faire la chasse à une anguille électrique virtuelle sur une échelle, de faire tourner une turbine pour créer de l'électricité, de regarder des vidéos sur la création du barrage et d'apprendre à équilibrer directement la production d'électricité en devenant opérateur pour la journée.
Événements estivaux
En plus des expositions, le centre offre une variété d'événements gratuits tout au long de l'été. Le programme de cette année comprend :
– Tackleshare – Samedi 15 juin
– Scientifiques en herbe au St. Lawrence River Institute – Samedi 22 juin
– Journée de l'environnement d'OPG – Samedi 6 juillet
– Journée de plaisir en famille d'OPG – Samedi 13 juillet
– Atelier Créatures nocturnes avec le SLRI – Mercredi 17 juillet (18 h 30 – 21 h)
– Journée des sciences et de la technologie d'OPG – Samedi 20 juillet
– Journée de l'électricité d'OPG -Dimanche 28 juillet
– Pique-nique des oursons – Samedi 10 août
– Le monde merveilleux de la faune avec SLRI – Samedi 17 août
– L'arrivée de l'automne avec SLRI – Samedi 21 septembre
– Earth Rangers (écho-héros) – Samedi 28 septembre (spectacles à 11 h, 12 h 30 et 14 h)
Pour de plus amples renseignements sur ces activités estivales, veuillez envoyer un courriel à powervisitorcentre@opg.com ou composer le (613) 932-4563.
À propos du Centre d'accueil d'OPG
Le Centre d'accueil est situé sur la rive du fleuve Saint-Laurent à l'est du barrage de Robert H Saunders. Ce bâtiment LEED (de niveau de certification Or) de 13 000 pieds carrés a ouvert ses portes à l'été 2010 et il est le nouveau foyer des nombreuses histoires d'OPG. Il retrace l'histoire fascinante de la Voie maritime et du projet hydroélectrique du Saint-Laurent et traite des effets sur des collectivités particulières telles que les Mohawks d'Akwesasne et les villages perdus. Le centre propose une variété de présentations vidéo et d'expositions sur les centrales hydroélectriques, thermiques et nucléaires, la sécurité autour des centrales électriques, l'anguille d'Amérique et la Voie maritime du Saint-Laurent. De plus, une salle communautaire est disponible pour les organisations locales.
Pour obtenir de plus amples renseignements, veuillez consulter le site Web ou la page Facebook du centre.
Autres événements
Vous recherchez d'autres activités amusantes à Cornwall? Assurez-vous de consulter notre page sur les événements pour connaître les événements à venir dans la région!
Prolongez votre séjour
Vous prévoyez découvrir Cornwall? Prolongez votre séjour dans l'un de nos nombreux lieux d'hébergement exceptionnels! Cliquez ici pour obtenir une liste des hébergements locaux.
Information supplémentaire
Vous prévoyez venir à Cornwall? Cornwall Tourisme peut vous aider. Envoyez-nous un courriel à info@cornwalltourism.compour demander un exemplaire de notre Guide du visiteur ou appelez-nous au 613‑936‑0842. Vous pouvez également vous arrêter au centre d'information de Tourisme Cornwall à l'intérieur du musée communautaire de Cornwall dans le parc Lamoureux. Le musée communautaire de Cornwall est situé au 160, rue Water Ouest, à quelques pas de la structure de jeux pour enfants et du Waterfront Trail. Le stationnement gratuit est disponible immédiatement au nord du musée, le long de la rue Water.
Le centre d'information est ouvert tous les jours (de 8 h 30 à 16 h 30) du mai à la fin août.
Suivez Cornwall Tourisme sur Facebook
Suivez Cornwall Tourisme sur Twitter
Article rédigé par Laiah Pare
www.CornwallTourism.com