It's time. . . to embrace winter!
Whether you're looking for outdoor adventure, indoor fun or unique seasonal experiences, we've got you covered!
The Cornwall region is a winter lover's paradise, with trails, skating rinks, tobogganing hills, ice fishing spots and so much more to keep you and your family entertained while embracing the great outdoors.
Read on and start planning your winter to-do list. Your next great winter adventure awaits in Cornwall and SDG Counties!
COVID-19 Safety
Be safe and be sure to follow these simple COVID-19 guidelines:
– Stay home if you're feeling sick
– Keep a distance of 2 metres from you and other winter warriors
– Wash or sanitize your hands often – especially if you're in contact with high-touch surfaces
– Wear a mask when inside (such as while you're using the washroom)
– Remember that outdoor gatherings must have no more than 10 people.
In light of the provincial lockdown, every effort was made to ensure the information provided here is accurate. However, given the circumstances surrounding the pandemic, residents are encouraged to check directly with businesses and attractions for the latest on operating hours and customer policies prior to visiting.
For the latest information and updates on COVID-19 and the shutdown, please visit the Eastern Ontario Health Unit website or the Government of Ontario website.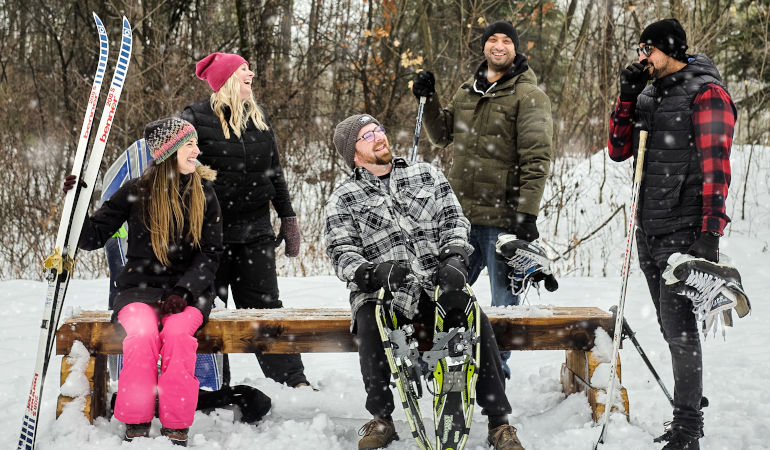 Explore Cornwall Guide – Winter Edition
Looking for inspiration to get outdoors and enjoy winter in all its beauty? Check out the new Winter Edition of the Explore Cornwall Guide!
Find out about outdoor adventure, indoor fun, shopping, dining and much more in Cornwall and area this winter.
Click here to view the digital version online

Skating
There's nothing more Canadian than lacing up a pair of skates and heading out on a fresh sheet of ice!
Outdoor rinks
Cornwall is home to a number of neighbourhood rinks that are perfect for both beginner and avid skaters of all ages.
Weather conditions and the availability of volunteers play an important role in the opening date and quality of outdoor rinks.
Rink hours during the winter season are 7 am to 10 pm. Please note a number of the rinks do not have lights.
Rink locations include:
Big Ben Ski Centre – Seventh St. West
Grant Park – Kennedy and Grant
King George Park – Seventh and York
Mattice Park – Edward St
Memorial Park – Bedford and Third
Menard Park – Concorde Ave
Optimist Park – Sunnyside and St. Michel
Reg Campbell Park – Leitch and Fraser
Check out the City of Cornwall's interactive outdoor rink map for more info!
Big Ben Skate
Skate to music and enjoy the atmosphere this winter at Big Ben Ski Centre.  Treat yourself to a post skate hot chocolate from the snack bar while you warm up by the fire!
For hours of operation  Click here to visit the Big Ben Facebook page
Countryside Adventures
Enjoy a majestic 3 km skate through the forest – and much more – at beautiful Countryside Adventures in Moose Creek! This family-friendly destination is open during the lockdown with some adjustments to regular operating practices.
For tickets and additional information, check out the Countryside Adventures website.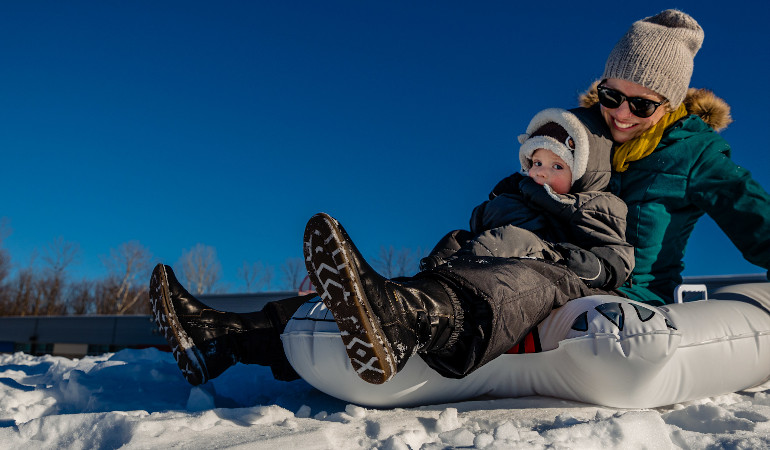 Tobogganing
Feel the rush of speed and the cool air on your face with this favourite Canadian winter pastime!
Grab the sled and hit one of of the many hills in the area for hours of old-fashioned fun.
Some great spots to start include Lamoureux Park (east of the splashpad and west of the Cornwall Community Museum), the hill at the west side of Legion Park on Race Street and Snetsinger Park. The east entrance of the Long Sault Parkway is also a favourite locale for tobogganing enthusiasts.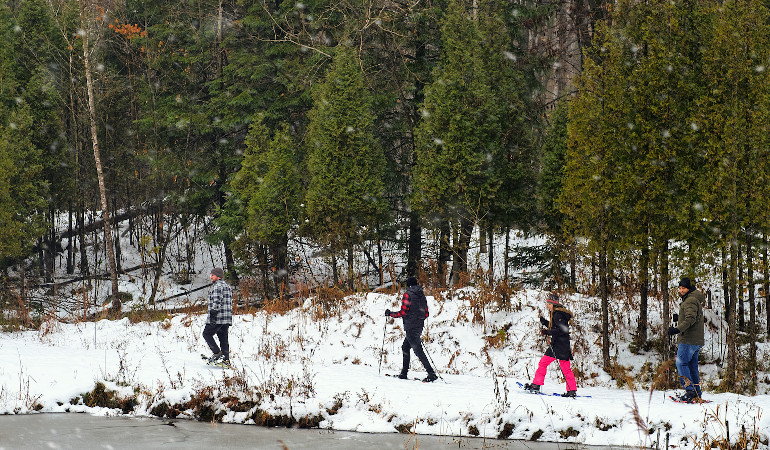 Snowshoeing
Enjoy a beautiful winter day on one of the many groomed snowshoe trails at the Summerstown Trails, Guindon Park, Gray's Creek Conservation Area or the Upper Canada Migratory Bird Sanctuary.
Interactive map of Guindon Park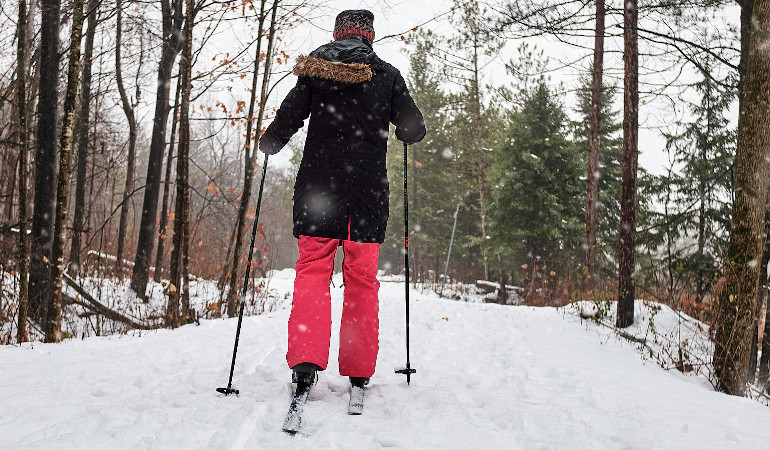 Cross Country Skiing
Slide away the winter blues and enjoy nature on one of the cross-country skiing trails at the Summerstown Trails, Guindon Park or the Upper Canada Migratory Bird Sanctuary.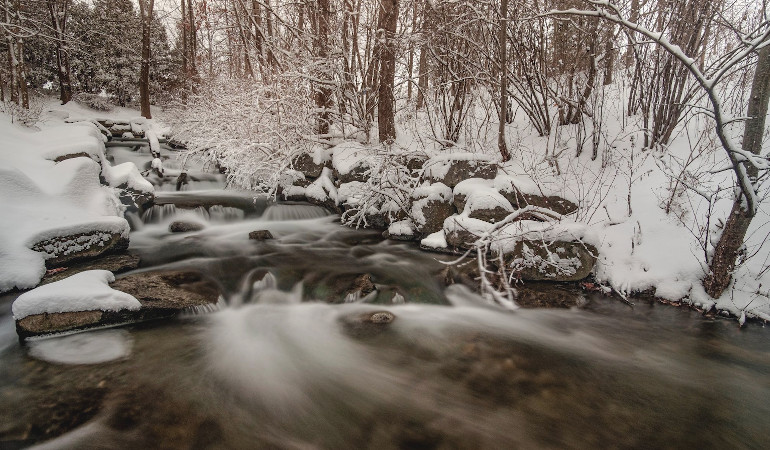 Outdoor Trails
Lamoureux Park
Lamoureux Park is a perfect trail head that offers free parking and public restrooms. From the park you can head west along the Waterfront Trail, offering scenic vistas along the St. Lawrence River and the Cornwall Canal. Heading east will take you past Marina 200, the Cotton Mill District, St. Lawrence College and the NAV CENTRE. If you are looking for a shorter stroll, take the Lamoureux Park Loop which connects you to the waterfall in the EcoGardens to the RCAF Wing, Cornwall Community Museum and Civic Complex. Lamoureux Park is also located in heart of Cornwall, which means excellent dining and shopping are only minutes away!
Guindon Park
Guindon Park is a large waterfront park in Cornwall's west end that has a number of trail options and amenities. Easily accessed by car or by fat bike via the Waterfront Trail. Trails are great for snowshoeing and cross country skiing and there's ample parking too!
Click here for the Guindon Park trail map
Gray's Creek
Very nice trail just on the outskirts of Cornwall. Free parking and a number of trail options that take you in and out of natural forested areas. Most of the trail is wide, it is easy to traverse and offers a mix of terrain with minimal hills. It does not offer scenic vistas, but does provide a wonderful forest environment. Also connected to Cornwall bike path network and the adjacent Waterfront Trail that runs along the St. Lawrence River.
Click here for more information on Gray's Creek
Additional Trails
You can search for additional trails in Cornwall and SDG Counties by visiting AllTrails.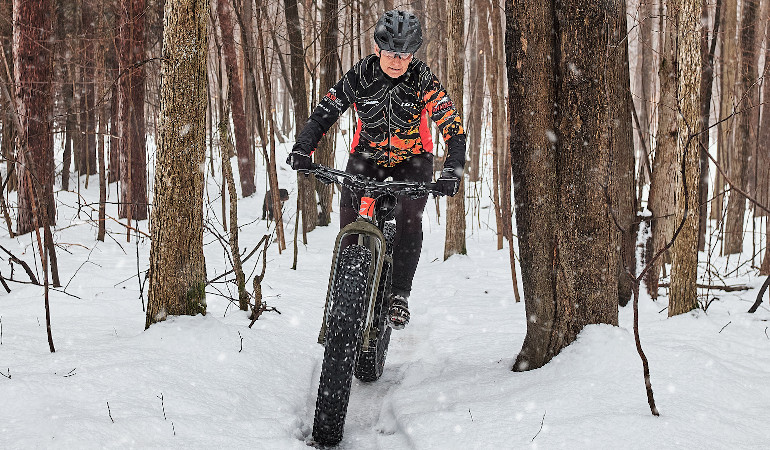 Fat Biking
If you're an off-road cycling enthusiast, you'll find plenty of fat biking trails to conquer in the Cornwall area.
Guindon Park
The expansive park on the western edge of Cornwall is now home to 10.5 km of mountain and fat biking trails that weave and wind through the trees, ponds and hills of this outdoor oasis.
Related: Off-road cycling trails created at Guindon Park
Summerstown Trails
The Summerstown Tails offers 10 km of groomed fat bike trails. These trails are multi use and are shared with snowshoers. For more information please check out the Summerstown Trails website.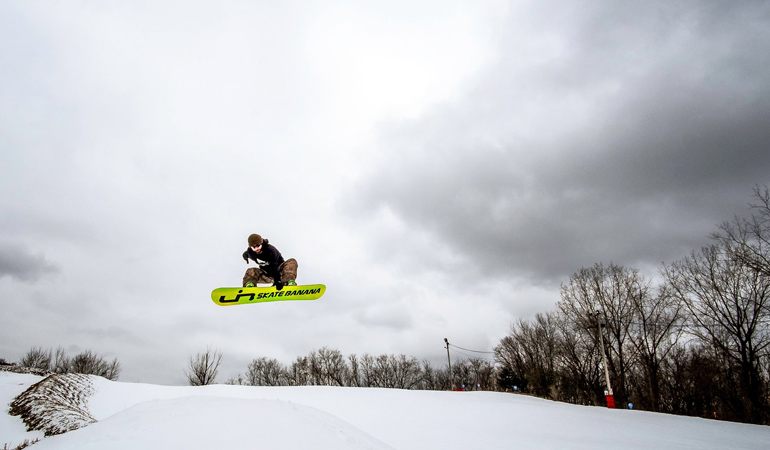 Skiing / Snowboarding
Big Ben Ski Centre
Catch some big air this winter at Big Ben Ski Centre! This popular local amenity offers one-on-one skiing/snowboarding lessons, revamped terrain park and affordable lift tickets.  New additions to the hill this year include an expanded "Woods Run" trail and outdoor skating rink. . Click here to visit the Big Ben Facebook page for regular updates. The hill is open Tuesday to Friday from 5:00 pm to 9 pm and weekends from 10 am to 5 pm.