If Cornwall were to have an official food, it would probably be pizza.
Not just any pizza, but Cornwall pizza, a term that is affectionately used to describe a perfectly-baked pie from one of the many old-fashioned pizzerias scattered around the city.
Cornwall pizza is a part of the city's culinary DNA. It's a source of pride for Cornwallites. It's a supreme comfort food for residents, ex-residents and visitors alike. And it's the source of a question that has been passionately debated for decades – just who makes the best pizza in Cornwall.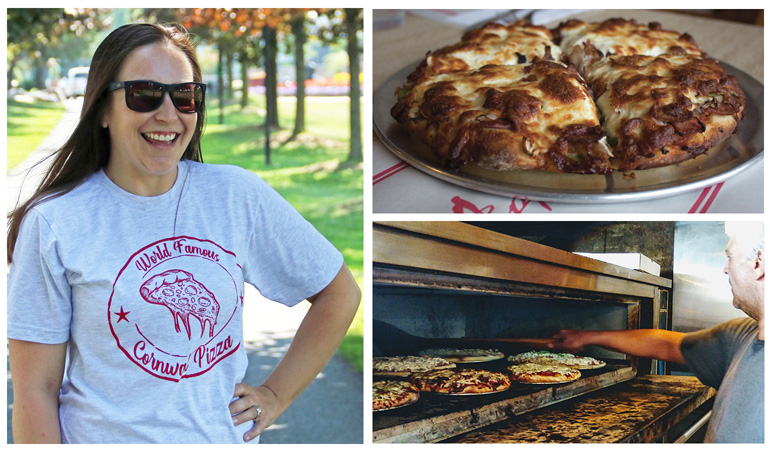 Cornwall's love affair with pizza dates back several decades.  Many point to Zappia's Restaurant, a beloved establishment once located near Brookdale Avenue and Ninth Street, as the birthplace of what was to come. The Zappia's homemade pizza started slow but eventually it caught on. Families and groups of teenagers would show up and order multiple pies and hang out. The restaurant closed in the 1970s but by then, numerous other pizzerias had opened in Cornwall, each with their own unique flavour to go along with one common element – heavy toppings and high quality.
The tradition continues on today with the same pizzerias cooking up beautiful pies that have stood the test of time – and have grown to become one of Cornwall's greatest food exports.
Classic Cornwall
Riverside Restaurant
837 Montreal Road
613-932-6329
Google Maps
Some believe it's the best pizza in eastern Ontario, maybe even Canada. Whatever the case, there's little debate that Riverside delivers one mean pizza. And by mean we're talking thick crust and a heavy dose of toppings.
The Riverside Special – an all-dressed pie with onions and bacon to boot – is a staple at this popular eatery.
Olympic Pizza
1255 Pitt Street
613-932-2323
Google Maps
Olympic Pizza lives up to its name, having been delivering pizzas of Olympic proportions for decades from its old-fashion establishment on Pitt Street North. You'll need a big knife to cut through an all dressed Olympic pie.
Beyond the hearty pizza, the gravy at Olympic Pizza has its own devout following.
Louis' Pizzeria
740 First Street East
613-933-8285
Google Maps
Louis' is a tiny establishment at the corner of First Street and McConnell Avenue, but there's nothing tiny about their pizza. They are a fan favourite thanks to their heavy delivery of toppings and quality ingredients.
Many ex-Cornwallites stop by for a Louis' fix whenever they're home visiting.
North End Pizzeria
1552 Pitt Street
613-933-5200
Google Maps
If you like a thick crust pizza and heavy toppings, you won't be disappointed with North End. Their legion of followers return time and again for another order, and for good reason.
Food, service and value all combine in grand fashion at North End.
King George Restaurant
401 Montreal Road
613-933-2442
Google Maps
King George has a long legacy in Cornwall, and pizza is a big part of it. Pizza is a signature dish at the Montreal Road establishment and customers from as far away as Calgary crave their pie.
It's not unusual for customers to ask for a frozen or half-cooked pizza so they can take it with them and cook it at home.
Roma's
200 McConnell Avenue
613-933-5545
Google Maps
This family-owned restaurant offers great Canadian and Greek cuisine, and pizza is near the top of the list. They aren't shy with the toppings and sauce, making their pie one that is sought after by many.
The Roma Special is a good place to start for a great pizza experience.
Philos
1613 Pitt Street
613-933-3344
Google Maps
Philos is a family-owned restaurant with a vast menu of great offerings. And the pizza is second to none on the list. The rich toppings and unique sauce makes it a favourite of many pizza lovers.
For something a little different, the Greek pizza is a great place to start.
Cornwall BBQ Fine Dining
436 Second Street West
613-933-1000
Google Maps
Cornwall BBQ has been an institution in Cornwall for decades, and so too has its pizza. Fans from near and far rave about it's perfect combination of thick crust, generous sauce and heavy toppings.
A good place to start is with the Cornwall BBQ Special – a pie with chicken, mushrooms, green peppers, mozzarella and feta cheese.
Napoleon Delicatessen
1 Montreal Road
613-932-4604
Google Maps
Fresh dough, a flavourful sauce and generous toppings has helped secure Napoleon's place among the pizza giants in Cornwall for decades. The family-run business takes pride in every pizza that goes out its doors.
The Napoleon meat lovers' pizza is a special treat for those seeking a unique pizza experience.
Manny's Restaurant
718 Montreal Road
613-933-1717
Google Maps
Manny's Restaurant is a relative newcomer to Cornwall's pizza scene but it already has a legion of followers declaring it one of the best thanks to the unique sauce and generous toppings.
The Mexican pizza is a good place to start if you're looking for something different.
The Shack
627 Montreal Road
613-933-4040
Google Maps
The Shack has developed a loyal following thanks to its gigantic portions and flavourful dishes, and the pizza is no exception.
With over a dozen pizza varieties on the menu, you're sure to find something familiar or new to sample.
Luigi's Pizzeria
335 Montreal Road
613-937-0004
Google Maps
Luigi's Pizzeria takes great pride in serving up traditional pizzas that are big on quality – and toppings. Luigi's is a family operated businesses building on years of experience and authentic recipes. You won't be disappointed with one of their classic pies.
Gourmet pizza
Beyond the classic Cornwall pizza, there are some establishments that sit in a category of their own with their tasty gourmet pizzas. ESCA Gourmet Pizza + Bar serves up some amazing gourmet pizzas with creative toppings while Schnitzels European Flavours has wood-fired pizzas that will leave you wanting more.
For more information on ESCA and Schnitzels, check out our Downtown Dining page.
An other slice of pizza
Beyond the classic pizzerias, Cornwall has dozens of other pizza establishments that offer their own unique twist on this popular comfort food. If you want to expand your pizza adventure, make sure to check out Kell's Kitchen, A1 Pizza King and Family Corner Restaurant.
There's also the staple franchises that are always worth checking out – Boston Pizza, Pizza Pizza, Pizza Hut, 241 Pizza, Dominos Pizza, Little Caesars, Double Double and more.