It's time to make memories and Cornwall has everything you need. Offering year-round fun for the whole family, check out some of these attractions and start planning your visit today.
Lamoureux Park
100 Water Street East, Cornwall
613-930-2787
Spend some time in the largest waterfront park in Eastern Ontario by cycling, walking, running or just enjoying the many things to see and do. Stop and picnic near the large play structure or visit the Cornwall Community Museum. Explore the iconic Clock Tower and historical plaques or see nature up close at the Rotary Eco-Gardens and Arboretum. Finally, you can cool off at the splashpad or Aquatic Centre. Whether you do it all or just pick and choose you will enjoy a fun filled day, with all that Lamoureux Park has to offer.
Saunders Hydro Dam Visitor Center
2500B Second Street West, Cornwall
613-932-4563
The Visitor Centre is a state-of-the-art LEED certified building and provides an interactive, historical look at the St. Lawrence Seaway and Power Project. Learn about one of the most significant developments of the area, and take in the beautiful view of the Saunders Dam from the balcony of this beautiful visitor's centre. Learn about the production of hydroelectricity through interactive games and historical exhibits.
Archie's Family Golf
1719 Vincent Massey Drive, Cornwall
613-932-8255
A Cornwall institution, Archie's offers a perfect outing for the whole family. Work on your swing at the driving range, have a game of mini-putt or footgolf and finish it off with a round of ice cream! There is also a food truck on site if you really work up an appetite.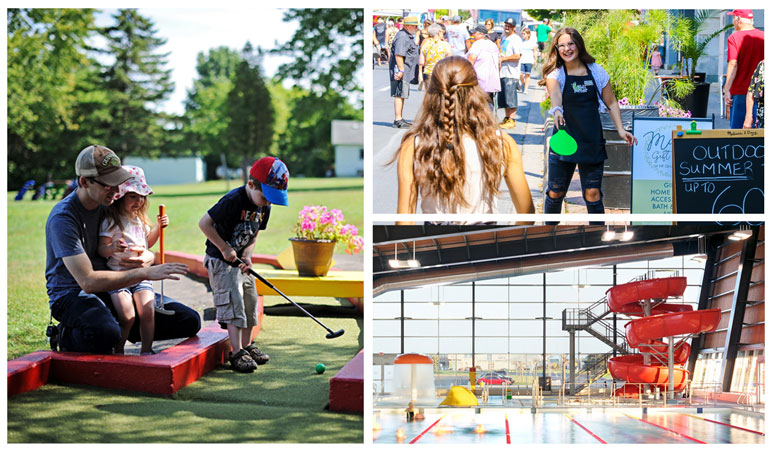 The Cornwall Aquatic Center
100 Water Street East, Cornwall, ON, K6H 6G4
Phone: 613-933-3586
The Aquatic Centre is a modern six-lane 25 meter indoor swimming facility located in beautiful Lamoureux Park. Complete with a two-storey waterslide, toddler leisure pool and spacious whirlpool, It is an ideal choice for swimming, aquatic sports and family fun. Bring your swimsuit, towel and sense of adventure and enjoy.
The Cornwall Motor Speedway
16981 Cornwall Centre Road, Cornwall
613-938-3945
Every Sunday from the May long weekend to the end of August the roars of the Speedway can be heard for miles.  Races are available for armatures and professionals alike. Come and cheer on the action, or get in there and try it for yourself.
Rush Hour Escapes
52 Pitt Street, Cornwall
613-935-5000
One of the newest crazes, escape to a world of fun at Rush Hour Escapes! Two challenging escape rooms will test your group as you work together to find clues, crack codes and solve puzzles to escape before time runs out! With only 60 minutes on the clock will you and your team have what it takes?
Prehistoric World
5446 Upper Canada Road, Morrisburg
613-543-2503
Dinosaurs have taken over Morrisburg! Well … sort of. Prehistoric World allows visitors to step into the past and roam amongst the over 50 life-sized reproductions of creatures that wandered the earth millions of years ago — from the tiniest lizard to the ferocious T-Rex. Walk along nature trails and see these beasts as they would look if they remained today. Open daily from the end of May to Labour Day weekend; stop in and check out Cornwall and the Counties' own Jurassic Park!
Cornwall Sports Hall of Fame
100 Water Street East Cornwall
info@cornwallsportshalloffame.com
The Hall includes memorabilia and photos of notable athletes including Newsy Lalonde, Dale Hawerchuck, and Doug Gilmour as well as many stars from many other sports.
Every two years nominations are made for induction to this exclusive club. Honouring those who excelled in sport in the community, as well as those ambassadors who helped to promote sports in the Cornwall area
Admission: FREE
Cooper Marsh
20020 SDG county Road 2, Lancaster
613-347-1332
Located a short drive outside the City is one of the most significant wetland conservation areas in all of Ontario. Follow the wetland boardwalk or climb the viewing platform to explore over 130 species of birds, a wide variety of amphibians, turtles and fish as well as some almost extinct mammals that call the Marsh home.
Guindon Park (BMX and more)
Off of Vincent Massey Drive, Cornwall
Guindon Park is comprised of 500 acres of land with picnic areas, hiking trails, children's play structure, waterfront areas, boat launch and dock, and more. It is easily accessible all-year round. The park is separated into three areas: The Eastern Entrance, Floral Drive, and Trillium Drive. Guindon Park now includes a first class BMX Track!
Upper Canada Migratory Bird Sanctuary
5591 Morrisons Road, Ingleside
613-537-2020
The sanctuary covers 9,000 hectares of a variety of wildlife habitats, including: a mature upland forest, early successional woods, old fields, wetlands and open water. Explore the area by foot or by bike, bike rentals are available! Bring your binoculars, a picnic and enjoy the day.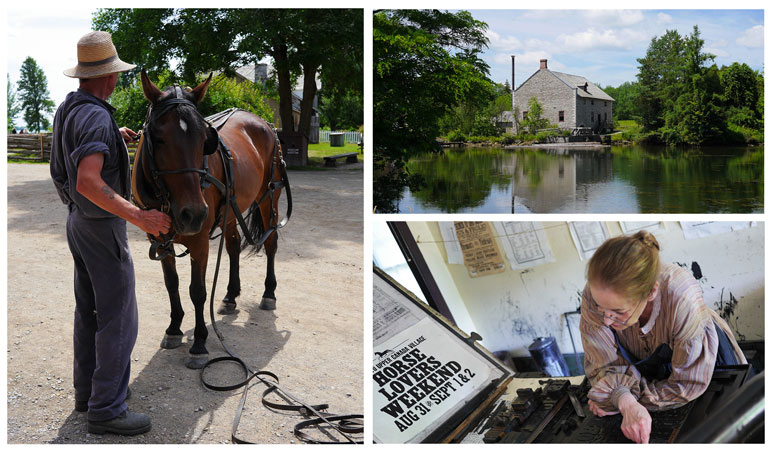 Upper Canada Village
13740 County Road 2, Morrisburg
613-543-4328
Travel back in time with your family to Upper Canada Village, one of the largest living-history sites in Canada. Tour the village, ride the miniature train and visit the Family Activity Centre for some great memories!
With sixty acres, over forty heritage buildings and costumed interpreters; Upper Canada Village is the most accurate portrayal of life in the 1860s there is. Witness exactly how our ancestors lived. See how they worked, what they ate, what their values were and how they interacted with each other in this famous piece of living history.
Cornwall Community Museum
160 Water St. West, Cornwall, ON
613-936-0280
Located inside a restored 1840 Loyalist home in Lamoureux Park, the Cornwall Community Museum features archival materials, periodic furniture displays, textiles, household items and much more from Cornwall's past.
The museum's stone building was built by the Wood Family. United Empire Loyalists, Jonas and Sarah Wood, arrived at the future site of Cornwall in 1784. Here, along with hundreds of other Tory refugees, they drew lots for their new homesteads, replacing the property they lost in the former 13 Colonies.
Admission: FREE
Historic SDG Jail
11 Water Street West, Cornwall
613-935-4891
Visitors are able to tour through the cell blocks, exercise yard, governors' residence, guards' station and more, as part of this unique experience to see what life would have been like behind the walls of the County Jail. One of Ontario's oldest public structures, the Historic SDG Jail was built in 1833 and was active until 2002. Take a step back in time and learn about the eerie tales from this historic building.
You can also ban together with your friends and family to escape the jail through Escape Manor.  After being wrongfully accused, you will have to use your problem solving skills to escape this interactive escape room all while touring the jail at the same time.  This is sure to be an hour you will not soon forget.
Lost Villages Museum
16361 Fran Laflamme Drive, Long Sault
613-534-2197
The flooding during the construction of the St. Lawrence Seaway in 1958 resulted in the loss of six small villages and the relocation of inhabitants to new areas. The result was the creation of new communities that exist today. The museum consists of ten heritage buildings that were restored and relocated to Ault Park in Long Sault.
You may also be interested in some of these City facilities