Were you looking for restaurants in Cornwall, Ontario?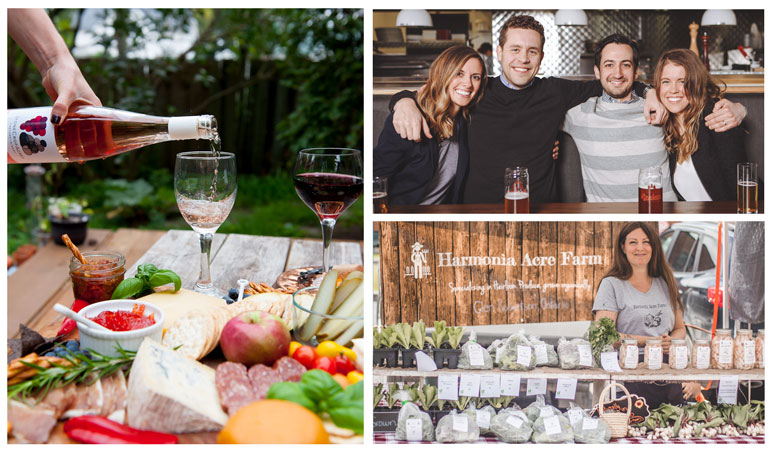 Cornwall is surrounded by beautiful agricultural country, with many producers offering a variety of local food. Get the real taste of the town by visiting one of the local markets or touring one of the local farms with a pick your own experience. Toast the local agriculture scene by visiting one of the breweries or wineries of the area and celebrate all Cornwall and SDG counties has to offer.
You may also like to try this agri-tourism carefully curated route
Breweries & Cideries

Rurban Brewing
412 Cumberland Street, Cornwall
613-360-0661
Google Maps
Proudly located in Cornwall, and beloved by Cornwallites, Rurban Brewing is the creation of the talented and personable husband-wife duo of Andy and Karen Rorabeck.
Impromptu tours are offered if the shop isn't too busy, so you can learn all about the brewing process and enjoy one of their quality brews right on the spot.
Rurban usually has a variety of beers on tap and on sale, with the marquee Cornwall Golden Lager being a staple selection.
You'll also find Rurban in a number of local restaurants including Esca Gourmet Pizza + Bar, Schnitzels European Flavours, The Stomping Grounds and The Birchwood Cafe, to name but a few.
Wood Brothers Brewing Company
2980 Wylie Road, Glen Robertson, ON
613-874-2290
Google Maps
Head up the Glens to Wood Brothers Brewing Co., a small-scale brewery located on 65 acres of rolling country in the North Glengarry community of Glen Robertson.
Headed up by Mark Rickerd, Wood Brothers' focus is on brewing quality and hop forward beers.
Their slogan – Fearsome tasty liquid – should tell you all you need to know!
Humble Beginnings Brewing Co.
25 Thorold Lane, Ingleside, ON
613-522-0725
Google Maps
This Ingleside brewery proves that great things come from humble beginnings. Founded in 2015, Humble Beginnings  features a taproom and bottle shop with a variety of brews on tap at any given time.
The friendly husband and wife tandem of Pierre and Susan Doucette operate the small batch brewery and have made it a priority to source only Ontario-grown ingredients for their beer.
As an added bonus, Humble Beginnings is located just a short jaunt away from the beautiful St. Lawrence River and Waterfront Trail – a perfect reason for a beer trip!