10 things to do this Victoria Day weekend
May 16, 2022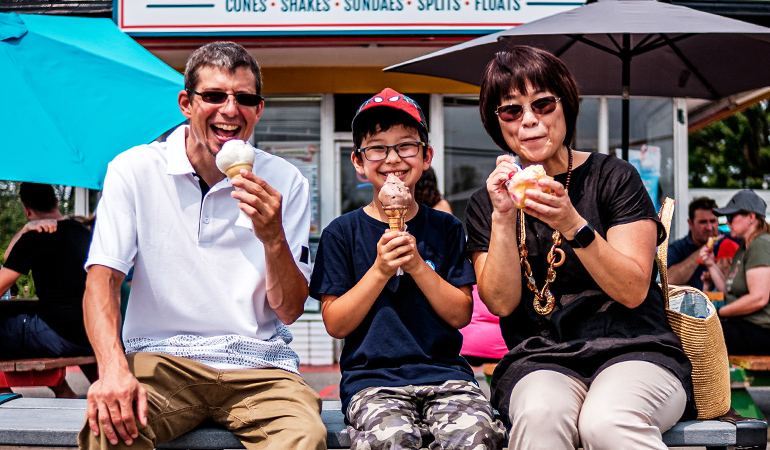 The Victoria Day long weekend is here – and the forecast calls for a whole lot of fun.
The first long weekend of spring and summer arrives in Cornwall with a series of can't-miss events and experiences for people of all ages and interests. From live concerts and art exhibits to an historic re-enactment and fun family attractions, there's definitely no shortage of things to see and do.
Check out our list of 10 things to do this Victoria Day weekend below and have fun exploring!
1. An historic event
Take a trip back in time with Cornwall 1784, a three-day historical and cultural celebration running from Friday to Sunday in Lamoureux Park. The SD&G Historical Society through the Cornwall Community Museum will be hosting an historic celebration of friendship that has been more than 230 years in the making. History will be shared in the three languages of the Mohawks, English and French.
There will be a traditional Welcoming Ceremony presented by the Mohawks on Friday followed by a soirée canadienne d'antan on Friday night as part of a showcase of historical French Canadian culture. On Saturday night, a taste of the Highland Games will take over Lamoureux Park with a mini tattoo, singing and dancing at the forefront. There will also be military re-enactors and an encampment on site and an historical fair featuring nearly 30 different organizations.
It's an event you won't want to miss and best of all, admission is free!
2. Rocking the river
Usher in summer with a great blend of live music, craft beer and local eats at Rock the River on Saturday night. The Craft Shack is hosting the can't-miss celebration at beautiful Pointe Maligne along Cornwall's waterfront, a venue which offers sweeping views of Marina 200 and the St. Lawrence River.
Attendees will be able to sample craft beer from over a dozen different Ontario breweries to go along with local food from Thai Khmer, The Happy Popcorn Co., The Finch Market and Weenies on Wheels.
There's an amazing lineup of entertainment to enjoy as well, starting with Whiskey on Tap at 2 pm, The Chesterfields at 5 pm and The Wilderness at 7:30 pm. Solo artist Scotty Bough will provide live offerings in between the bands.
The event is nearly sold out so don't delay in getting tickets!
3. A foodie's delight
After a three year wait, Poutine Love is back! Running from May 18th to 27th, foodies can savour 10 unique poutines from 10 participating restaurants. And trust us, if you love poutine, you're going to want to try more than one!
What's on the menu? Everything from a Pogotine to a Raspberry Maple Creme Poutine to Gooey Goddess. There's even a Jedi Poutine – and so many more.
Make sure to vote for your favourite on the Taste Buds website.
4. A great vantage point
The beautiful Cline House Gallery is set to reopen its doors with Vantage Points, a new exhibit that kicks off on Thursday and continues Thursday through Saturday (10 am to 4 pm) until July 2nd.
"Through their unique expression of line, colour, form and pattern, each artist invites us to escape into the natural world, calling us to explore the idea of what landscape represents and how we observe the magic in the space around us," said Emily MacLeod, Visual Arts Coordinator with the City of Cornwall.
Admission to the gallery is free and there is parking on site. Pair it with some lunch and shopping Downtown for a perfect Friday or Saturday outing!
5. Art in focus
Explore the work of some amazing local artists at the Focus Art Association's 2022 Spring Art Exhibition at Cornwall Square (second level).
Over 30 local artists will have items on display during the show, which runs Thursday through Sunday both this week and next.
There will also be a student exhibition space as part of the show – don't miss it!
6. It's showtime
Seaway Valley Theatre's 2021-22 season continues with the performance of its spring comedy, There Goes the Bride.
The story – Timothy Westerby is overworked, underpaid, stressed out, and his daughter is getting married in what he thinks is an overly lavish and expensive ceremony. Indeed, he's ripe for a nervous breakdown. On the morning of the wedding, he has one in the form of Polly, a gorgeous girl who just wants to give herself to him. Trouble is, she's just a hallucination! That's not apparent to Timothy, though, who's convinced that Polly is totally real and is thrilled to have this sexy guest at the wedding. Comedy ensues as the other guests – including his wife – aren't so thrilled.
Evening and matinee shows are being offered throughout the weekend but tickets are going fast, so don't wait!
7. Step into spring
Downtown Cornwall ushers in the beautiful weather with the Downtown Spring Festival on Saturday.
There will be live music at Pommier Square from 12 pm to 4 pm and retailers will be showcasing new spring collections and other goodies.
Enjoy some shopping and dining Downtown and celebrate spring in style!
8. Amazing attractions
Take the family for a visit to one of Cornwall's coolest – and creepiest – attractions, the Historic SDG Jail.
The historic building at the corner of Water and Pitt streets will reopen its doors for tours starting on Friday, May 20th and tours will take place Fridays, Saturdays and Sundays at 10 am, 11 am, 1 pm and 2 pm until the end of August. Check it out – if you dare!
Follow a visit to the jail with an amazing escape room challenge at Rush Hour Escapes, Cornwall's popular escape room. The facility features two challenging escape rooms – Code Red and The Expedition to test you and your family or group of friends. Book a time online and get ready to escape!
9. Start your engine
Sunday night racing action is back at Cornwall Motor Speedway, one of the dirt track racing facilities in North America!
Sunday's race card will feature a full night of racing in four different classes – modifieds, sportsman, pro-stock and mini-stock races.
Bring the family to the speedway, where the fun is also turned up to another gear.
10. Get outside
What better way to enjoy the long weekend than with some outdoor adventure? In Cornwall, there's no better way to enjoy the fresh air and beautiful scenery of the St. Lawrence River than with a bike ride along the Riverside Trail. If you're coming from out of town, the Cornwall Civic Complex is the perfect place to park and embark on a cycling adventure. Better yet, make a night of it with a Cycle & Stay package from select local accommodations.
If golf is more your thing, you'll find plenty to enjoy at Summerheights Golf Links, Cornwall's premier golf course featuring 36 holes to enjoy. The course is in great shape and you can save time by booking a tee time online!
You can also warm up on the driving range at Archie's, a landmark Cornwall business that also features a family-friendly mini putt course and ice cream stand. It's a perfect afternoon of family fun – all in one place!
#ExploreCornwallON
Looking for other fun things to do in Cornwall? Check out the Explore section of our website for other fun-filled activities to keep you busy. Better yet, consider extending your stay with a night at one of our great accommodations!
Got a question?
Got questions? Need recommendations? We're here to help! Call or text us at 613-938-4748 or email us at info@cornwalltourism.com and we'll be pleased to help you with any questions you may have!
Also make sure to check us out on Facebook and Instagram for updates and more great reasons to visit Cornwall!