12 Course Wagyu Tasting Menu
August 8, 2019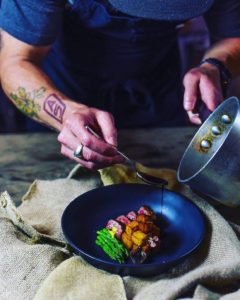 A one of a kind dining experience you won't want to miss!
World Renowned American Chef Steve Brown and guest Chef Luc McCabe are bringing their out-of-this-world culinary expertise with a 12 Course Wagyu Tasting Menu offering tastes from around the world including Wagyu from Canada, America, Australia, and Kobe from Japan.
Wagyu beef is the highest quality of beef on the market and can cost anywhere from $30 to $3,000. It's known for being incredibly tender and having a rich buttery delicious flavour that you won't be able to find with any other meat.
The 12-course menu returns to Cornwall on August 23rd and 24th at the NAV Centre starting at 6 pm. 
About Steve Brown
Steve Brown took the title of Rock'n'Chef 2016 – a culinary competition where he was introduced to A5 Satsuma Wagyu and inspired him to take this sought-after meat for his CosechaSD dinners. 
The Japanese Wagyu Committee noticed and invited him on the Japanese Wagyu Tour 2017 among other prestigious chefs.
Chef Brown started his own catering company called Purely Professional Chef and has opened numerous restaurants around California.
About the Event 
CosechaSD is a pop-up restaurant that started in June 2016 featuring Wagyu from around the world. Chef Brown showcases the best Wagyu from Canada, America, Australia, and Kobe from Japan and pairs it with delicious wines for his North American Tour,
Chef Brown thinks outside the box with his dishes and personalizes them with local ingredients and the highest quality of domestic and Japanese beef.
The event is held at the NAV Centre on August 23rd and 24th starting at 6 pm.
Tickets are $225 and can be purchased here.
This is fine dining you won't want to miss!
For more information about Chef Steve Brown and about the event visit:
Additional Events
Looking for other fun things to do in Cornwall? Make sure to check out our Events page for info on upcoming events in the area!
Stay with Us!
Planning to explore Cornwall at Poutine Feast? Extend your stay at one of our many great accommodations! For a listing of local accommodations, click here.
Additional Information
Planning a visit to Cornwall? Cornwall Tourism can help. Email us at info@cornwalltourism.com to request a copy of our Visitor Guide or contact us at (613) 936-0842. You can also stop by our seasonal Visitor Information Centre inside the Cornwall Community Museum in Lamoureux Park. The Museum is located at 160 Water Street West, just steps away from the children's splashpad and play structure. Free parking is available immediately north of the Museum along Water Street.
The seasonal Visitor Information Centre is open seven days a week (8:30 am to 4:30 pm) through the summer months.
Follow Cornwall Tourism on Facebook
Follow Cornwall Tourism on Twitter
Article by Charlotte Whittaker
www.CornwallTourism.com