2022 Explore Cornwall Visitor Guide now available
March 25, 2022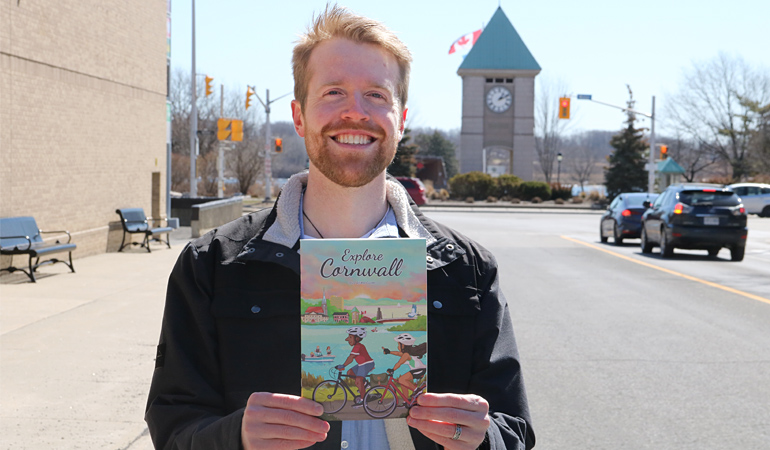 The 2022 Explore Cornwall Visitor Guide is now available to assist visitors in finding their way to some of Cornwall's top attractions, accommodations, shops and restaurants.
The 72-page bilingual publication features information on seasonal activities, attractions, accommodations, restaurants, shopping and more. The content is complimented by advertisements from a variety of local businesses and organizations.
"The new guide offers a great overview of all the great things there are to see and do in our community," said Kevin Lajoie, Tourism Officer with Cornwall Tourism. "We hope the guide will encourage even more people to visit the city and experience all that we have to offer."
The guide's cover features a colourful illustration by local artist Anthony Wallace that strives to highlight Cornwall's standing as an urban waterfront city with great outdoor adventure experiences. The illustration features an image of families cycling and fishing along the waterfront with local landmarks and the St. Lawrence River in the background. Wallace was also the artist behind the new series of street banners that decorate Cornwall's Downtown, Le Village and waterfront areas.
"Visitors often remark about how great our waterfront and cycling trails are. We wanted the cover to capture this sentiment and hopefully encourage other visitors to come and experience it for themselves," said Amy Malyon, Tourism Coordinator with Cornwall Tourism.
Get Your Copy!
A total of 40,000 copies of the guide will be distributed before the end of the year, via brochure racks throughout the city, region and beyond. Hard copies can be requested via the Cornwall Tourism website or via this request form. The guide can also be picked up at the Cornwall Tourism office inside the Cornwall Civic Complex (open Monday to Friday from 8:30 am to 4:30 pm) or other public buildings like the Benson Centre, Aquatic Centre and City Hall.
The visitor guide will also be handed out a number of tourism trade shows this spring, starting with the Outdoor Adventure Show this weekend.
"Cornwall hosts tens of thousands of visitors each year, including families, sporting groups and business conferences," said Lajoie. "The visitor guide can often be found in the hands of visitors as they choose how to spend their free time in the city."
#ExploreCornwallON
Looking for other fun things to do in Cornwall? Check out the Explore section of our website for other fun-filled activities to keep you busy. Better yet, consider extending your stay with a night at one of our great accommodations!
Got a question?
Got questions? Need recommendations? We're here to help! Call or text us at 613-938-4748 or email us at info@cornwalltourism.com and we'll be pleased to help you with any questions you may have!
Also make sure to check us out on Facebook and Instagram for updates and more great reasons to visit Cornwall!