Alight at Night returns for holiday season
November 19, 2021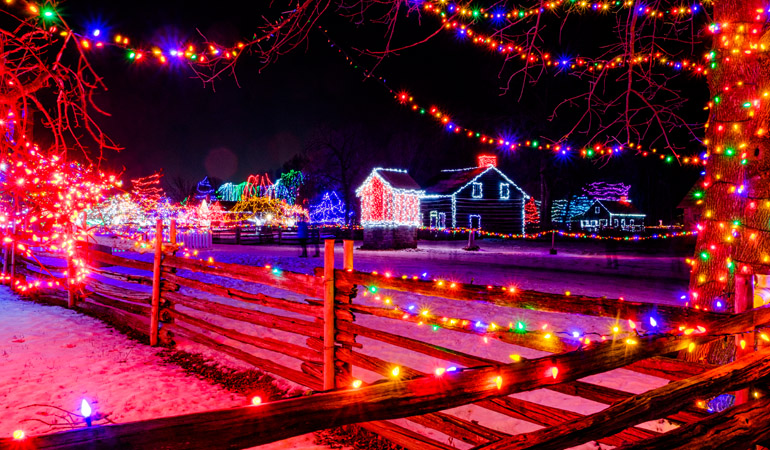 Eastern Ontario's biggest outdoor light festival is back for another season.
Alight at Night is set to return to Upper Canada Village, providing a one-of-a-kind magical experience to enjoy during the holiday season.
Over 1 million lights adorn the heritage buildings, trees and fences that make up the world-class attraction, and visitors are invited to bundle up and enjoy a stroll through this picture perfect Christmas setting.
The event kicks off on Friday, November 26th and runs on select nights until Saturday, January 1st.
Get tickets!
General admission tickets are $15 (plus HST) and free for children 4 and under. Tickets are available online only at www.alightatnight.ca.
Click here to get tickets online
Tickets are date and time specific so ensure to select the correct date and time when purchasing tickets. Plan to arrive no earlier than 15 minutes prior to your check-in time. Please note that tickets are non-transferable and non-refundable.
Make a night of it!
Planning to attend Alight at Night? Make a night of it and extend your stay in one of Cornwall's safe and comfortable accommodations!
Select accommodations are offering special rates for visitors attending Alight at Night (see below).
Ramada by Wyndham
805 Brookdale Avenue
15% discount on daily rate!
To book, call 613-933-8000
Comfort Inn Cornwall
1625 Vincent Massey Drive
15% discount on regular rate!
To book, call 613-937-0111
Both the Ramada and Comfort Inn have indoor pools!
For a list of other accommodations in Cornwall, please check out our Accommodations Page.
If you're extending your stay, there's plenty of other things to see and do in the Cornwall area. Check out our Explore Page and Event Calendar for additional information on events and activities to enjoy.
Accessibility Nights
Guests or groups with limited accessibility can ride in the comfort of their own vehicles to view Alight at Night during special Accessibility Nights on Wednesday, December 1st and Wednesday, December 8th.
Reservations can be made by booking an appointment online (click here to book).
Event information
Alight at Night dates:
Friday, November 26 – Sunday, November 28
Thursday, December 2 – Sunday, December 5
Thursday, December 9 – Sunday, December 12
Nightly from Thursday, December 16 – Saturday, January 1
Accessibility Nights offered on Wednesday, December 1 and Wednesday, December 8
Closed on Christmas Eve and Christmas
Alight at Night is open from 5 pm to 9 pm and the last time slot available is 8:30 pm to 9 pm. The event closes one hour after the last ticket entry. Timed ticketing is implemented to ensure groups are spaced out and to maintain a safe maximum capacity.
Parking is available on site at no charge.
The event is held outdoors so dress warm and be prepared for cooler weather!
The experience takes approximately 40 minutes to an hour.
Health and safety measures
Please note that proof of vaccination for entry will not be required for Alight at Night at Upper Canada Village as it is an outdoor event. Proof of vaccination will be required to enter the Harvest Barn restaurant as it is considered indoor dining.
Guests will be required to self-assess their health and will be encouraged not to visit our attraction if there is any possibility that they may have contracted or have come into contact with COVID-19.
All guests will have to follow physical distancing rules as mandated by the Ontario Government. You must stay 2 metres or 6 feet away from others. Staff will monitor and educate guests on physical distancing rules.
Face covering or masks are mandatory within indoor spaces and the admissions line. This includes our admission building, retail store, and the Harvest Barn restaurant. Guests will be required to bring their own and it should be worn until guests cross the bridge.
Additional information
For additional information on Alight at Night, check out the Alight at Night website or look for updates on Twitter, Instagram and Facebook.
Upper Canada Village is located at 13740 County Road 2, a short distance west of Cornwall.
#ExploreCornwallON
Looking for other fun things to do in Cornwall? Check out the Explore section of our website for other fun-filled activities to keep you busy. Better yet, consider extending your stay with a night at one of our great accommodations!
Got a question?
Got questions? Need recommendations? We're here to help! Call or text us at 613-938-4748 or email us at info@cornwalltourism.com and we'll be pleased to help you with any questions you may have!
Also make sure to check us out on Facebook and Instagram for updates and more great reasons to visit Cornwall!