Art Walk returns to Downtown Cornwall
August 27, 2020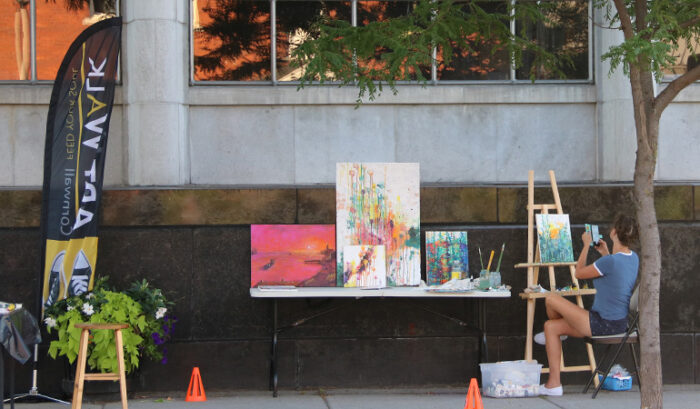 Downtown Cornwall will become a pop-up arts district of sorts on Friday, August 28th with the next edition of Cornwall Art Walk.
The popular summer series will see Pitt Street animated with visual artists, live music, theatre, pottery, interactive art spaces, artisans, vendors and contests during the hours of 4 pm to 8 pm.
It's a perfect opportunity to discover amazing art while at the same time enjoying some shopping and dining in Downtown Cornwall's many trendy shops and restaurants!
Here's a quick rundown of what to expect:
Visual artists
A variety of local artists will be stationed along Pitt Street between First and Second streets working on and showcasing their work. Stop by to learn more about them and their work – at a safe distance, of course!
Live music
There will be music in two locations – Pommier Square at Pitt and Second streets as well as the corner of Pitt and First streets.
At Pommier, you can hear the Glengarry Ramblers from 4 pm to 6 pm, Lone Wolf and the Spaghetti Corner Band from 6 pm to 7:30 pm and Subtle from 7:30 pm to 8 pm.
At Pitt and First, enjoy the sounds of the Kenny Holland Band from 4:30 pm to 6 pm, Subtle from 6 pm to 7 pm and Rod Rivette, lead singer of Heroes of the Highland, from 7 pm to 8 pm.
Performance art
Enjoy some fun for the whole family on the grounds outside of the Historic SDG Jail at the corner of Pitt and Water streets.
Practice thinking on the spot with Improv with Miss D's Creations from 4 pm to 5:15 pm. Sing along with Cameron MacPhee from 5:15 pm to 6 pm. Learn a new dance routine with Magoo Cook from 6 pm to 6:30 pm and enjoy the theatre talents of the The Fenian Escape with The Galloping Coconuts (6:30 pm to 7 pm). That will be followed by an improv jam with local improv actors from 7 pm to 8 pm.
Also, enter in a draw for a chance to win a basket full of art supplies courtesy of Cailuan Gallery!
Special Selections
Cailuan Gallery's Special Selections art exhibit opens during Art Walk, and you won't want to miss it!
The show will feature an amazing lineup of artists with work of all sizes and mediums.
The exhibit will be open from 4 pm to 8 pm on Friday night and it will continue through the following three weekends, Saturdays and Sundays, from 10 am to 5 pm.
Lots of fun popping up
Make sure to check out the pop-up containers in the Cornwall Square parkette (corner of Pitt and First streets) to see a variety of artisans and vendors showcasing their products!
Join the conversation!
Imagine you could decide how to create vibrancy in your neighborhood. What would you add and who would you design your streets for? Visit the City of Cornwall puzzling tent at Art Walk (in the Cornwall Square parkette) and help us visualize the bigger picture for our community!
Plus: Chat with staff from Cornwall Tourism and pick up some free swag!
Feel the (burger) love
What goes great with art? Burgers, of course! Burger Love is now underway and you don't want to miss it! Participating restaurants are selling amazing burger creations until Friday, September 4th.
Truffles Burger Bar, Simply Jennifer and Tilly's Eatery & Delicatessen are three Downtown restaurants participating in the event – a perfect stop along the Art Walk!
For more information on Burger Love, please click here.
Additional information
For additional information and updates on Art Walk, make sure to check them out on Facebook and follow them on Instagram!
Play it safe!
We all have a part to play in combating the spread of COVID-19. Residents are encouraged to wear masks in indoor public spaces and practice frequent hand washing and physical distancing. For the latest guidelines and restrictions related to COVID-19, please visit the Eastern Ontario Health Unit website.
#exploreCornwallON
Looking for other fun things to do in Cornwall? Check out the Explore section of our website for other fun-filled activities to keep you busy. Better yet, consider extending your stay with a night at one of our great accommodations!

Article by Kevin Lajoie
Cornwall Tourism