Art Walk returns to Downtown Cornwall
July 21, 2020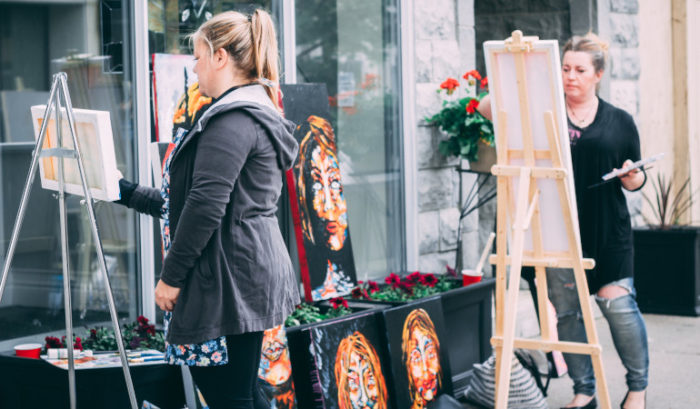 Cornwall's summertime celebration of the arts is back for another year.
The first edition of the Cornwall Art Walk will return this Friday, July 24th from 4 pm to 8 pm in Downtown Cornwall.
As part of the event, over 20 visual artists will be scattered in various locations throughout the Downtown, giving visitors a chance to see artists at work and discuss their creations with them – at a safe distance, of course. They'll be joined by a number of musicians performing at Pommier Square at the corner of Pitt and Second streets throughout the evening.
The event has received the blessing of the Eastern Ontario Health Unit, and participants and patrons will be asked to be mindful of physical distancing and wear a mask when appropriate. Visitors are asked to bring a mask with them as some locations are in indoors.
With summer now in full swing, organizers believe the event will give residents a chance to enjoy the outdoors and some amazing artists in a safe environment.
"I feel like the light is finally coming out again," said artist Mandy Prevost, one of the event organizers. "I find a lot of the community becomes inspired by this event. It's an inspiring evening."
A number of Downtown shops will be extending their hours during the event, and restaurants will also be in full swing – making it a perfect night to grab a seat on a patio before or after the walk.
There will also be a chalk wall on First Street East – across from the Cornwall Square parkette – where patrons can have a little fun taking selfies.
It's the first of two Art Walks planned for this summer, with the next edition set for Friday, August 28th. Usually there are four to five walks per summer, however given the challenges posed by the pandemic, event officials are pleased to have even a small presence in 2020 – with hopes of growing even bigger in the future.
"I'd like to see where it is in five years," Prevost added. "For now we need to keep doing the legwork and building it up."
Art Walk locations
Cornwall Square Parkette
Artists Jane MacMillan, Kathleen Morin, Kristine Picken, Pierre Giroux and Emily MacMillan will be on hand with their beautiful work while Mandy Prevost and Brett Desrosiers will be inside one of the pop ups at the parkette! They'll be joined by the beautiful saxophone sounds of Francisco Rugama.
11 Second Street West (above Fairy Sweet)
Lee Ladouceur of LadouceurPHOTO will have his studio open to showcase some of his amazing work!
Cailuan Gallery (225 Pitt Street)
Stop by and see artists Tracy Davies, Veronique Lalonde, Jade and Kyle Daniel. Meanwhile artist Jacqueline Milner will be sketching at her recently created mural in the parking lot behind Cailuan.
Pitt Street Parkette (next to Riley's Bakery)
Artists Sarah Silman and Laura Stevens will be at work in the parkette next to Riley's, across the street from Cailuan Gallery.
125 Pitt Street Studios
This cool artists' collective on Pitt Street will have Linda Geisel showcasing outside the building while fellow artists Rose Desnoyers, Virginia Lake and Kimberly Cameron will be inside. Don't miss it!
Tilly's (101 Pitt Street)
Eryn Doherty will be creating and showcasing her amazing work in front of Tilly's near the corner of Pitt and First streets.
St. John's church lawn (Second Street)
The front lawn of St. John's will feature artists Kayla Clermont, Yafa Goawily, Charles Myshrall, Victoria Ransom and Claudette Pilon.
Music at Pommier Square
Stop by Pommier Square to hear performances by Glengarry Ramblers, the Lone Star Band, Virginia Dipierro, Eric Beauregard and other musicians!
Play it safe!
We all have a part to play in combating the spread of COVID-19. Residents are encouraged to wear masks in indoor public spaces and practice frequent hand washing and physical distancing. For the latest guidelines and restrictions related to COVID-19, please visit the Eastern Ontario Health Unit website.
#exploreCornwallON
Looking for other fun things to do in Cornwall? Check out the Explore section of our website for other fun-filled activities to keep you busy. Better yet, consider extending your stay with a night at one of our great accommodations!

Article by Kevin Lajoie
www.CornwallTourism.com
Photo by Natasha Derouchie
Derouchie Media