Artists set to Conquer the Canvas
May 16, 2019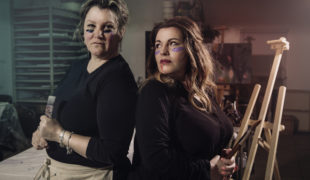 Do you love art? Competition? Then this event is for you!
On Saturday, June 15th, artists and students will battle for cash and glory at Conquer the Canvas. For only $20, you can watch and be part of this art battle-type all-ages event that will be held from 6 pm to 11 pm at the Benson Centre.
"We're going to be showcasing art in a whole new way," said Tracy Davies, a Director with Your Arts Council, the organizer of the event. "It's going to be an amazing party with artists painting and competing in real time and spectators milling around them and helping to select the winners."
What exactly is an art battle? It's an event where visual artists compete in twenty-minute timed rounds of painting while audience members cheer them on as they create their masterpieces. There will be three rounds of 12 competitors which will be organized into two groups of six (one group adults; the other students).
During each round, a surprise element will be thrown in to challenge visual artists and encourage them to think on their feet. At the end of each round, audience members will select a winning painter from each group, and that member will move on to the final round of six competitors. The two winners of each round will be awarded a cash prize of 100$. In the final round, the remaining three adult painters, and three student painters will compete to take home the grand prize of first place (500$), second place (200$) and a trophy. Between rounds, the paintings will be auctioned off and 30% will go to the artist.
In many ways, this event is like a marriage between the art and sports, since it includes both competitors and a loud, engaged crowd. Similar to a sporting event, Conquer the Canvas will use scoreboards, goal lights, a goal siren, a large screen projecting the action, a mascot, and a fun and energetic master of ceremonies to make the competition even more exciting. The event will also feature popular music, theatrical performances, and a 50/50 draw. Beer, wine, and food will be available for purchase.
This event will raise funds towards the proposed new arts and culture centre in Downtown Cornwall and organizers are hoping it will grow into an annual event.
Ticket Information
Tickets are $20 and can be purchased in advance at the Civic Complex Box Office (open Monday to Friday, 8:30 am to 4:30 pm) or at the door on the day of the event.
Tickets can also be purchased online through TicketPro (additional service fees apply).
Click here to purchase tickets
Additional Information
For more information on this can't-miss event, please visit www.yourartscouncil.ca or visit their Facebook event page.
Interested in participating as an artist? Find additional information and the application form online!
About Your Arts Council
Your Arts Council, Cornwall & the Counties is a not-for-profit community group dedicated to the proliferation of performance, visual, and literary arts in our community.
For more information on Your Arts Council, please click here.
Additional Events
Looking for other fun things to do in Cornwall? Make sure to check out our Events page for info on upcoming events in the area!
Stay with Us!
Planning to explore Cornwall? Extend your stay at one of our many great accommodations! For a listing of local accommodations, click here.
Additional Information
Planning a visit to Cornwall? Cornwall Tourism can help. Email us at info@cornwalltourism.com to request a copy of our Visitor Guide or contact us at (613) 933-0074. You can also stop by the Cornwall Tourism office inside the Cornwall Civic Complex at 100 Water Street East. The office is open Monday to Friday from 8:30 am to 4:30 pm.
Follow Cornwall Tourism on Facebook
Follow Cornwall Tourism on Twitter
Article by Chelsea Jodoin
www.CornwallTourism.com
Photo by Jason McNamara