Barstool Prophets headline Cornwall Canada Day
June 9, 2019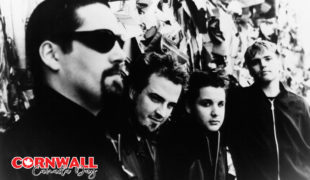 Lamoureux Park will be rocking this Canada Day when a pair of local performers headline the community's annual July 1st celebrations.
Beloved Cornwall rockers Barstool Prophets will headline the Canada Day celebration in Lamoureux Park along with talented Cornwall songstress Melanie Brulée.
"We're extremely excited about this year's entertainment line-up," says Lorne Taillon of the City of Cornwall, a member of the Canada Day Committee. "Having these two big-name local performers on our stage is a perfect way to celebrate Canada's birthday and our community."
For Canadian rock fans, the Barstool Prophets need very little introduction. After building a buzz in eastern Ontario and cultivating a homegrown following in the early 1990s, the rock quartet landed a Toronto-based manager and were courted by record companies. Their major-label debut, Crank, came out on Polygram in August 1995.
The band – singer/songwriter Graham Greer, guitarist Al Morier, bassist Glenn Forrester and drummer Bobby Tamas – soon found themselves playing sold-out shows and touring with all of the surging Canrock bands of the day. A second album, Last of the Big Game Hunters, was released in 1997. A number of their songs, including 'Friend of Mine' and 'Paranoia,' became staples on Canadian rock radio.
More than 30 years after their founding, the band is still at it, and their amazing musical journey will be celebrated in their hometown on Canada Day.
"It's like falling off a bicycle," says Greer with a laugh. "Easier than riding a bike, and that made us think, 'Wow, the muscle memory is still there.' That's the thing, when the four of us play together, we fall into our roles. Its like we never missed a step, both musically and socially."
For Melanie Brulée, it's a chance to play a hometown stage and show off the amazing musical abilities that have taken her to concert venues around the world. Her striking stage presence and unique vocal stylings have helped Melanie gain media acclaim, industry awards and a loyal following of fans. Her singles have been on regular rotation on CBC, Radio-Canada and Sirius XM satellite in North America, allowing her to grow her international audience and tour the continent, playing nearly 100 shows per year. Most recent highlights include opening for Kathleen Edwards, Whitehorse and Amanda Marshall.
Her third album, Fires, Floods & Things We Leave Behind, exploring themes of family, loss and addiction, was released in October, and the Cornwall show will kick off a summer tour that will take her to 19 cities in Canada and the US. Among the stops is Ottawa Bluesfest, one of Canada's largest musical festivals.
"I feel lucky to be from Cornwall and am excited to come home and play the bandshell again, not to mention warming up the stage for Barstool Prophets," Melanie says. "Stoked!"
The hometown acts will be joined on the bandshell stage by Kingston rockers Kasador, The Riot Police from Ottawa and local rock outfit Five Guys And a Box.
Canada Day Festivities
Along with the musical entertainment, Cornwall's Canada Day celebration will also feature a slew of children's activities like inflatable structure, face painting and Mad Science along with food vendors, a dunk tank, human foosball and much more.
The celebration will culminate with a beautiful fireworks display at approximately 10 pm.
For additional information on the Canada Day festivities, please click here.
About Cornwall Canada Day
The Cornwall Canada Day celebrations on July 1st in Lamoureux Park have grown exponentially over the past 50 years. From a grass roots gathering of proud patriots into a family friendly event in the heart of the city, the Cornwall Canada Day festivities attract crowds of over 25,000 people ranging from local residents, to out of town guests who are all coming together to celebrate the incredible way of life we enjoy as Canadians.
The event is planned by community volunteers that work tiredly to create a fantastic schedule of events while keeping this event free and fun for families.
Additional Events
Looking for other fun things to do in Cornwall? Make sure to check out our Events page for info on upcoming events in the area!
Stay with Us!
Planning to explore Cornwall? Extend your stay at one of our many great accommodations! For a listing of local accommodations, click here.
Additional Information
Planning a visit to Cornwall? Cornwall Tourism can help. Email us at info@cornwalltourism.com to request a copy of our Visitor Guide or contact us at (613) 936-0842. You can also stop by our seasonal Visitor Information Centre inside the Cornwall Community Museum in Lamoureux Park. The Museum is located at 160 Water Street West, just steps away from the children's splashpad and play structure. Free parking is available immediately north of the Museum along Water Street.
The seasonal Visitor Information Centre is open seven days a week (8:30 am to 4:30 pm) through the summer months.
Follow Cornwall Tourism on Facebook
Follow Cornwall Tourism on Twitter
Article by Kevin Lajoie
www.CornwallTourism.com