Bicycle World, Russell Manor receive Bike Friendly Business awards
May 6, 2022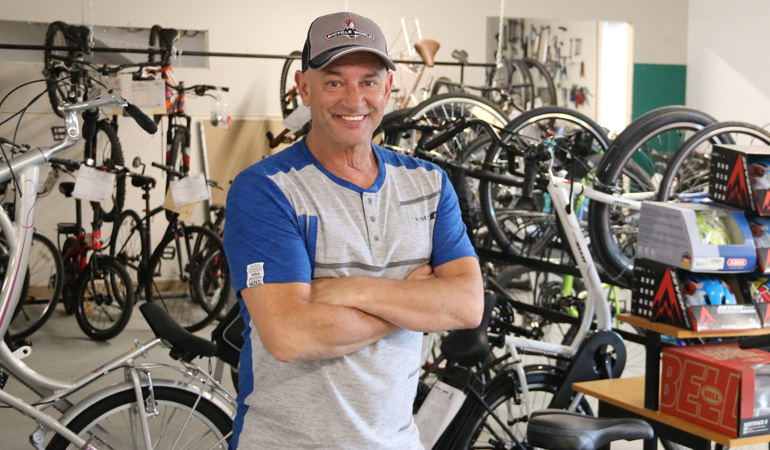 When it comes to serving Ontario's booming cyclist market, you could say Al McGimpsey has been riding that trail for a long time.
It was over 35 years ago when the business owner launched Bicycle World out a Downtown Cornwall tanning salon that he co-owned with a business partner.
"We had to walk through the tanning salon with bikes," he recalls with a laugh of those early days for the business.
McGimpsey decided to go all in on the bike business and eventually opened a dedicated store further south on Pitt Street, building up a solid clientele out of the space for over 25 years. It's grown steadily ever since and today, Bicycle World is serving customers from near and far out of a 4,000 square-foot store with a showroom and bicycle service bay on Ninth Street East.
"The demand has grown exponentially over the last couple of years. And there really is no better place to cycle than Cornwall. We have the best bike path. It's absolutely beautiful," McGimpsey said. "In addition to our local clientele, we're seeing more and more cycle tourists in the shop looking for service or recommendations during cycling trips to the city."
To build on that tourism potential, McGimpsey launched a waterfront pedicab tour business last year along with business partner Mike Crowder. Waterfront Tours offers guided velo cab tours along Cornwall's beautiful waterfront during the summer and fall months.
Click here for more information on Waterfront Tours
McGimpsey's dedication to serving cycle tourists and going and beyond has earned Bicycle World the 2022 Best Bike Business for South Eastern Ontario from Ontario by Bike, a province-wide organization that works with partners to develop and promote cycling and cycle tourism across Ontario.
The awards, announced this week, are awarded annually by Ontario by Bike to businesses in each of the 13 regional tourism areas across the province. The awards for South Eastern Ontario cover a wide area spanning from the Quebec border west to Prince Edward County – a pretty tall feat.
"This is a huge honour for Bicycle World. I'm fortunate to have a great staff and we are happy to play a part in ensuring cyclists have a great experience while visiting Cornwall," he added.
Bicycle World is joined in the winner's circle by the beautiful Russell Manor Bed & Breakfast in Morrisburg, which was awarded the 2022 Best Bicycle Friendly Business in South Eastern Ontario. The charming accommodation is a perfect overnight spot for cyclists looking to enjoy the Riverside Trail that stretches some 40 km between Morrisburg and Cornwall.
"As former cyclists, we know how important it is to be comfortable in your surroundings. We offer that comfort to all our guests, but most especially to our cycling guests," said Ron Currie of Russell Manor.
A total of 23 businesses were recognized across the province through this year's awards.
"We are pleased to celebrate and recognize the commitment and level of service that these 23 bicycle friendly businesses offer cyclists that stop at their locations. With many welcoming a wide array of customers, not just cyclists, we encourage a visit to their businesses to support their ongoing enterprises during what has been a challenging few years," said Louisa Mursell, Executive Director of Ontario By Bike.
It's not the first time that local businesses have been recognized by Ontario by Bike. In 2020, Cornwall's Chesley's Inn won the Best Bicycle Friendly Business in South Eastern Ontario award for its commitment to serving cyclists.
Related story: Chelsey's Inn named eastern Ontario's Best Bicycle Friendly Business
About Ontario by Bike
Ontario By Bike works with a variety of partners to develop and promote cycling and cycle tourism across Ontario. Administering a Network of over 1,550 certified bicycle friendly businesses and providing a comprehensive portal of information, Ontario By Bike is inspiring visitors and residents to explore more of the province by bike. Ontario By Bike is a program of Transportation Options, a non-profit organization, celebrating 30 years of innovative programming, dedicated to fostering sustainable transportation and tourism solutions in Ontario.
For more information, please visit the Ontario by Bike website.
Cycling in Cornwall
Enjoy amazing off-road trails along the mighty St. Lawrence River with easy access to restaurants, shops, attractions and much more. Take advantage of our Cycle & Stay Packages and make a weekend of it!
For more information on cycling in Cornwall, please check out our Cycling page.
#ExploreCornwallON
Looking for other fun things to do in Cornwall? Check out the Explore section of our website for other fun-filled activities to keep you busy. Better yet, consider extending your stay with a night at one of our great accommodations!
Got a question?
Got questions? Need recommendations? We're here to help! Call or text us at 613-938-4748 or email us at info@cornwalltourism.com and we'll be pleased to help you with any questions you may have!
Also make sure to check us out on Facebook and Instagram for updates and more great reasons to visit Cornwall!