Big Ben reopens for another season of winter fun
December 22, 2022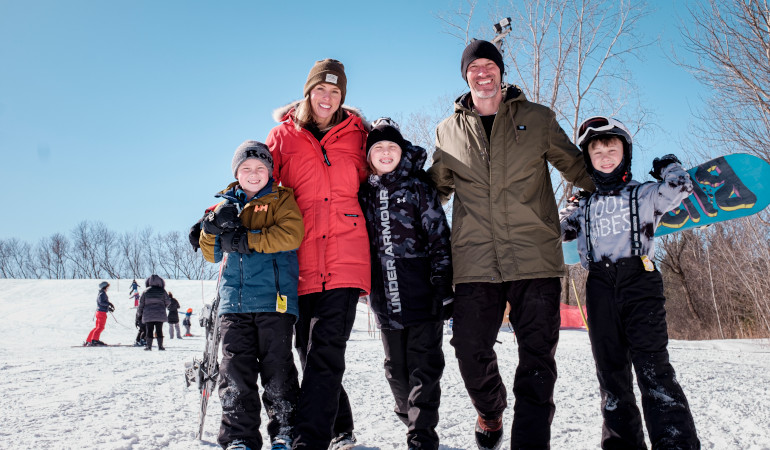 Big Ben is back for another season of winter fun and visitors can expect a mix of new and familiar experiences at the local ski hill.
"The hill is in great shape, I've never seen it look this good this early on," said Brett Lauzon, operations manager at Big Ben.
Visitors are sure to notice some changes to the hill, the most obvious being a new terrain park featuring rails, steps and jumps for snowboarders looking to work on their freestyle skills.
"It's meant to teach kids how to do tricks and maneuver (before they go to bigger hills)," Lauzon added.
Lauzon and crew have also created a new run through the tree system at Big Ben for those seeking another new adventure.
That's on top of other new experiences that were introduced at Big Ben last year and are set to return once more this season. Among them are a 55 by 85 foot ice skating rink (skating only), a coffee and hot chocolate bar and fire pit and a 2.7 km walking and snowshoeing trail that brings adventurers all the way to the top of the hill.
"It's so cool at the top of the trail, the view is amazing," Lauzon said. "It's definitely one of the highest points in Cornwall."
Last season brought a huge jump in attendance at Big Ben, with visitors coming from eastern Ontario, Quebec and the United States joining local residents under the lights on the hill. The Big Ben team are looking to build on that success by continuing to develop and enhance the overall experience at the hill.
"We've done a lot of work in the off-season to continue to create a fun and enjoyable experience for visitors," Lauzon said.
About Big Ben Ski Centre
Located on Seventh Street West directly across from the Benson Centre, Big Ben Ski Centre is open Tuesday to Friday from 5 pm to 9 pm and Saturday and Sunday from 10 am to 5 pm.
Admission is $15 (all patrons) on weeknights and $16 for a full day and $10 for a half day on weekends.
In addition to general admission, Big Ben also offers private ski and snowboard lessons.
For additional information on Big Ben, please check out their Facebook page or call (613) 933-6377 or email skibigben@gmail.com.
#ExploreCornwallON
Looking for other fun things to do in Cornwall? Check out the Explore section of our website for other fun-filled activities to keep you busy. Better yet, consider extending your stay with a night at one of our great accommodations!
Got a question?
Got questions? Need recommendations? We're here to help! Call or text us at 613-938-4748 or email us at info@cornwalltourism.com and we'll be pleased to help you with any questions you may have!
Also make sure to check us out on Facebook and Instagram for updates and more great reasons to visit Cornwall!