Birchwood opens in new Downtown location
November 3, 2020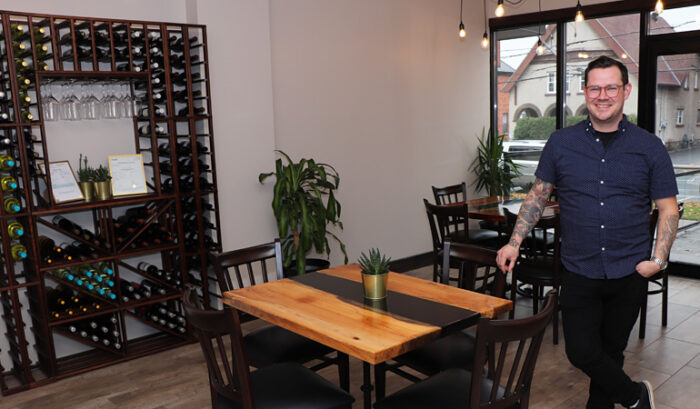 Popular downtown eatery Birchwood is now open for reservations at its new location on Sydney Street.
Birchwood occupies a cozy little corner of 119 Sydney Street, and chef/owner Carson Killham is inviting local customers familiar with their previous Pitt Street café to visit for a different dining (and drinking) experience.
"We are looking to offer a unique dining experience where people can spend time and enjoy each other's company," said Mr. Killham.
Birchwood will be offering a mix of lunch, happy hour and dinner fare Tuesday through Saturday, with a diverse menu focusing on fresh flavours. Meals will be complemented by an extensive choice of wine, beer and cocktails – with Cornwall's own Rurban beer on tap. Happy hour runs from 2pm to 5pm from Tuesday to Friday and includes sharing plates and drink specials.
The menu also includes a Mealshare option – a partnership with a new-to-Cornwall charity. The Mealshare program sees a dollar is donated everytime this dish is purchased, which, in turn, provides a meal to a young person in need.
Birchwood is tastefully decorated and can comfortably seat up to 30 patrons. Outdoor dining will be available during warm weather with a spacious patio that overlooks Sydney Street.
For Mr. Killham, the timing was right to make the move.
"We were at a point where we had finished paying off our initial investment and we were considering our future options," says Mr. Killham. "I have always followed opportunity. This new location was available, and it was the right size. We decided to reinvest in the business and create the type of restaurant that people can feel at home in."
Mr. Killham and his partner Gina Scandrett met in Calgary's restaurant scene and moved back to Cornwall to be closer to family. And while the new Birchwood may have moved on from its café roots, you can be sure that the odd New Zealand influence will make it back into the menu.
"This is the fun part, being able to cook for people and introduce them to new tastes," says Chef Killham. "We hope people make this their home away from home."
About Birchwood
Birchwood is located at 119 Sydney Street and reservations are recommended. Hours of operation are Tuesday and Wednesday from 11am to 5pm, Thursday and Friday from 11am to 9pm and Saturday from 5pm to 9pm.
You can reach Birchwood at 613-936-0030 or check them out online on Facebook or Instagram.
Play it safe!
We all have a part to play in combating the spread of COVID-19. Residents are encouraged to wear masks in indoor public spaces and practice frequent hand washing and physical distancing. For the latest guidelines and restrictions related to COVID-19, please visit the Eastern Ontario Health Unit website.
#exploreCornwallON
Looking for other fun things to do in Cornwall? Check out the Explore section of our website for other fun-filled activities to keep you busy. Better yet, consider extending your stay with a night at one of our great accommodations!
Article by Bob Peters
www.ChooseCornwall.ca