Border Town Challenge returns with 100 teams over 2 weekends
April 25, 2022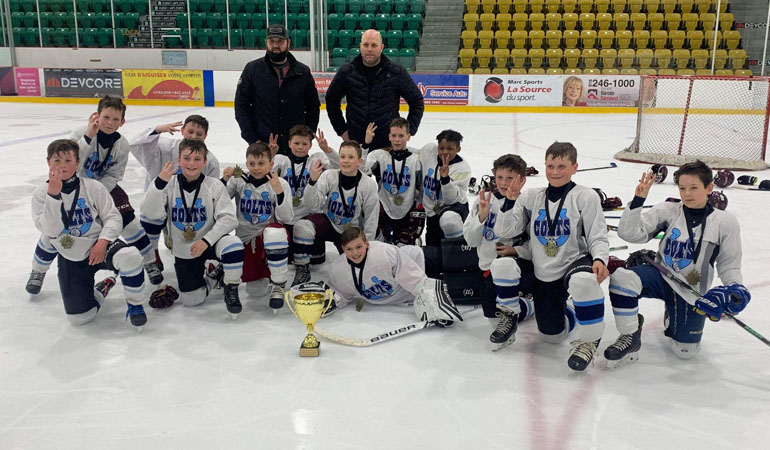 Spring hockey returns to Cornwall in a big way with the return of Own the Ice Hockey's annual Border Town Challenge featuring 100 teams over two weekends.
Following a two-year hiatus due to the pandemic, the annual spring tournament returns with a full slate of teams from across Ontario and Quebec coming to compete. Action will take place over the weekends of April 29 – May 1 and May 6 – 8 on two ice pads at the Benson Centre as well as at nearby Long Sault Arena and North Stormont Arena in Finch.
"We're glad it's back on. We've put a lot of effort into getting it back going," said Brock McBride, President of Own the Ice Hockey, the local hockey performance company that organizes the tournament. "We're at complete capacity this year and we'll have games going from 8 am to 9 pm each day."
The tournament will feature play in a variety of divisions and age groups, ranging from as young as 4 all the way to 16. The field will include 15 local teams who will be looking to claim medals on their home turf.
"This is the seventh edition of the tournament and it's grown quite a bit since the beginning," McBride added.
In addition to the wins on the ice, the tournament is also a big win for the local economy in the form of overnight stays, restaurant visits and shopping excursions on the part of visiting players, families and team officials.
Beyond the Border Town Challenge, Own the Ice is planning to once again host the True North Showcase at the Benson Centre from May 27 – 29. This three-day event will serve to showcase the top Midget age players from across eastern Canada and the northeastern US in front of NCAA Division 1 recruiters.
"We get kids (attending) from all over," McBride said. "It's a great opportunity for the players to showcase their skills and it's also a chance to showcase Cornwall to a different audience."
The Border Town Challenge is open to all and residents are welcome to stop by the Benson Centre and take in some of the action.
About Own the Ice Hockey
Based in Cornwall, Own the Ice Hockey provides leading-edge training to local players looking to excel in the sport of hockey.
For additional information on Own the Ice Hockey or their upcoming events, please check out the Own the Ice Hockey website or Facebook page.
#ExploreCornwallON
Looking for other fun things to do in Cornwall? Check out the Explore section of our website for other fun-filled activities to keep you busy. Better yet, consider extending your stay with a night at one of our great accommodations!
Got a question?
Got questions? Need recommendations? We're here to help! Call or text us at 613-938-4748 or email us at info@cornwalltourism.com and we'll be pleased to help you with any questions you may have!
Also make sure to check us out on Facebook and Instagram for updates and more great reasons to visit Cornwall!