Bud's Records and Kool Things reopens its doors
October 24, 2020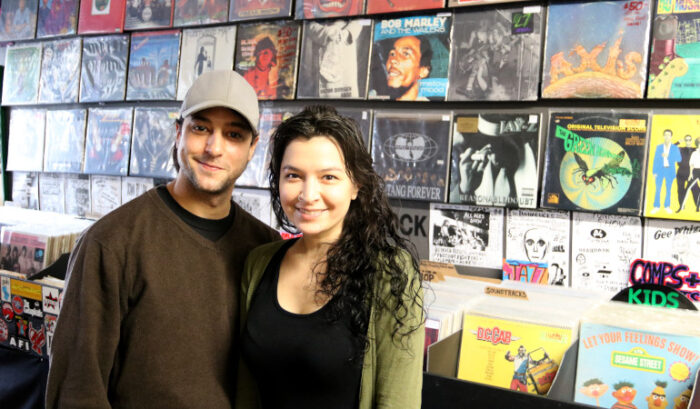 A beloved Cornwall record shop is reopening – a turn of events that will be music to the ears of music fans from near and far.
Bud's Records and Kool Things officially reopens on Saturday, October 31st, offering music lovers a one-stop shop for vinyl, CDs, cassettes, band t-shirts and other music-related accessories.
"We've got all kinds of genres of music. There's pretty much something for everyone," said Jason Lavoie, the new owner of Bud's along with his partner Emily.
The road to the Halloween reopening at Bud's is one of great tragedy and heartbreak mixed with love, legacy and friendship.
Opened in 2019, Bud's was the creation of Bud O'Byrne, a Cornwall resident with a great personality and a deep-rooted passion for music. That passion eventually translated into a massive record collection. After doing online sales for a while, O'Byrne decided to make the full dive into entrepreneurship and open his own record shop. Between the extensive inventory and O'Byrne's knowledge and passion of music, the store quickly became a hit. He developed a base of loyal local customers and attracted visitors from Ottawa, Montreal and beyond.
That all changed in April when O'Byrne passed away suddenly, leaving an entire community of family, friends and community members reeling. Lavoie, a long-time friend, was one of them.
"I was devastated," he recalled.
The two initially bonded over music and eventually started playing in a band together. Life and work eventually took them apart – Lavoie's career took him to Ottawa – but they remained connected. And that shared passion for music was always there. Their last interaction was just a short time before O'Byrne's passing, when he stopped by Lavoie's house to drop off some records.
After the tragic loss, a few months passed, and an idea slowly began to take root in Lavoie's mind – to help carry on his dear friend's dream of running a record shop.
He and Emily spent a lot of time discussing the prospect and they eventually approached his late friend's wife Angie. Soon after, she gave her blessing to the idea and the two parties met to finalize the details.
"He (O'Byrne) wouldn't have wanted it to just shut down," Lavoie said.
That legacy will now live on, with his late friend's name on the storefront and his passion for music filling the shelves.
"Sometimes I'm in here working late and I can just imagine him walking in and saying 'Hey'," Lavoie said.
Like their friend before them, the new owners are big believers in the power of music and their philosophy is straightforward – to provide a quality music selection at reasonable prices.
"I definitely think it's helping to meet a demand in the community," he added.
The couple will have new inventory on a regular basis and they plan to feature some local artist albums on consignment.
Additional information
Bud's Records and Kool Things is located at 375 Eleventh Street East.
The shop will be open Tuesday to Sunday from 10 am to 7 pm.
For more information, make sure to check out their Facebook page.
Play it safe!
We all have a part to play in combating the spread of COVID-19. Residents are encouraged to wear masks in indoor public spaces and practice frequent hand washing and physical distancing. For the latest guidelines and restrictions related to COVID-19, please visit the Eastern Ontario Health Unit website.
#exploreCornwallON
Looking for other fun things to do in Cornwall? Check out the Explore section of our website for other fun-filled activities to keep you busy. Better yet, consider extending your stay with a night at one of our great accommodations!

Article by Kevin Lajoie
www.CornwallTourism.com