CAPE returns with celebrity-filled roster of fun
March 7, 2023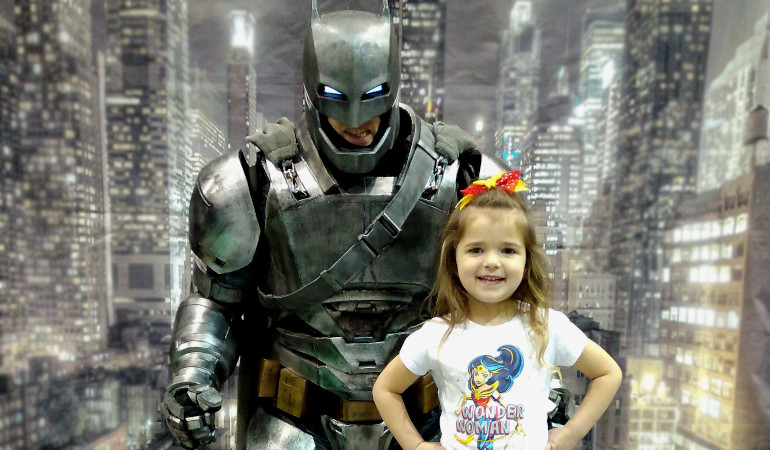 It's time to get your CAPE on!
The Cornwall & Area Pop Event – or CAPE for short – returns on Saturday, April 22nd and Sunday, April 23rd with a full roster of celebrity guests, artists, cosplayers, exhibitors, panels and much more. The two-day comic and pop culture convention takes place at the Benson Centre.
"CAPE 2023 is shaping up to be another great family fun event. There will be a full floor of wonderful geeky and nerdy merchandise from your favourite returning exhibitors and more from many new vendors," said Randy Sauve, the organizer of CAPE together with his wife Carol.
"There will be a full section featuring our very talented local cosplayers and of course, we have special guests from movies and television that are sure to be a hit."
Show hours
CAPE will run from 10 am to 6 pm on Saturday, April 22nd and 10 am to 5 pm on Sunday, April 23rd.
Ticket information
Admission is $15 on Saturday and $10 on Sunday (plus applicable taxes) and children 12 and under are free when accompanied by a paying adult. Tickets can be purchased at the door or in advance at Fantasy Realm at 227 Pitt Street.
CAPE tickets can also be purchased online – click here to purchase.
Please note additional fees apply for online orders.
Celebrity guests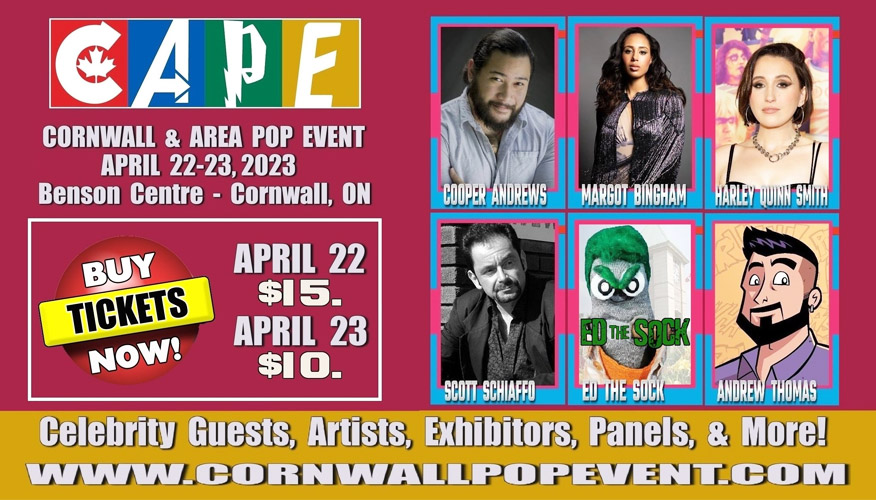 This year's CAPE will feature appearances from:
Cooper Andrews
Cooper Andrews quickly became a fan favourite as Jerry, right hand man of King Ezekiel during The Walking Dead's seventh season. As the show continues through its eleventh season he has proven beyond a shadow of a doubt that there is a lot more to Jerry than peach cobbler and a winning smile. Cooper is also known for his role as Yo-Yo on AMC's Halt and Catch Fire. He also appeared alongside Jason Momoa and Julianne Nicholson during the second season of Sundance's The Red Road, and his other television work includes time spent on sound departments for various productions, as well as guest starring on Hawaii Five-O, and Your Pretty Face is Going to Hell.
Margot Bingham
This multi-talented actress and singer/songwriter has gone from a sweet voice on a radio to series regular as Max Mercer on AMC's megahit show The Walking Dead. No stranger to the small screen, Bingham starred as sultry jazz singer Daughter Maitland in the period drama Boardwalk Empire, before moving on to hunt criminals as Nina Meyer on The Family. More recently Bingham played Evie Garrison on medical drama New Amsterdam. She appeared as a headstrong hairdresser in the 2016 spring comedy Barbershop 3 alongside Ice Cube. Bingham also starred in Saturday Church which debuted at the 2017 Tribeca Film Festival, as well as Then Came You and Anything.
Harley Quinn Smith
Harley Quinn Smith was born in Red Bank, New Jersey, to Jennifer Schwalbach and Kevin Smith. At the age of two, Smith and her family moved to Los Angeles. Smith had intentions to become a professional bass guitarist, but later fell in love with acting. She has been in several films, including Yoga Hosers (2016), which she stars in opposite Lily-Rose Depp. Smith made her acting debut in Jay and Silent Bob Strike Back (2001) and had cameos in the drama film, Jersey Girl (2004), and in the comedy film, Clerks II (2006) before lending her talents to Once Upon a Time… in Hollywood and Jay and Silent Bob Reboot in 2019. Ms. Smith also starred as Mallory Higgins on the show Cruel Summer and can be currently seen in Clerks III.
Scott Schiaffo
Scott Schiaffo is an actor/musician best known to independent film fans as the Chewlies Gum Guy from Kevin Smith's 1994 independent cult classic Clerks. Schiaffo has appeared in several feature films as well as many shorts since his big screen debut in the seminal cult comedy Clerks. Schiaffo and his Clerks cast mates were featured in Season 3 of Comic Book Men episode 11 "Pinheads". Schiaffo recently reprised his role as the Chewlies Gum Guy in Clerks III.
Ed the Sock
Ed the Sock is a Canadian icon who says the things we're thinking, delivered with a razor-sharp wit and fearless honesty. Star of the longest-running Canadian TV late-night show and game-changer at Muchmusic, Ed now utilizes digital & social media to continue his mission to speak truth to power and fight stupidity through humour.
Andrew Thomas
Andrew Thomas is a cartoonist, graphic designer, and comic book letterer from Brantford, Ontario. As an illustrator, Andrew has done interior and cover art for Captain Canuck, Archie Comics and other independent publications. His most notable achievement was winning the Favourite Artist and Favourite Comic Book awards at the Canadian Independent Comic Book Wiki Awards for his acclaimed and co-created Canadian comic series, Auric of the Great White North.
As a Comic Book Letterer, Andrew has worked on over 100 publications for companies including Disney, Archie Comics, Lev Gleason Publications, and, most recently, Dark Horse, where he is working on the new "Secret Stash Press" imprint from Writer/Director Kevin Smith!
Additional information
For updates and additional information on CAPE 2023, make sure to check out the CAPE Facebook page and website.
#ExploreCornwallON
Looking for other fun things to do in Cornwall? Check out the Explore section of our website for other fun-filled activities to keep you busy. Better yet, consider extending your stay with a night at one of our great accommodations!
Got a question?
Got questions? Need recommendations? We're here to help! Call or text us at 613-938-4748 or email us at info@cornwalltourism.com and we'll be pleased to help you with any questions you may have!
Also make sure to check us out on Facebook and Instagram for updates and more great reasons to visit Cornwall!