Celebrate Christmas with these fun family events
December 6, 2018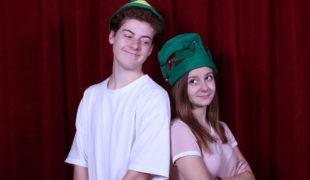 The spirit of Christmas will be in high gear in Cornwall this weekend with a number of family-friendly holiday events on tap.
Christmas at the Wood House
The North Pole is coming to the Cornwall Community Museum in Lamoureux Park this Sunday. It's Christmas as the Wood House and Santa and Mrs. Claus will be on hand for photos and some old fashioned family fun.
There will also be carol singing, crafts, a skit and a performance by the Bible Baptist Carolers.
It's also a great opportunity to check out the museum, which features a variety of exhibits and artifacts related to the history of Cornwall and area.
Christmas at the Wood House runs from 1 pm to 3:30 pm and admission is free.
For more information, please click here.
Elf The Musical Jr.
If you're searching for a great Christmas story to get you in the spirit, look no further than the Seaway Valley Theatre Company's presentation of Elf The Musical Jr. this weekend at Aultsville Theatre.
The show tells the story of Buddy, a would-be elf, who helps his family and community rediscover the true meaning of Christmas.
The show features some of the Cornwall and area's brightest talent, and tickets for the performances are going fast.
Show times are Saturday at 1:30 pm and 4:30 pm as well as Sunday at 1:30 pm.
Tickets can be purchased online in advance or at the door while supplies last.
For more information, please click here.
Additional Events
Looking for other fun things to do in Cornwall? Make sure to check out our Events page for info on upcoming events in the area!
Additional Information
Planning a visit to Cornwall? Cornwall Tourism can help. Email us at info@staging.banfield.agency to request a copy of our Visitor Guide or contact us at (613) 936-0842. You can also stop by the Cornwall Tourism office inside the Cornwall Civic Complex at 100 Water Street East. The office is open Monday to Friday from 8:30 am to 4:30 pm.
Follow Cornwall Tourism on Facebook
Follow Cornwall Tourism on Twitter
Article by Kevin Lajoie
www.CornwallTourism.com