Celebrate Cornwall pizza – and win! – for National Pizza Day
February 7, 2021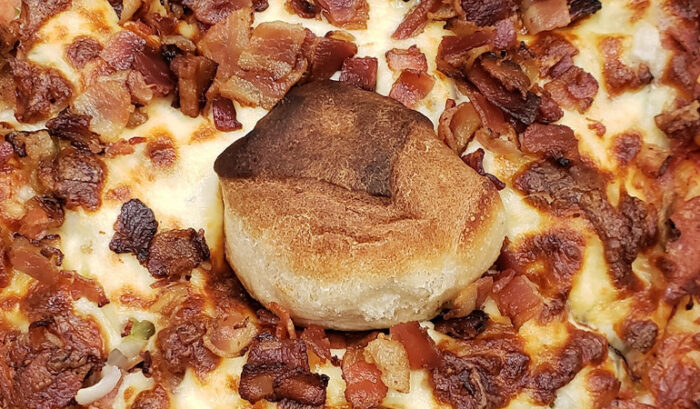 Tuesday is National Pizza Day and in Cornwall, it goes without saying we have a lot of reason to celebrate.
Cornwall pizza is truly in a league of its own. Old-fashion pizzerias abound in the city, with a dedicated legion of fans scattered across the country.
Cornwall's love affair with pizza dates back several decades, and it continues today with the same pizzerias – and some new ones – cooking up beautiful pies that have stood the test of time – and have grown to become one of Cornwall's greatest food exports.
In celebration of National Pizza Day, we're asking you to help us spread the word about our great pizza. And you could win some cool loot in the process!
National Pizza Day Contest
Help us spread the word about our great Cornwall pizza – and you could win a cool 'World Famous Cornwall Pizza' t-shirt (pictured above)!
Here's how:
Show your love!
Show off your appreciation for Cornwall pizza by using our customized Cornwall pizza Facebook profile pic frame!
To access the frame, click on 'add frame' when updating your profile pic on Facebook and search for 'Cornwall Pizza frame' by Cornwall Tourism.
Share your story!
Share your best Cornwall pizza story with us on our National Pizza Day post on the Cornwall Tourism Facebook page. Everyone has a great Cornwall pizza story…. some have driven for hours to taste their favourite pizza. Others have sent it to friends and family across the province… what's yours?
Show it off!
Post a selfie or photo with your favourite pizza on Facebook or Twitter, use the hashtag #ilovecornwallpizza and tag Cornwall Tourism!
Good luck and happy eating!
Contest details
Use our Facebook profile pic frame and either share your pizza story on our Facebook page or post a photo (as described above) to be eligible to win 1 of 10 'World Famous Cornwall Pizza' t-shirts (in the colour black).
The contest ends Tuesday, February 9th and the winners will be selected at random. Odds of winning depend on the amount of participants.
Read on
Want to learn more about Cornwall's amazing pizza scene? Check out our Pizza page to learn more about our great pizza and the pizzerias that call Cornwall home!
Play it safe!
We all have a part to play in combating the spread of COVID-19. Residents are encouraged to wear masks, practice frequent hand washing and physical distancing, and stay home if not feeling well. For the latest guidelines and restrictions related to COVID-19, please visit the Eastern Ontario Health Unit website.
#exploreCornwallON
Looking for other fun things to do in Cornwall? Check out the Explore section of our website for other fun-filled activities to keep you busy. Better yet, consider extending your stay with a night at one of our great accommodations!