Celebrate local food & drink with Oktoberfeast
September 28, 2020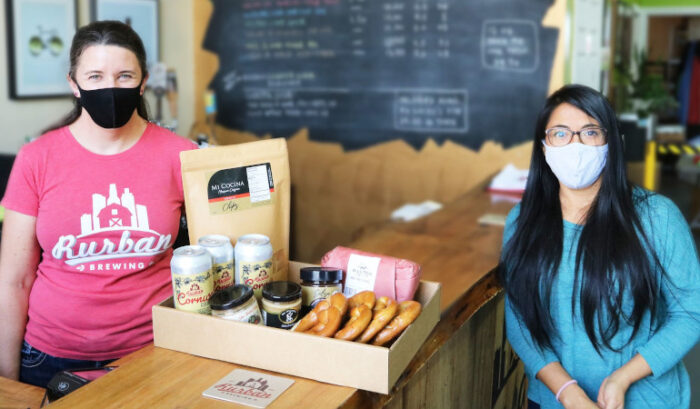 Foodies can feast on some amazing local food and drink this October thanks to an innovative new collaboration.
A half dozen local food and drink vendors have teamed up to offer an Oktoberfest-themed box of goodies that is sure to lift spirits and satisfy taste buds.
"I wanted to bring something fun for people to enjoy during these trying times while also raising awareness of the great producers in the area that might not be as well known," said Arisbe Castellanos of Mi Cocina, a local producer of authentic Mexican style salsas.
Mrs. Castellanos said the reception to the food box has been quite positive. The convenience of getting a variety of amazing products in one package is hard to resist.
"Customers are telling me that they are looking forward to trying all the goods in the package," she added. "It's definitely convenient and fitting to the season."
The Oktoberfeast package is $68 and includes:
– 6 cans of beer from Cornwall's Rurban Brewing
– 4 pretzels from Tilly's Eatery in Downtown Cornwall
– 1 package of Oktoberfest sausages from W. Leitch Organics (4 in each package)
– 1 small jar of Oktoberfest mustard from Mrs. McGarrigle's
– 1 jar of salsa from Mi Cocina
– 1 bag of corn chips from Mi Cocina
The package will feed 4 – a perfect feast to enjoy at home!
How to order
Orders can be placed online (click link below) and they can be picked up at Rurban Brewing on Saturday, October 3rd from 11 am to 5 pm.
Ordering is open until Wednesday, September 30th.
Happy eating!
Play it safe!
We all have a part to play in combating the spread of COVID-19. Residents are encouraged to wear masks in indoor public spaces and practice frequent hand washing and physical distancing. For the latest guidelines and restrictions related to COVID-19, please visit the Eastern Ontario Health Unit website.
Keep exploring!
Looking for other fun things to do in Cornwall? Check out the Explore section of our website for other fun-filled activities to keep you busy. Better yet, consider extending your stay with a night at one of our great accommodations!
Article by Kevin Lajoie
www.CornwallTourism.com