Chesley's Inn now offering complimentary bike rides to guests
October 21, 2020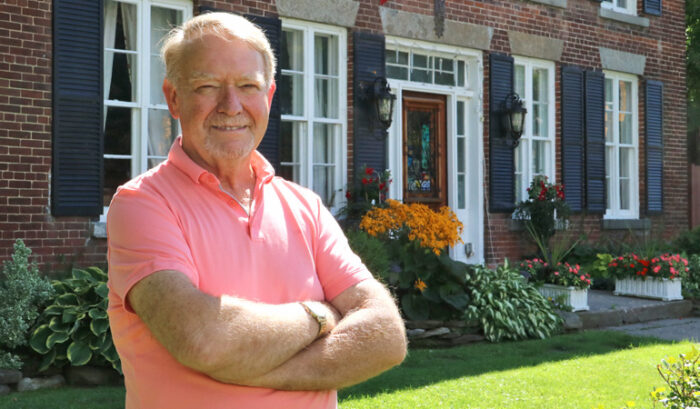 A stay at the historic Chesley's Inn now comes with a free bike ride along Cornwall's famed Waterfront Trail.
The Downtown Cornwall accommodation recently acquired a number of bicycles that will be offered as a complimentary service to guests who wish to get outdoors and enjoy some cycling during their stay.
For Inkeeper Robert Prowse, the new service was a natural fit – the inn is just one block away from Cornwall's Waterfront Trail, a traffic-free route along the edge of the St. Lawrence River offering amazing views and interesting landmarks at every turn.
The dedicated off-road trail runs directly along the St. Lawrence River the entire length of the city, some 18 kilometres. It continues west for another 25 km to Upper Canada Village near Morrisburg. That's over 40 km of cycling – right along the river's edge.
Related: Cornwall's Waterfront Trail offers exceptional cycling experience
"It's a nice thing to offer guests who would like to enjoy some outdoor adventure and get out on the trail for an hour or two," said Mr. Prowse.
Of course, dedicated cyclists travel and stay with their own bicycles in tow – and Mr. Prowse knows them very well.
Cycle tourists make up a growing part of his clientele, and that growth is expected to continue as more and more Canadian seek out safe, healthy outdoor experiences to enjoy during the ongoing pandemic.
The inn offers an on-site bike lock up and its proximity to Downtown restaurants and the celebrated Waterfront Trail makes it a popular stop for cyclists.
"This (section of the Waterfront Trail) is a very popular route, the whole path here. So much of it is off-road which makes people, particularly older cyclists, feel much more secure," he added.
Eastern Ontario's Best Bicycle Friendly Business
Mr. Prowse's attention to cycle tourists helped Chesley's Inn secure the title of Eastern Ontario's Best Bicycle Friendly Business earlier this year.
In May, the historic establishment was given the Best Bicycle Friendly Business award for 2020 by Ontario by Bike, a project dedicated to promoting and developing cycle tourism in the province.
Ontario by Bike selected one winner for every Regional Tourism Organization (RTO) area in the province. Chesley's Inn was the recipient for RTO 9, a region which covers much of Eastern Ontario, from the Quebec border west to Prince Edward County.
History in the heart of the city
Cornwall's Chesley's Inn is truly a one-of-a-kind property. It has historic charm – it is Ontario's oldest Inn, having been built in 1814. And unlike many other Inns, it has a distinct urban vibe, being located in the heart of Downtown Cornwall, just steps away from the main street and its restaurants, shops and galleries.
Chesley's Inn was built in 1814 by Alsaints Chesley, one of three brothers from New York State who all fought on the Revolutionary side during the American War of Independence. He brought his family to Cornwall in 1800 where he seems to have had a change of heart as he and his sons fought on the Canadian side during the War of 1812.
Popular local legend has it that Charles Dickens spent a night when he passed through Cornwall during his 1840's tour of the Americas.
The Inn has four beautifully-appointed rooms along with common rooms and a beautiful private garden. Customers can enjoy breakfasts featuring fresh ground coffee and in-season local foods.
For more information, please visit the Chesley's Inn website or check them out on Facebook.
Get rolling
Enjoy amazing off-road trails along the mighty St. Lawrence River with easy access to restaurants, shops, attractions and more. Your next cycling adventure awaits in Cornwall!
Check out the Cornwall Tourism cycling page for everything you need to know to plan your cycling trip, including park and ride locations, maps, Cycle and Stay packages and much more.
Play it safe!
We all have a part to play in combating the spread of COVID-19. Residents are encouraged to wear masks in indoor public spaces and practice frequent hand washing and physical distancing. For the latest guidelines and restrictions related to COVID-19, please visit the Eastern Ontario Health Unit website.
#exploreCornwallON
Looking for other fun things to do in Cornwall? Check out the Explore section of our website for other fun-filled activities to keep you busy. Better yet, consider extending your stay with a night at one of our great accommodations!

Article by Kevin Lajoie
www.CornwallTourism.com