Civic Complex hosting OHL hockey game
July 4, 2019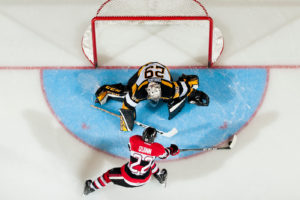 An old friend is coming to visit.
The Ontario Hockey League will return to Cornwall on Labour Day Monday for an exhibition contest between two fierce eastern Ontario rivals, the Kingston Frontenacs and the Ottawa 67's.
The pre-season match will be held on Monday, September 2nd, at 2 pm, at the Cornwall Civic Complex.
It marks the second straight year that the OHL will hold a pre-season contest in Cornwall, a community with a rich junior hockey history thanks to the beloved Cornwall Royals.
Last year's contest drew a big crowd and the fans weren't disappointed as the Fronts and 67's put on a great battle.
"The 67's are excited to return to Cornwall to take on the Frontenacs in a first-class venue," said James Boyd, General Manager of the 67's.
It's a fitting matchup that will certainly bring back memories for old-time hockey fans in Cornwall. Both the Fronts and 67's were big rivals of the beloved Cornwall Royals, whose three Memorial Cup banners still hang proudly from the rafters of the Civic Complex.
Kingston and Ottawa are both members of the OHL East Division. The 67's are coming off a strong season, having made it to the OHL Finals last season before falling to Guelph. Kingston missed out on the playoffs in 2018-19.
The Cornwall game is one of 45 pre-season matches on the OHL pre-season schedule before the regular season schedule opens on Thursday, September 19th.
Ticket information
Tickets are $9.50 for adults and $6.50 for children 12 and under (including service fees and taxes) and they are available at the Civic Complex Box Office (open Monday to Friday, 8:30 am to 4:30 pm) or online at Ticketpro.
Click here to purchase tickets online
Tickets will also be available at the Civic Complex Box Office on game day. The Box Office will open at 12 pm.
About the Cornwall Civic Complex
Situated in scenic Lamoureux Park on the banks of the St. Lawrence River, the Cornwall Civic Complex is a highly versatile and modern facility. The heart of the Civic Complex is the Ed Lumley Arena, a modern ice rink that boasts seating for up to 5,800 people for concerts and special events.
The Civic Complex has hosted a number of special events in recent years such as the World Junior Exhibition Game, RBC Cup National Junior A Hockey Championship and concerts by Nickelback, Great Big Sea, Alice Cooper and Blue Rodeo.
For additional information on the Cornwall Civic Complex please click here.
Additional Events
Looking for other fun things to do in Cornwall? Make sure to check out our Events page for info on upcoming events in the area!
Stay with Us!
Planning to explore Cornwall? Extend your stay at one of our many great accommodations! For a listing of local accommodations, click here.
Additional Information
Planning a visit to Cornwall? Cornwall Tourism can help. Email us at info@cornwalltourism.com to request a copy of our Visitor Guide or contact us at (613) 936-0842. You can also stop by our seasonal Visitor Information Centre inside the Cornwall Community Museum in Lamoureux Park. The Museum is located at 160 Water Street West, just steps away from the children's splashpad and play structure. Free parking is available immediately north of the Museum along Water Street.
The seasonal Visitor Information Centre is open seven days a week (8:30 am to 4:30 pm) through the summer months.
Follow Cornwall Tourism on Facebook
Follow Cornwall Tourism on Twitter
Article by Kevin Lajoie
www.CornwallTourism.com
Photos by Bobby Lefebvre
www.IceLevel.com