Cline House Gallery hosts Sean George exhibit
May 1, 2023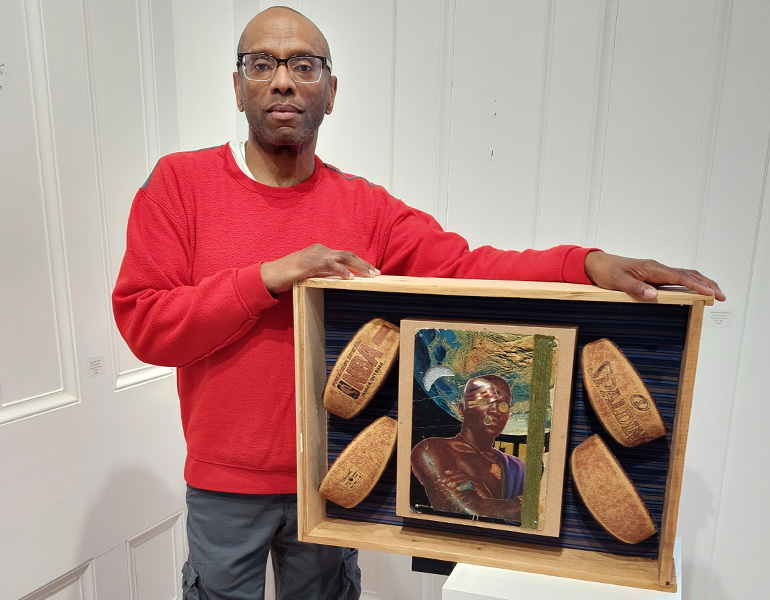 The Cline House Gallery is pleased to present "Coming Together, Coming Apart: Images and Ideas," an exhibition featuring the work of artist Sean George, whose photo-based installations explore the aesthetic, narrative, philosophical, and logical possibilities of a changing world.
The exhibition, which will run for Thursday, May 18th to Saturday, July 1st, demonstrates the power of art to explore issues and ideas and to reflect on the subtle power shifts in society over time. It is an opportunity for visitors to engage with themes of feminism, gender roles, liberalism, and the blurring of boundaries in the new media age.
"In a world saturated with images, this exhibit explores how we make meaning from what we see," said George.
"Images have become a ubiquitous part of our daily lives," said gallery coordinator Emily MacLeod. "Sean's work asks us to consider how we can push beyond the surface level of these images to find deeper connections and truths. His work is visually intriguing and intellectually engaging and we're excited to have visitors delve into the complex themes he is exploring."
The exhibition will be on display at the Cline House Gallery, located at 204 Second Street East. The gallery is open from 10 am to 4 pm on Thursday, Friday and Saturday. An opening reception will be held on Thursday, May 18th from 7 pm to 9 pm where visitors can meet the artist. Admission is free.
Additional information
For more information about the "Coming Together, Coming Apart: Images and Ideas" exhibit or the Cline House Gallery, please visit www.clinehousegallery.com.
#ExploreCornwallON
Looking for other fun things to do in Cornwall? Check out the Explore section of our website for other fun-filled activities to keep you busy. Better yet, consider extending your stay with a night at one of our great accommodations!
Got a question?
Got questions? Need recommendations? We're here to help! Call or text us at 613-938-4748 or email us at info@cornwalltourism.com and we'll be pleased to help you with any questions you may have!
Also make sure to check us out on Facebook and Instagram for updates and more great reasons to visit Cornwall!