Cline House Gallery hosts 'The World is a Camera' exhibit
March 13, 2023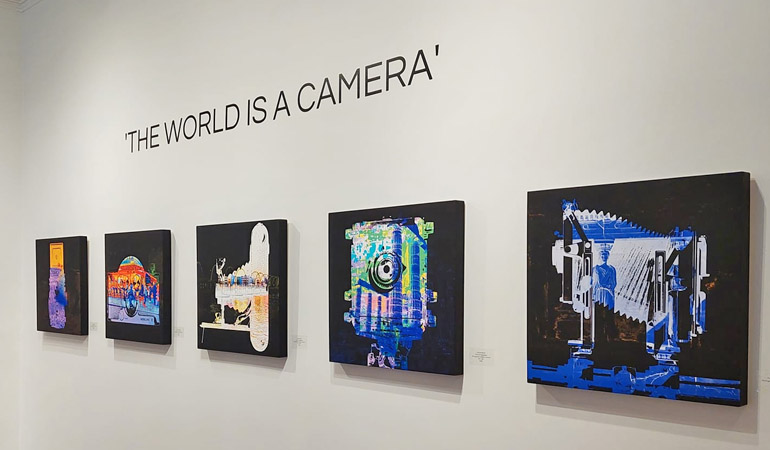 A new exhibition at Cline House Gallery offers residents a chance to see the world in a whole new dimension.
The Downtown Cornwall art gallery is hosting 'The World is a Camera,' a unique exhibit featuring the eclectic works of photographers Francois Desjardins and Jessica Sarrazin.
Sarrazin's photographic works include outdoor views, such as landscapes glimpsed from train windows or photos of the night sky. She uses slightly flawed or unresolved photographs which she alters with hand sewing. By turns, these alterations appear to impose a tenuous order, suggest movement, or add an ethereal quality to the photograph. Her images are cinematic in their framing and have a quiet and intense sense of drama.
Desjardin's current series was created over the past two years, as sort of a visual poem about photography, inspired by what is always just outside the viewfinder, outside what the camera allows us to see. In spite of a photograph's perceived link to its subject, what the camera reproduces is by its nature, a distortion, whereas everything it ignores, is reality. The specific objective of these images was never a documentary one but rather an invitation to a thoughtful reading. The overall guiding concept remains the exploration of a set of conditions that define the role of the photographic image.
The exhibit opened on March 2nd and it runs until April 1st.
The gallery is open Thursday to Saturday from 10 am to 4 pm and admission is free. Parking is available on site.
Additional information
For additional information on the show, please visit the Cline House Gallery Facebook page or Instagram account.
About Cline House Gallery
Built in 1854, the Cline House Gallery offers a series or exhibits throughout the year as well various art workshops and seminars. The gallery is located at the corner of Second Street East and Amelia Street in Downtown Cornwall.
For additional information please click here.
#ExploreCornwallON
Looking for other fun things to do in Cornwall? Check out the Explore section of our website for other fun-filled activities to keep you busy. Better yet, consider extending your stay with a night at one of our great accommodations!
Got a question?
Got questions? Need recommendations? We're here to help! Call or text us at 613-938-4748 or email us at info@cornwalltourism.com and we'll be pleased to help you with any questions you may have!
Also make sure to check us out on Facebook and Instagram for updates and more great reasons to visit Cornwall!