Cornwall becomes a Silver Bicycle Friendly Community
May 4, 2021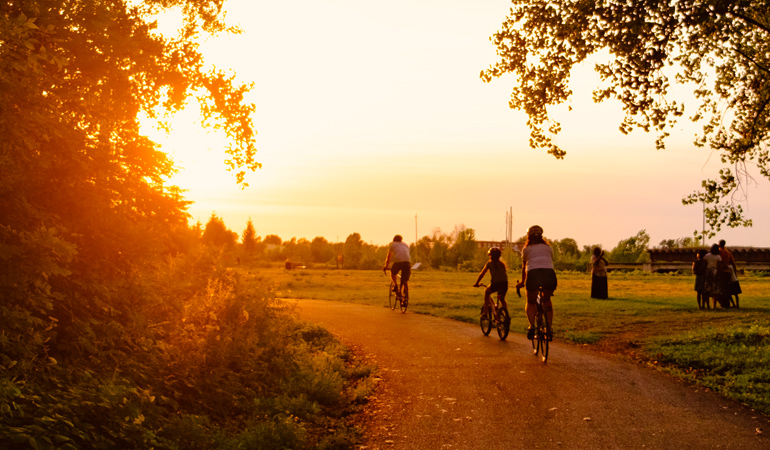 Cornwall's standing as a great cycling destination has been solidified even more with the city being named a Silver Bicycle Friendly Community.
The award comes from Share the Road Cycling Coalition (STR) and the Canadian Automobile Association (CAA). The new Silver Award recognizes the improvements Cornwall has made to enable and promote cycling over the last four years. The City was previously awarded Bronze in 2016.
"City staff and our community partners are delighted to receive this national award," said Mayor Bernadette Clement. "Cycling has always been a priority for our community. Recent investments towards infrastructure, public education, and cycling tourism have really pushed our city into the spotlight."
To be considered for a Bicycle Friendly Community (BFC) award, a community must demonstrate its achievements in areas such as bicycle path infrastructure, signage, promotions and maps, youth and adult education, traffic safety and overall community planning.

"There are many paths to becoming a bicycle friendly community for residents and visitors," said Dr. Subha Ramanathan, Bicycle Friendly Communities Manager at Share the Road Coalition. "Our award program helps communities track their progress, learn from one another, and gain public acknowledgement for their efforts."
This year, Cornwall is one of only 10 award winners, making it one of almost 50 designated Bicycle Friendly Communities in Canada.
"More communities join the ranks of BFC award-winners every year, and we are pleased to see that positive trend," said Ian Jack, vice president of public affairs at CAA National. "CAA is proud to support the BFC program so that communities receive the recognition they deserve."
Quick Facts
Cornwall has:
– 62.85 km of off-street recreation paths and 42.24 km of dedicated bike lanes (double the 2016 distances),
– Bike racks on 100% of Cornwall Transit buses (up from 10% in 2016),
– 6 public water bottle filling stations,
– One of the longest competitive BMX tracks in Ontario,
– A new 10km+ mountain/fat bike trail in Guindon Park (established 2020), and
– 19 adventure tourism bike routes to help encourage beginner and experienced cyclists to explore local history, food and drink establishments, and nature.
The City of Cornwall now spends between 10-15% of its annual Transportation budget on cycling infrastructure development (6x the budget from 2015), and an estimated $30,000 for resident and visitor promotion (maps, videos, tourism ads).
About the Bicycle Friendly Communities Program and Share the Road Cycling Coalition
Share the Road is an Ontario-based not-for-profit organization working to make communities across Canada bicycle friendly for people of all ages and abilities. They work in partnership with municipal, provincial and federal governments; the business community; road safety organizations; and other not-for-profits to:

– Enhance access for bicyclists on roads and trails
– Improve safety for all bicyclists
– Provide education about the value and importance of safe bicycling for healthy lifestyles and healthy communities
The Bicycle Friendly Communities (BFC) program, an initiative of the League of American Bicyclists, was launched in Canada by Share the Road Cycling Coalition in 2010. The program provides guidance, inspiration and award-recognition for communities that actively support bicycling. To be considered for an award, a community must demonstrate achievements in four major categories: Engineering, Education, Encouragement, and Evaluation & Planning. Awards levels are Bronze, Silver, Gold, Platinum and Diamond and communities must reapply every 4 years to maintain their status or be elevated to the next level.
It's time to … get rolling!
Whether you're looking for a fun family ride or a challenging off-road adventure, Cornwall is a great destination for your next cycling outing.
Cornwall's section of the Waterfront Trail is one of the best. Enjoy dedicated trails right along the St. Lawrence River with easy access to restaurants, shops, attractions and more!
Check out the Cornwall Tourism Cycling Page for all you need to plan your next cycling adventure, including maps, parking options, itineraries and more.
Cycle & Stay packages
Wind down from your cycling adventure with a stay in one of our safe and comfortable accommodations at a preferred rate! Best of all, they're bicycle-friendly and located just a few pedals away from the Waterfront Trail! Our accommodation partners have implemented enhanced cleaning standards to ensure the health and safety of visitors. Enjoy a complimentary breakfast as well as a voucher for room service!
Enjoy a room for as little as $149 per night along with a dinner voucher and a complimentary grab and go breakfast!
For more information on the Cycle & Stay packages, please click here.
Play it safe!
We all have a part to play in combating the spread of COVID-19. Residents are encouraged to wear masks, practice frequent hand washing and physical distancing, and stay home if not feeling well. For the latest guidelines and restrictions related to COVID-19, please visit the Eastern Ontario Health Unit website.
#exploreCornwallON
Looking for other fun things to do in Cornwall? Check out the Explore section of our website for other fun-filled activities to keep you busy. Better yet, consider extending your stay with a night at one of our great accommodations!
Got a question?
Got questions? Need recommendations? We're here to help! Call or text us at 613-938-4748 or email us at info@cornwalltourism.com and we'll be pleased to help you with any questions you may have!
Also make sure to check us out on Facebook and Instagram for updates and more great reasons to visit Cornwall!