Cornwall Concert Series presents JoyRide on October 15th
October 10, 2023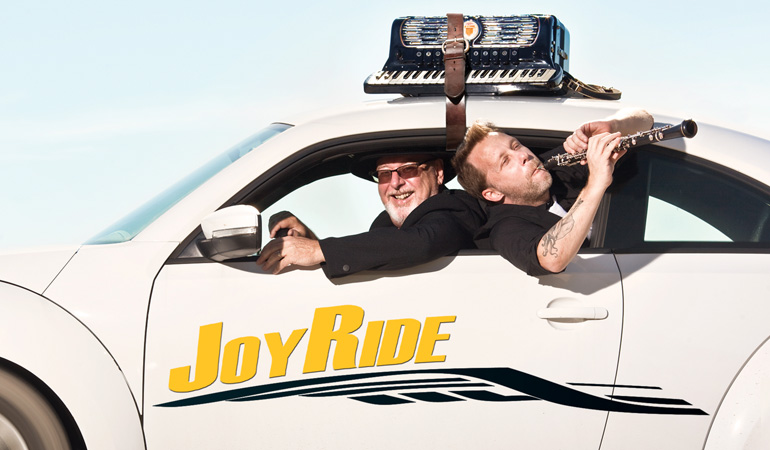 The fall season of the Cornwall Concert Series continues on Sunday, October 15th with a matinee performance by JoyRide, the dynamic duo of Colin Maier and Charles Cozens.
Their music is best classified as jazz crossover which encompasses many styles including jazz, ragtime, blues, tango, gypsy and klezmer. JoyRide is a "jazz crossover" duo that weaves their instruments, improvisation and personalities into a multifaceted presentation.
The concert takes place at 2 pm at Aultsville Theatre.
Colin Maier has been touring the world with Quartetto Gelato since 2009, singing, playing oboe, musical saw, and a host of other instruments. He has released two solo CDs which receive regular radio play on over 250 global radio stations. As an oboe soloist, he has performed in front of many orchestras across Canada and the United States. For video game fans, Colin can be heard playing the Musical Saw in the video game blockbuster "Cuphead 2." His long list of other engagements includes musical theatre pit orchestras, recording sessions, and appearing as guest lecturer at universities across North America.
In addition to being a musician, Colin has also worked for over 20 years as a dancer, actor, stuntman, singer, choreographer, acrobat and martial-artist. Colin has been seen in the 2010 Vancouver Olympics Opening Ceremonies as the Devil Fiddler in the Flying Blue Canoe which was viewed by over 2 billion people, "Lord of the Rings" (Mirvish), Fire (CanStage), "Forbidden Phoenix" (LKTYP), "KA" (Cirque du Soleil), "Amadeus" (Alberta Theatre Projects), "That Dance Show" (Saltance Productions), "Cats" (Neptune Theatre), Joseph's Dreamcoat (StageWest/Drayton), "A Chorus Line" (StageWest), Sarah Brightman's World Tour, and as a ninja in TV's "Honey I Shrunk the Kids!" Additionally, Colin has been featured on-screen in many television shows and movies produced by Netflix, Disney, and CBC among others.
Charles Cozens is a true Renaissance man of the Canadian music industry. Highly acclaimed as an arranger, composer and orchestrator, he is also an accomplished orchestral conductor, pianist, accordionist and recording producer.
As an arranger, Charles has scored over 3,000 commissioned orchestrations and compositions for a plethora of orchestras, recordings, multi-media and corporate events worldwide. In particular, he has created compelling orchestrations and symphony shows for such artists as Sir Elton John, Randy Bachman, Janelle Monae, The Nylons, Mark Masri, The Canadian Tenors, and many others. He has also had the pleasure of working with several musical icons including Henry Mancini, Eartha Kitt and Cab Calloway.
With over 1,000 recorded tracks for companies such as Universal Music Canada, Somerset Entertainment and Linus Entertainment, he has been recognized by the International Conductor's Guild as a leading expert on orchestral conducting in the recording environment and is a Juno Award nominee (Instrumental Album Of The Year, Balance 2005).
Ticket information
Tickets for the show ($35) can be purchased in advance at TD Canada Trust (1 Ninth Street East), Jolly Tours (EastCourt Mall), The Squire Shop (113 Pitt Street) and the City of Cornwall Box Office at the Aquatic Centre and Benson Centre.
Tickets can also be purchased at the Aultsville Theatre Box Office one hour prior to showtime (subject to availability).
Buy online
You can also buy online via TicketPro!
Click here to purchase tickets online
Please note additional fees apply for online purchases
About the Cornwall Concert Series
The fall concert season closes with another matinee performance on Sunday, November 5th with Shane Cook & The Woodchippers. Shane is a Canadian and U.S. National fiddle champion and a multi-instrumentalist who has distinguished himself as a master of the Canadian old-time fiddle tradition. Joining Shane as a four-member group of multi-instrumentalists, singers and step dancers, The Woodchippers are Emily Flack (Leahy) on piano, vocals and dance, Joe Phillips (Art of Time Ensemble) on vocals, double bass and guitar, and Kyle Waymouth (five-time national step dance champion) on guitar, tenor banjo and dance.
The Cornwall Concert Series has been a part of Cornwall and the surrounding communities for 30 years. It is a non-profit, registered charitable organization run by a volunteer management board which strives to bring quality entertainment to local audiences.
For additional information on the Cornwall Concert Series, please visit the Cornwall Concert Series website and Facebook page.
#ExploreCornwallON
Looking for other fun things to do in Cornwall? Check out the Explore section of our website for other fun-filled activities to keep you busy. Better yet, consider extending your stay with a night at one of our great accommodations!
Got a question?
Got questions? Need recommendations? We're here to help! Call or text us at 613-938-4748 or email us at info@cornwalltourism.com and we'll be pleased to help you with any questions you may have!
Also make sure to check us out on Facebook and Instagram for updates and more great reasons to visit Cornwall!