Cornwall Concert Series presents Shane Cook & The Woodchippers
October 25, 2023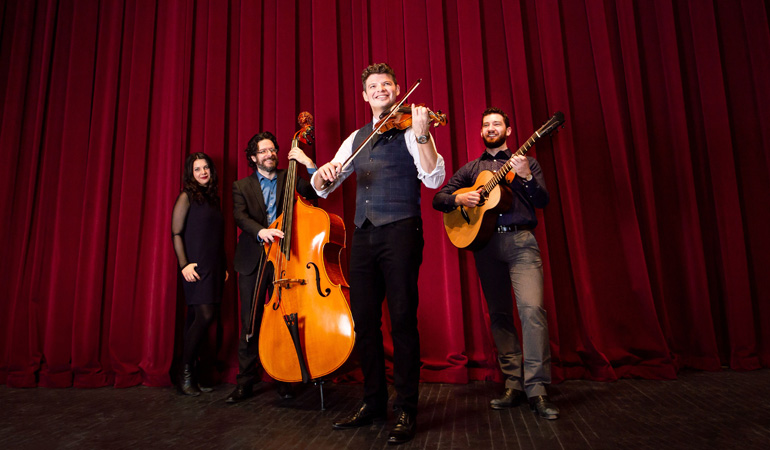 The closing concert of the fall season for the Cornwall Concert Series promises to be a toe-tapping good time with Shane Cook and the Woodchippers. The matinee performance will take place on Sunday, November 5th at 2 pm at Aultsville Theatre.
A Canadian and US National fiddle champion, Shane Cook is a multi-instrumentalist who captivates audiences with technically thrilling and adventurous performances. While Shane enjoys playing and arranging everything from traditional Irish and Scottish music to Pop and Bluegrass, Shane has distinguished himself as a master of the Canadian old-time fiddle tradition.
At 24, Shane retired from competitive fiddling as one of Canada's most highly awarded fiddlers. He is a three-time Canadian Open National Champion, a three-time Canadian Grand Masters Champion, a Grand North American Champion, and is the only foreign fiddler to win the US Grand National Championship, a feat he accomplished at just 17 years of age.
Shane is in high demand among a variety of ensembles and collaborations that have seen him tour extensively in Canada, the US, the UK, Ireland, France, Germany, Mexico, China, Singapore and Taiwan.
Shane Cook & The Woodchippers rely on their deep foundation in the traditional music, song and dance of Ontario for the core of their sound, yet also draw on styles as broad as folk, Celtic, roots, bluegrass and swing. Their superbly crafted compositions and arrangements are a modern, exhilarating approach to fiddle tunes, song and dance. Without fail, their Ottawa Valley style step dancing always electrifies.
Joining Shane as a four-member group of multi-instrumentalists, singers and step dancers, The Woodchippers are: Emily Flack (Leahy) on piano, vocals and dance, Joe Phillips (Art of Time Ensemble) on vocals, double bass and guitar, and Kyle Waymouth (five-time national step dance champion) on guitar, tenor banjo and dance. Shane leads a joyous and diverse musical journey through fresh, original fiddle tunes and songs on Be Here for a While, the debut album from Shane Cook & The Woodchippers. Shane Cook & The Woodchippers first premiered the music of Be Here for a While with The International Symphony Orchestra and has since toured the album across Canada and the US in 2022. The band and album are 2022 Canadian Folk Music Award nominees for Instrumental Group of the Year and Traditional Album of the Year.
Shane is also proud to be a member of the PBS hit show Bowfire – a showcase featuring some of the leading names in modern violin playing. He is also a member of The Brian Pickell Band – a collection of Canadian virtuosos of traditional music, and The StepCrew – a dance and music tour de force. Shane has four solo recordings to his credit. His fourth solo release, a self-titled project, is a collection of the most important and influential tunes in his own Canadian old-time fiddle repertoire that the London Free Press describes as "Relaxed, sprightly…and brilliantly played."
Ticket information
All Cornwall Concert Series shows are held at Aultsville Theatre.
Single tickets ($35) for all performances may be purchased in advance (cash or cheque) at TD Canada Trust (1 Ninth Street East), Jolly Tours (Eastcourt Mall), The Squire Shop (113 Pitt Street) and the City of Cornwall Box Office locations at the Aquatic Centre (100 Water Street East) and Benson Centre (800 Seventh Street West).
Tickets can also be purchased at the Aultsville Theatre Box Office one hour before showtime (subject to availability).
Buy online
You can also buy online via TicketPro!
Click here to purchase tickets online
Please note additional fees apply for online purchases
Additional information
For additional information on the Cornwall Concert Series, please visit the Cornwall Concert Series website and Facebook page.
#ExploreCornwallON
Looking for other fun things to do in Cornwall? Check out the Explore section of our website for other fun-filled activities to keep you busy. Better yet, consider extending your stay with a night at one of our great accommodations!
Got a question?
Got questions? Need recommendations? We're here to help! Call or text us at 613-938-4748 or email us at info@cornwalltourism.com and we'll be pleased to help you with any questions you may have!
Also make sure to check us out on Facebook and Instagram for updates and more great reasons to visit Cornwall!
All concerts are held at Aultsville Theatre. Single tickets ($35) for all performances may be purchased in advance (cash or cheque) at these locations: TD Canada Trust, 1 Ninth Street East; Jolly Tours, Eastcourt Mall; The Squire Shop, 113 Pitt Street; and the City of Cornwall Box Office locations situated at the Aquatic Centre and the Benson Centre.
For further information, visit www.CornwallConcertSeries.com