Cornwall cycling on display at Montreal Bicycle Show
April 21, 2022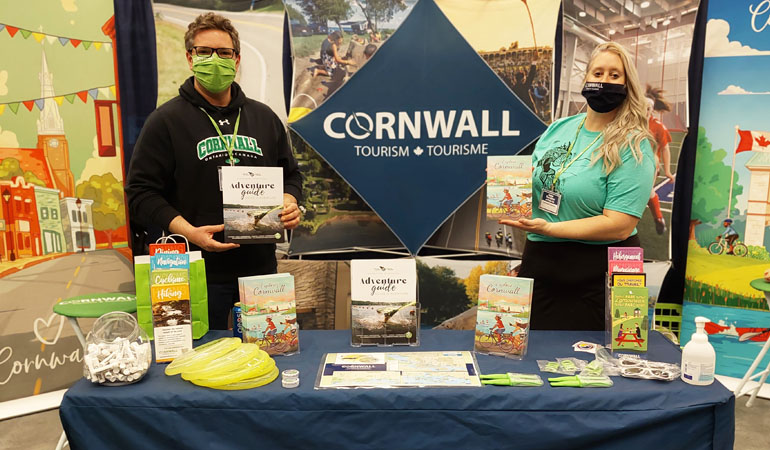 Cornwall Tourism will be showcasing the area's amazing cycling opportunities at the Montreal Bicycle Show next weekend.
Running from Friday, April 29th to Sunday, May 1st at Olympic Stadium, the Montreal Bicycle Show is Canada's largest consumer show dedicated exclusively to the world of bicycles and cycling tourism. Now in its 19th year, the show will feature over 200 vendors.
"Cornwall's Riverside Trail and cycling network is extremely popular with visitors and there is a great opportunity to attract even more tourists from Quebec and beyond," said Kevin Lajoie, Tourism Officer with Cornwall Tourism.
The Cornwall region already welcomes a significant amount of visiting cyclists during the summer months, be it couples and families on day trips or larger group tours and special events.
"We regularly interact with visiting cyclists during the summer months at our visitor info centre. They often remark about how beautiful the waterfront is and how nice it is to cycle on our traffic-free trails," added Lajoie.
In addition to speaking directly with cycling enthusiasts, Cornwall Tourism will be handing out copies of the recently-released 2022 Explore Cornwall Visitor Guide. The bilingual publication contains a variety of information on accommodations, events, attractions and things to see and do in the Cornwall area – including cycling.
"The new guide offers a great snapshot of all the great things there are to experience in our community," said Amy Malyon, Tourism Coordinator with Cornwall Tourism.
Cycling maps and other resources will also be made available to consumers.
The Montreal Bicycle Show runs from 12 pm to 9 pm on Friday, April 29th, 10 am to 6 pm on Saturday, April 30th and 10 am to 5 pm on Sunday, May 1st. Cornwall Tourism will be at Booth 1110 at the show.
For more information about the show, please click here.
Cycling in Cornwall
Enjoy amazing off-road trails along the mighty St. Lawrence River with easy access to restaurants, shops, attractions and much more. Take advantage of our Cycle & Stay Packages and make a weekend of it!
For more information on cycling in Cornwall, please check out our Cycling page.
About the Waterfront Trail
Cornwall's Riverside Trail is part of the majestic Waterfront Trail. Stretching over 3,000 km, the Waterfront Trail is a route connecting 140 communities and First Nations along the Canadian shores of the Great Lakes and St. Lawrence River. The trail consists of both on-road and off-road facilities.
Cornwall's section of the Waterfront Trail is a dedicated multi-use trail that spans the entire waterfront, offering stunning views of the Cornwall Canal and St. Lawrence River – completely off-road. The Trail connects a number of attractions including the OPG Visitor Centre, Cornwall Community Museum, Lamoureux Park and the Aquatic Centre.
The trail continues to the west and east, connecting Cornwall to the communities of South Dundas, South Stormont, South Glengarry… and beyond.
Free parking for trail users is available at the Cornwall Civic Complex, which also provides public washrooms.
#ExploreCornwallON
Looking for other fun things to do in Cornwall? Check out the Explore section of our website for other fun-filled activities to keep you busy. Better yet, consider extending your stay with a night at one of our great accommodations!
Got a question?
Got questions? Need recommendations? We're here to help! Call or text us at 613-938-4748 or email us at info@cornwalltourism.com and we'll be pleased to help you with any questions you may have!
Also make sure to check us out on Facebook and Instagram for updates and more great reasons to visit Cornwall!