Cornwall foodie launching food tour business
December 11, 2020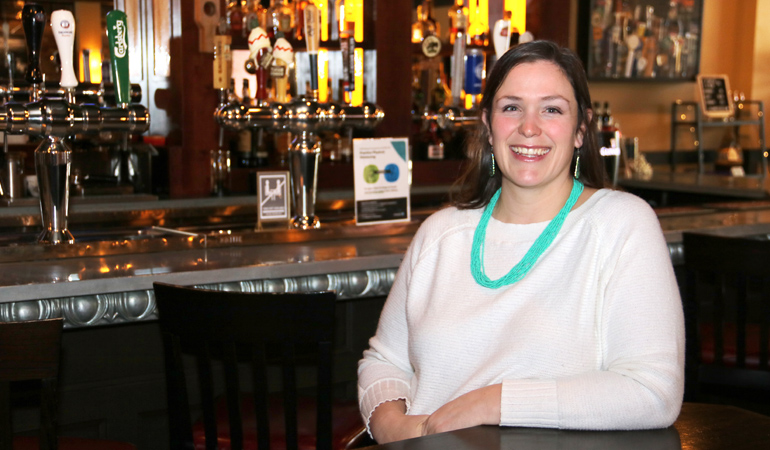 Vanessa Leduc believes Cornwall has an amazing food scene, and she wants to show it off to visitors and residents alike.
The local foodie is preparing to launch Cornwall Food Tours, a new venture that will take participants on guided tours to sample dishes and drinks from local restaurants while also highlighting fun facts about the area.
"We have such amazing restaurants in Cornwall," said Mrs. Leduc. "The whole point of this is to highlight local businesses, showcasing what we have and letting others know about them."
While food and drink is the main attraction on the tours, it's not the only draw. They also provide a chance to showcase the fun and interesting people, landmarks and historical notes of a community, and Mrs. Leduc plans to make the most of Cornwall's rich culture.
Cornwall Food Tours is expected to launch in the spring with Mrs. Leduc and her husband Moe Bellefeuille initially providing the tours. It will likely be weekend outings to start focusing on Downtown Cornwall's burgeoning restaurant scene. In fact, Mrs. Leduc is pondering two different Downtown tours – one focusing on classic food and another featuring flavours from around the world.
"Within a four or five block stretch, there's so much to explore and enjoy," she added.
The business venture gets a Spark
Mrs. Leduc had originally planned to unveil the food tour as a fundraiser earlier this year but the pandemic curtailed those plans. However, the idea was reignited in the fall through the Spark Mentorship & Grants Program, an initiative aimed at generating new tourism ideas and experiences.
Mrs. Leduc submitted her idea and became one of the top five applicants in the program, which was hosted in a partnership between the Ontario Tourism Innovation Lab, Cornwall Tourism, Cornwall Tourism Development Fund and SDG Counties. 
Earlier this week, Mrs. Leduc was named one of the three Spark finalists. She'll receive a $3,000 grant and a one-on-one mentorship with a successful tourism business leader to help take her idea to the next stage of development.
In addition to the personal insights that will come from the mentorship, Mrs. Leduc said the grant will go a long way towards assisting with some of the overhead costs of her venture, such as marketing and website development.
The two other Spark finalists include:
Oneida Hospitality
Operating out of the former United Church of Iroquois, Oneida Hospitality (operated by Ky-Lee & Sasha Hansen) offers a grand event space and will enhance their offerings with Sunday Picnics in the Park with a classic car drive-in. Visitors will be able to enjoy their own picnic or one prepared by their Red Seal chef while taking in the classic cars on display.
Fields of Gold
Jakob and Stephanie Vogel's Fields of Gold will see 14 acres of land on their Monkland farm transformed into fields and trails of natural sunflowers to be enjoyed by nature lovers of all ages. This agri-tourism destination will welcome the public to walk the trails, host events, and hold private photography sessions.
About the Spark program
The goal of the Spark program is to find, foster and support new tourism ideas, experiences and partnerships that will enhance current offerings, address gaps or challenges, motivate travel and longer stays, and increase year-round visits in the region.
Innovation in the tourism industry is critical for the region to respond, adapt and recover from the significant impacts and evolving travel landscape as a result of the COVID-19 health and economic crisis.
For additional information on the Cornwall and SDG Counties Spark program, please click here.
Play it safe!
We all have a part to play in combating the spread of COVID-19. Residents are encouraged to wear masks in indoor public spaces and practice frequent hand washing and physical distancing. For the latest guidelines and restrictions related to COVID-19, please visit the Eastern Ontario Health Unit website.
#exploreCornwallON
Looking for other fun things to do in Cornwall? Check out the Explore section of our website for other fun-filled activities to keep you busy. Better yet, consider extending your stay with a night at one of our great accommodations!
Article by Kevin Lajoie
www.CornwallTourism.com