Cornwall hosting U20 national broomball championship
March 4, 2022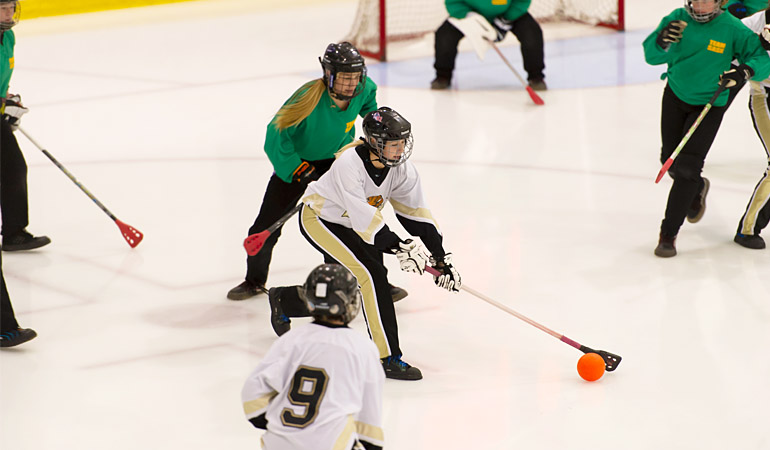 It's been a long wait but it's finally game on for the U20 national broomball championship in Cornwall.
The city will be playing host to the national championship from Tuesday, April 12th to Saturday, April 16th at the Benson Centre, Cornwall's popular multi-sport facility. The tournament will feature 16 under-20 teams from Ontario, Quebec, Saskatchewan and Manitoba facing off for the right to be crowned Canadian champions.
The tournament was originally scheduled to be held in Cornwall in 2020 however the Covid-19 pandemic forced a halt to those plans just days before it was set to begin. It was a similar story in 2021 but an improved outlook has prompted the green light for the event in 2022. So it will technically be the 2020 championships – albeit in 2022.
"It's been a long road to this point and we're excited to finally host the event," said Chris deRepentigny, chair of the event organizing committee.
Games will be played on two of the ice pads over several days with the finals taking place on Saturday.
Over 300 players and team staff are expected to participate in the tournament and with six Ontario teams participating in the event, there's a good chance that there will be a lot of spectators making the trip too.
"We are partnering with a number of hotels in the city and restaurants too," said deRepentigny. "It's a huge event and it brings a lot of positive economic benefits to the host community."
Two local teams, the Eastern Ontario Warriors (boys) and Seaway Valley Devils (girls) are co-hosting the event. Both teams practice and play out of Finch.
It's not the first time the Benson Centre hosts a major broomball event. In 2019, Cornwall played host to the 2019 Canadian Senior Broomball Championships which was a huge success.
The event is sanctioned by the Canadian Broomball Federation, the official governing body of the sport of broomball in Canada.
Be a part of the team!
The host committee is looking for volunteers to help with the event and there are also sponsorship opportunities available for local businesses and organizations. For additional information, please contact deRepentigny at marcchrisderepentigny@gmail.com or by phone at 343-370-6938.
About the Benson Centre
The Benson Centre is one of Cornwall's newest recreation facilities, offering three NHL-sized rinks, an indoor field house and an indoor court for tennis, pickleball and badminton along with numerous multi-purpose rooms.
The venue plays host to dozens of major events throughout the year catering to both residents and visitors.
For more information on the Benson Centre, please click here.
#ExploreCornwallON
Looking for other fun things to do in Cornwall? Check out the Explore section of our website for other fun-filled activities to keep you busy. Better yet, consider extending your stay with a night at one of our great accommodations!
Got a question?
Got questions? Need recommendations? We're here to help! Call or text us at 613-938-4748 or email us at info@cornwalltourism.com and we'll be pleased to help you with any questions you may have!
Also make sure to check us out on Facebook and Instagram for updates and more great reasons to visit Cornwall!