Cornwall Kinsmen Farmers' Market returns May 29th
April 26, 2022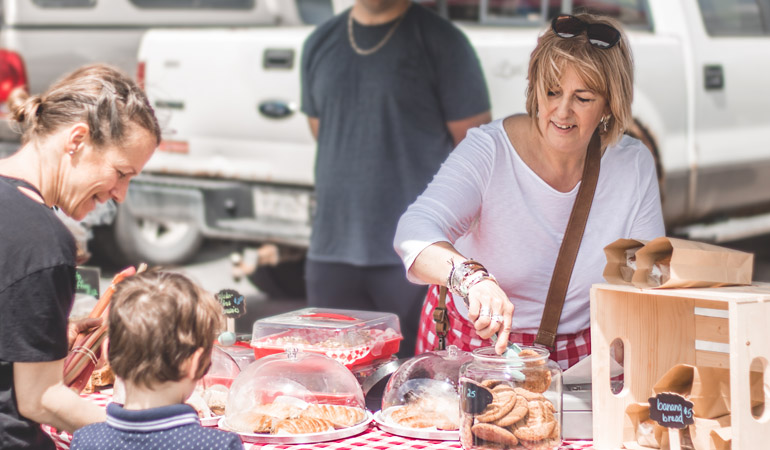 The weekly Cornwall Kinsmen Farmers' Market will return to St. Lawrence College starting Sunday, May 29th.
"We are thrilled to be offering the outdoor Cornwall Kinsmen Farmers' Market again this year," said Darryl Adams, President of the Kinsmen Club of Cornwall. "With pandemic restrictions lifting, our vendors and volunteers are excited to reconnect with the community and celebrate local food."
As in previous years, the market will be hosted every Sunday in the north-west parking lot of St. Lawrence College from 11 am to 3 pm. Over two dozen vendors have already signed up for this season, including several new producers who residents may recognize from last year's Cornwall Waterfront Market in Lamoureux Park.
"We love knowing our past vendors are returning to the market this season and look forward to getting to know the new ones as well," said John Racine, Kinsmen member and Volunteer Coordinator. "Based on our early registrations, visitors can expect a lot of selection this year including locally grown produce, fresh meats, maple syrup, homemade preserves, baked goods, fruit wines, and artisan products like soaps, candles, and home décor."
The vendors are complemented by regular Kinsmen BBQs, special events, live entertainment, food-related demonstrations, and family activities.
"This market is known for really showcasing what Cornwall and SDG have to offer," said Mr. Racine. "Every week visitors will get a mix of great good, community groups activities, local artists, and talented musicians. We guarantee there will be something for everyone."
The Cornwall Kinsmen Farmers' Market is supported by Foodland Ontario, the City of Cornwall, St. Lawrence College, and Farmers' Markets Ontario.
Those interested in becoming a vendor, community table exhibitor, or weekly volunteer at the Cornwall Kinsmen Farmers' Market should contact using their Facebook page or email info@cornwallkinsmenfarmersmarket.ca.
Additional information
For more information and updates on the Cornwall Kinsmen Farmers' Market, please check out their website and Facebook page.
#ExploreCornwallON
Looking for other fun things to do in Cornwall? Check out the Explore section of our website for other fun-filled activities to keep you busy. Better yet, consider extending your stay with a night at one of our great accommodations!
Got a question?
Got questions? Need recommendations? We're here to help! Call or text us at 613-938-4748 or email us at info@cornwalltourism.com and we'll be pleased to help you with any questions you may have!
Also make sure to check us out on Facebook and Instagram for updates and more great reasons to visit Cornwall!