Cornwall Pride returns this weekend
July 3, 2019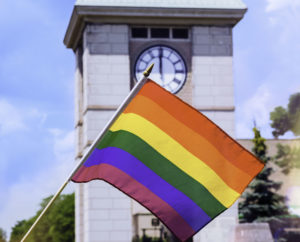 Cornwall Pride is back with a weekend full of fun activities!
From Friday, July 5th to Sunday, July 7th, the annual Pride festival returns with three days of activities and entertainment. Every year Diversity Cornwall organizes a myriad of successful Pride events that promote inclusivity, equality, diversity and acceptance. Last year, the 2SLGBTQ+ community and 2SLGBTQ+ allies participated in pride events in large numbers, and this year will be no different. Diversity Cornwall expects to see large numbers of people from Cornwall, Ottawa and Montreal and other areas in Eastern Ontario.
Diversity Cornwall's Liz Quenneville says: "We know the importance of a visible 2SLGBTQ+ community, and we are very proud to be able to promote inclusivity in Cornwall and surrounding area. We also recognize the importance of including the Akwesasne community and the counties of Stormont, Dundas and Glengarry in our Pride celebrations. We have arranged a free shuttle from Akwesasne to Cornwall for the festival and are advertising as widely as possible to ensure that the communities that surround us know that they are more than welcome to come too!"
Diversity Cornwall organized the Pride Festival as free to attend or by donation to ensure that cost is not a barrier to participation and that the festival is affordable for everyone.
The Pride Parade will take place on Sunday, July 7th at 11 am at CCVS and will head down Fifth Street, then left on Pitt Street and continue to Lamoureux Park. Other events include The Gender Illusionists, Creation Workshop: Pride Edition, Pride Brunch, Pride Piercings by Liz, and Cornwall Pride Worship Services. Each of these events foster acceptance and highlight how important it is to have 2SLGBTQ+ safe spaces.
Pride Parade and Festival Details
Pride Parade – Sunday, July 7th
Parade starts at 11am CCVS school and ends at Lamoureux Park
Pride Festivities in the Park – Sunday, July 7th
Diversity Cornwall has so much planned for this years festival – including a community BBQ, bouncy castle, face painting, yoga, crystal healings, live performances, and much more!
■ 11 am – 12 pm: Parade and welcome from Diversity Cornwall and Mayor Bernadette Clement
■ 12 pm – 1 pm: Drag Queen Story Time
■ 1 pm – 2 pm: Drag Queen and King Performances
■ 2 pm – 3 pm: So You Think You Can Drag
■ 3 pm – 4 pm: Open Mic and musical performances
■ 4 pm: Closing
Other Pride Events
Pride Gala: The Gender Illusions – Friday, July 5th
Friday at 8:30 at The Hangover Bar
The Gender Illusions will kick off pride in style with performances by Cleo Longaria Starr, Lulu Bell Starr, Misty Mac and Yaya Torres and host Dynasty Starr.
For more info, visit their Facebook event page.
Creation Workshop Pride Edition – Saturday, July 6th
Drop in to Creation Workshop between the hours of 10 and 4 and paint pride themed art for only 5$. All proceeds go to Diversity Cornwall.
For more info, visit their Facebook event page.
Pride Brunch with Diversity Cornwall – Saturday, July 6th
Join Diversity Cornwall and celebrate Pride over brunch at Sheep's Head's Bistro. It starts at 11am. Call and reserve your spot before they're all gone!
For more info, visit their Facebook event page.
Pride Piercings by Liz – Saturday, July 6th
Piercings by Liz is a proud sponsor of Cornwall Pride and is offering 50% off of pride jewelry on Saturday and anyone who stops by can pick up a 10$ voucher for any piercing or jewelry (14.95 or more); the vouchers have no expiration date.
For more info, visit their Facebook event page.
Cornwall Pride Worship Service – Saturday, July 6th
The Trinity Anglican Church is hosting a Pride Worship at 4pm the diversity in our community.
For more info, visit their Facebook event page.
For more information on the 2019 Pride Festival, check out the Facebook event page.
For additional information on Diversity Cornwall check out their Facebook page.
Additional Events
Looking for other fun things to do in Cornwall? Make sure to check out our Events page for info on upcoming events in the area!
Stay with Us!
Planning to explore Cornwall? Extend your stay at one of our many great accommodations! For a listing of local accommodations, click here.
Additional Information
Planning a visit to Cornwall? Cornwall Tourism can help. Email us at info@cornwalltourism.com to request a copy of our Visitor Guide or contact us at (613) 936-0842. You can also stop by our seasonal Visitor Information Centre inside the Cornwall Community Museum in Lamoureux Park. The Museum is located at 160 Water Street West, just steps away from the children's splashpad and play structure. Free parking is available immediately north of the Museum along Water Street.
The seasonal Visitor Information Centre is open seven days a week (8:30 am to 4:30 pm) through the summer months.
Follow Cornwall Tourism on Facebook
Follow Cornwall Tourism on Twitter
Article by Chelsea Jodoin
www.CornwallTourism.com