Cornwall region on display at Outdoor Adventure Show
March 13, 2019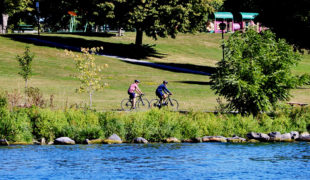 When it comes to outdoor experiences, the Cornwall region has it all. From fishing and camping to cycling, golf, scuba diving, race events and more, there are memorable experiences for virtually every adventure seeker.
Cornwall Tourism and the St. Lawrence Parks Commission will be spreading that message at the Outdoor Adventure Show this coming weekend at the Palais des congrès in Montreal.
The Outdoor Adventure Show is Quebec's largest showcase of outdoor gear and adventure travel experiences and it is well attended by people who are active in running, cycling and water sports. It marks the fourth year that Cornwall has been an exhibitor at the show.
"Our goal is to get more visitors to come visit Cornwall and explore all that we have to offer," said Kevin Lajoie, Tourism Coordinator. "Visitors who discover Cornwall are often amazed at how green our city is and they are impressed with our parks, trails and waterfront."
Camping and beaches are another popular topic for show attendees.
"We have so many amazing outdoor amenities in the region and the Outdoor Adventure Show allows us to connect directly with potential visitors," said Susan LeClair, Acting Director, Marketing & Customer Experience with St. Lawrence Parks Commission. "It's a great venue to showcase our campgrounds, beaches and attractions along with the many other great outdoor offerings in the area."
The exciting two-day event offers a large selection of over 200 exhibits offering information on a wide range of outdoor activities and travel destinations. Popular show features include a whitewater demo pool with dynamic kayak, scuba demonstrations and other interactive exhibits.
Cornwall's booth number is 1308.
In addition to promoting cycling opportunities and the Waterfront Trail, the Outdoor Adventure Show also offers a chance to highlight the many outdoor race events hosted in Cornwall such as the Cornwall Triathlon, St. Lawrence Marathon, the MS Bike Tour, Cornwall Waterfest and numerous fishing tournaments.
"These events attract a large number of visitors to Cornwall every year and there's an opportunity to build on that," said Mr. Lajoie.
New Maps and Guides
Attendees will be able to pick up a copy of the 2019 Visitor Guide, hot off the presses, in addition to cycling maps and other useful information.
Related story: Plan your trip to Cornwall with the 2019 Visitor Guide
Show Hours and Tickets
The Outdoor Adventure Show takes place during the following times:
Saturday, March 16  10am – 6pm
Sunday, March 17 10am – 5pm
Tickets are $12 for adults and $10 for seniors and youth 12 – 17. Kids 11 and under are free.
Aboout Cornwall Tourism
Cornwall Tourism is reponsible for marketing Cornwall to attract new visitors. The office maintains a visitor information centre year-round at the Civic Complex and a seasonal visitor centre at the Cornwall Community Museum in Lamoureux Park.
About the St. Lawrence Parks Commission
The St. Lawrence Parks Commission, an agency of the Government of Ontario, operates facilities in 16 municipalities stretching from Kingston to the Quebec border, including Upper Canada Village, Fort Henry National Historic Site of Canada (and a UNESCO World Heritage Site); Kingston Penitentiary Tours, Skywood Eco Adventure, Crysler Park Marina, Upper Canada Golf Course, Upper Canada Migratory Bird Sanctuary and 14 campgrounds and beach day-use picnic areas including the Long Sault and 1000 Islands Parkway.
For more information on the St. Lawrence Parks Commission, please click here.
Additional Events
Looking for other fun things to do in Cornwall? Make sure to check out our Events page for info on upcoming events in the area!
Stay with Us!
Planning to explore Cornwall? Extend your stay at one of our many great accommodations! For a listing of local accommodations, click here.
Additional Information
Planning a visit to Cornwall? Cornwall Tourism can help. Email us at info@cornwalltourism.com to request a copy of our Visitor Guide or contact us at (613) 933-0074. You can also stop by the Cornwall Tourism office inside the Cornwall Civic Complex at 100 Water Street East. The office is open Monday to Friday from 8:30 am to 4:30 pm.
Follow Cornwall Tourism on Facebook
Follow Cornwall Tourism on Twitter
Article by Bob Peters