Cornwall trails featured on AllTrails.com
March 14, 2019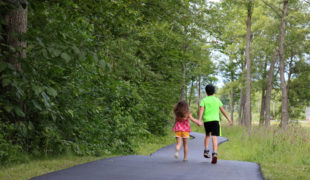 Trails in and around Cornwall are now included on the popular trails website AllTrails.com.
AllTrails helps people explore the outdoors with the world's largest collection of detailed trails, which includes trail reviews, photos and maps crowdsourced from a community of 10 million people. The number of local trails on the site has doubled in recent days.
"We have some amazing trails in the Cornwall area," says Rick Croney, President of the Cornwall Multisport Club. "Being active is very important, and fortunately our trails allow people of all ability to be outdoors and enjoy our forests, rivers and countryside."
You can start searching Cornwall area trails using the following link:
https://www.alltrails.com/canada/ontario/cornwall
In addition to maps, one of the best features of AllTrails are user reports on trail conditions that help visitors and local enthusiasts alike plan their day. The information is also available in the AllTrails App for smartphone users. Here are links to specific local trails:
Guindon Park Loop
Lamoureux Park Loop
Waterfront Trail: Cornwall East
Waterfront Trail: Cornwall to Long Sault
Gray's Creek Trail
Summerstown Trails Red Trail
Summerstown Trails Green Route
Many of the area trails are connected with the world-famous Waterfront Trail, which offers great scenic vistas of the St. Lawrence River. The Civic Complex is a convenient starting point for people looking to head out for day outdoors, offering free parking and public restrooms.
More information on hiking, cycling and running activities, as well as information on City parks, is available on CornwallTourism.com.
About the Cornwall MultiSport Club
The Cornwall Multisport Club seeks to encourage people in Cornwall and the Seaway Valley to participate in physical activities, with a focus on running and sports related to triathlon. Club membership is approximately 200 people and is open to all. The Club holds approximately 15 events a year, including two trail running events.
For more information on the Cornwall Multisport Club, please click here.
About Alltrails.com
Founded in 2010, AllTrails operates industry leading websites and mobile applications that provide over 10 million outdoor enthusiasts with the tools and information they need to get outside, record their adventures, and share them with friends & family.
For more information on AllTrails, please click here.
Additional Events
Looking for other fun things to do in Cornwall? Make sure to check out our Events page for info on upcoming events in the area!
Stay with Us!
Planning to explore Cornwall? Extend your stay at one of our many great accommodations! For a listing of local accommodations, click here.
Additional Information
Planning a visit to Cornwall? Cornwall Tourism can help. Email us at info@cornwalltourism.com to request a copy of our Visitor Guide or contact us at (613) 933-0074. You can also stop by the Cornwall Tourism office inside the Cornwall Civic Complex at 100 Water Street East. The office is open Monday to Friday from 8:30 am to 4:30 pm.
Follow Cornwall Tourism on Facebook
Follow Cornwall Tourism on Twitter
Article by Bob Peters