Cornwall welcomes the hockey world for WJAC
May 26, 2021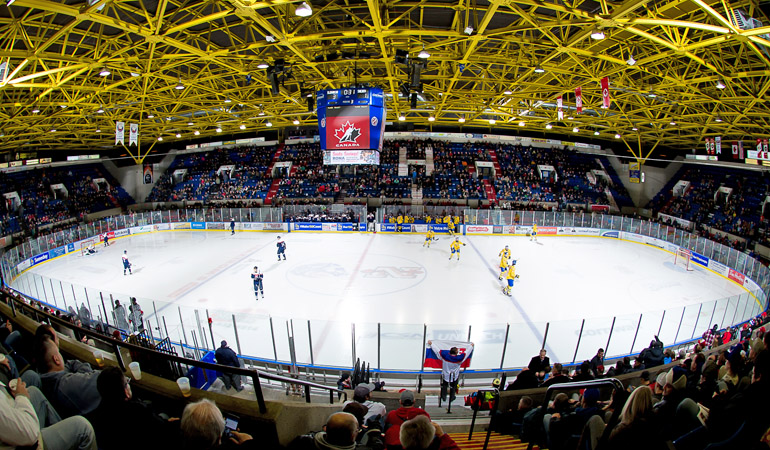 For many, it's a symbol of national pride – the fabled Team Canada jersey, worn by a select few who carry their country's passion for hockey onto the ice to face off against international foes like Russia and the United States.
Cheering on Team Canada is a tradition in homes across the country, especially around the holidays. And this holiday season, that tradition will hit closer to home than ever before as Cornwall hosts the 2021 World Junior A Challenge (pandemic regulations permitting) from December 12-19 at the Cornwall Civic Complex.
The showcase event features some of the best Junior A level hockey players in the world. Hosted in partnership with Hockey Canada, the Canadian Junior Hockey League (CJHL) and Hockey Eastern Ontario (HEO), the WJAC will see five teams battling it out for gold – Canada East, Canada West, USA, Russia and the Czech Republic.
The tournament has quickly become a highlight for NHL scouts – and for good reason. Junior A hockey is often overlooked as a breeding ground for future pro players but reality tells a different story. The WJAC alone has produced more than 230 NHL draft picks, including 36 first-rounders – think names like Jost, Lindholm, Pastrnak, Schwartz, Tarasenko, Turris, Vasilevski and Yakupov. Closer to home, the Junior A Cornwall Colts have sent more than 100 players on to the professional ranks, including NHLers like Chad Kilger, Jesse Winchester, Yann Danis and Cam Barker, to name a few. Needless to say, the competition will be world-class.
For the participating players – who get to wear that fabled jersey and play in front of 200-plus NHL scouts – it's an opportunity of a lifetime. Grant Cooper can attest to that. The Cornwall native and former Colts star captained Team Canada East at the 2015 WJAC. He counts the bonds built with teammates and the quality of the hockey as among the best of his junior hockey career.
"It was an all-time experience for me to put the (Canada) colours on, it's something I will remember for the rest of my life," said Cooper, who went on to a successful college career with the Clarkson Golden Knights. "Nothing compares to putting that maple leaf on and playing for the home crowd."
For hockey fans, it will be a chance to see some amazing hockey and enjoy the forever hockey rivalries of Canada-Russia and Canada-USA at an affordable price.
"It's an amazing opportunity to be able to see this level of hockey right in our own backyard," said Lorne Taillon, Supervisor, Recreation & Programming with the City of Cornwall. "It's going to be a great celebration of hockey and we want the entire community to be a part of it."
Cornwall was originally selected to host the 2020 WJAC however the pandemic forced Hockey Canada to cancel events. The tournament in Cornwall was pushed back to 2021 and the extra time has only served to generate more anticipation for the event. It will be just the second time that an Ontario community hosts the tournament.
"It is an exciting time for the City of Cornwall, and we know the local host committee is already hard at work to ensure it delivers a world-class event for all participants," said Dean McIntosh, vice-president of events and properties with Hockey Canada. "We look forward to returning to Ontario for the World Junior A Challenge and leaving behind a legacy to support the growth and development of minor hockey in the region."
In addition to the on-ice events, the committee is looking to build other interactive activities and off-ice experiences to add to the event. Officials are currently working behind the scenes on various aspects of the event and ticket packages will go on sale soon.
This article originally appeared in Cornwall Living magazine. Interested in getting a complimentary copy? Contact us!
Additional information
For more information on the 2021 World Junior A Challenge, please visit the Hockey Canada website.
Play it safe!
We all have a part to play in combating the spread of COVID-19. Residents are encouraged to wear masks, practice frequent hand washing and physical distancing, and stay home if not feeling well. For the latest guidelines and restrictions related to COVID-19, please visit the Eastern Ontario Health Unit website.
#exploreCornwallON
Looking for other fun things to do in Cornwall? Check out the Explore section of our website for other fun-filled activities to keep you busy. Better yet, consider extending your stay with a night at one of our great accommodations!
Got a question?
Got questions? Need recommendations? We're here to help! Call or text us at 613-938-4748 or email us at info@cornwalltourism.com and we'll be pleased to help you with any questions you may have!
Also make sure to check us out on Facebook and Instagram for updates and more great reasons to visit Cornwall!