Cycling enthusiast launches Summer Solo-Stice Challenge
May 26, 2020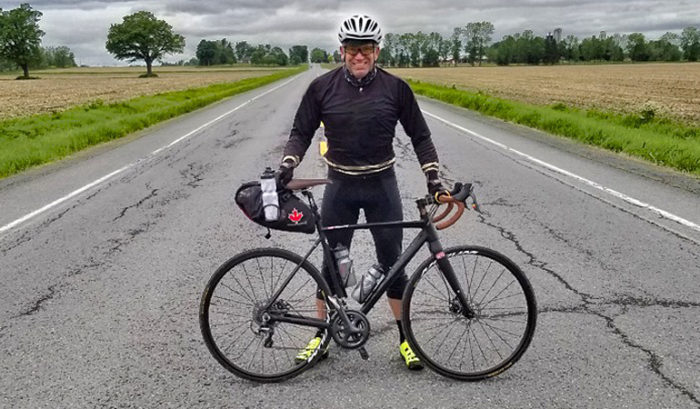 Local cyclist Joe McNamara is using the longest day of the year to undertake the longest solo cycling trek of his life.
For this year's Summer Solstice on Saturday, June 20th, McNamara will embark on the Summer Solo-Stice Challenge, a 250-kilometre trek around the perimeter of SDG. He plans to start at 5:30 am at the clock tower in Lamoureux Park and complete a giant circuit through Stormont, Dundas and Glengarry, with a goal of wrapping up before sundown at 8:49 pm.
"This will be my longest solo ride for sure," said McNamara, who created the challenge to fill the void of group cycling events due to COVID-19 and physical distancing protocols currently in place.
An avid cyclist, McNamara has completed countless cycling trips of various distances. Last year, his business Bike Centric created a series of guided cycling tours to breweries and wineries in the region. As for a personal best, he recalls once completing a 230-kilometre ride with a group.
"But riding in a group is different. You're drafting, resting," he said.
This time around, other than one supported stop in Moose Creek, McNamara will be going it alone. He's started training for the big day and he plans to use a technique of stopping to drink every 10 minutes and eating every 15 minutes.
"I'm going to try to break it down in 10-minute blocks," he added.
To add to the challenge, McNamara is inviting people to support it in one of two ways. The first is to make a donation to his personal challenge at CanadaHelps.org. The funds collected will be donated to the Rotary Club of Cornwall Sunrise Foundation and distributed evenly to local food banks in the city.
Challenge yourself!
For those in search of a challenge themselves, McNamara is inviting them to complete a Summer Solo-Stice Challenge of their own.
"It can be 10 kilometres or 100 kilometres, whatever they think their challenge is," McNamara added.
People can register for $25 on the Bike Centric website and receive a Summer Solo-Stice Challenge patch, sticker and certificate for taking part. A portion of the entry fees will also be donated to the Rotary Club to support local food banks.
Participants are encouraged to share photos of the adventure on social media using the hashtag #solosticechallenge.
You'll also be able to follow McNamara's progress through the Bike Centric Facebook page.
For more information on the event, please click here.

Article by Kevin Lajoie
www.CornwallTourism.com