Degrassi High reunion highlights CAPE 2019
April 15, 2019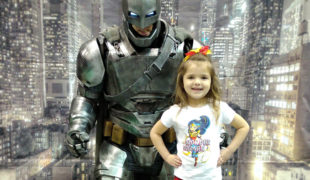 Cornwall's biggest pop culture event is set to return with a mix of otherworldly fun – and a big piece of Canadiana.
The 2019 edition of Cornwall & Area Pop Event (CAPE) will feature a reunion of Joey Jeremiah, Caitlyn and Snake from the hit TV show Degrassi High, a teen drama that was must-see fare for a whole generation of Canadians. Joey (Pat Mastroianni), Caitlyn (Stacie Mistysyn) and Snake (Stefan Brogren) are three of the most recognizable faces of the franchise, which has continued for over three decades in various incarnations.
"We're really excited to have the three of them join us this year," said Carol Sauve, the co-organizer of CAPE along with her partner Randy from Fantasy Realm. "For many people, Joey, Snake and Caitlyn were a fixture of their teen years. It connected with teens because the show dealt with real issues in a way not many other shows did."
Other celebrities set to appear at CAPE include actors Lew Temple (The Walking Dead, Rob Zombie's Halloween, Once Upon a Time in Hollywood) and Scout Taylor-Compton (Rob Zombie's Halloween, The Runaways).
"When CAPE was created, it was to deliver to a similar event that the larger cities have been doing," said Mrs. Sauve. "We wanted to bring the same feel here and that included having celebrities, some that you likely would never see in this area."
Along with celebrity appearances, CAPE will also feature two full days of exhibitors, superhero and sci-fi star appearances, cosplayers, artists, celebrity panels and more. The event runs on Saturday, April 27th and Sunday, April 28th at the Benson Centre.
"It's a fun and affordable show for families," said Mr. Sauve. "Admission is free for all children 12 and under so long as they're with an adult."
A wide variety of exhibitors will be on hand selling everything from vintage games, toys and comics to custom art, costumes and artisan items. Along the way, showgoers will be greeted by costumed heroes and pop culture figures of all sorts. Many attendees also choose to get in the spirit by dressing in costume themselves.
"So many people and families dress up and they just love posing for pictures," Mrs. Sauve said. "It adds a whole level of fun and excitement to the event."
The local couple hosted the first CAPE event in 2015 after identifying a need for a comic con type event in Cornwall. Attendance has grown each year, with the 2018 event attracting more than 6,000 visitors over two days.
Ticket information
Admission to CAPE is as follows:
Weekend Admission – Includes both Saturday and Sunday – $25 ($30 at the door)
Saturday ONLY – $18 ($20 at the door)
Sunday ONLY – $12 ($15 at the door)
Child Admission – free for children 12 & under (no ticket required)
Tickets are available online at www.cornwallpopevent.com and in person at Fantasy Realm (227 Pitt Street, cash, debit and credit card accepted at the store). Tickets will also be available at the Benson Centre on the day of the event.
Additional Events
Looking for other fun things to do in Cornwall? Make sure to check out our Events page for info on upcoming events in the area!
Stay with Us!
Planning to explore Cornwall? Extend your stay at one of our many great accommodations! For a listing of local accommodations, click here.
Additional Information
Planning a visit to Cornwall? Cornwall Tourism can help. Email us at info@cornwalltourism.com to request a copy of our Visitor Guide or contact us at (613) 933-0074. You can also stop by the Cornwall Tourism office inside the Cornwall Civic Complex at 100 Water Street East. The office is open Monday to Friday from 8:30 am to 4:30 pm.
Follow Cornwall Tourism on Facebook
Follow Cornwall Tourism on Twitter
Article by Kevin Lajoie
www.CornwallTourism.com