Discover Cornwall's amazing arts scene at Art Walk
August 18, 2022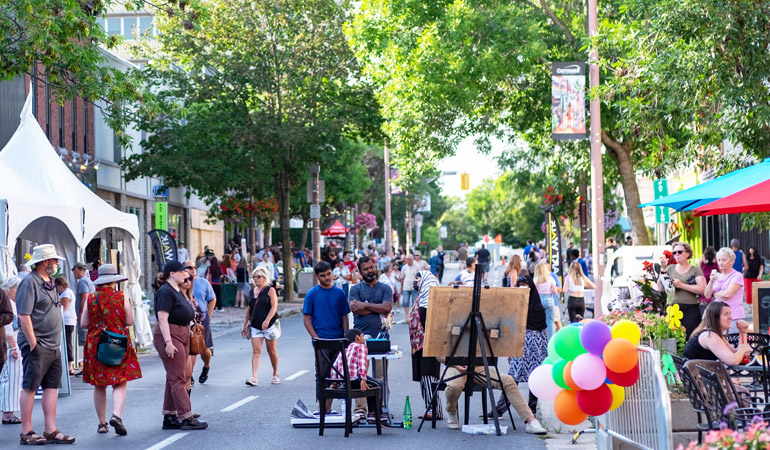 Cornwall's amazing arts scene will come alive with Art Walk this Friday, August 19th in Downtown Cornwall.
From 4pm to 8pm, Pitt Street will transform in a pop-up arts district complete with visual artists, buskers, performers, live concerts and more.
"Our first Art Walk in June was extremely successful and we're hoping for a great turnout again this time around," said Mandy Prevost, a member of the Art Walk organizing committee. "It's the perfect chance to discover some amazing local artists while also exploring our beautiful Downtown area."
Pitt Street will be closed from Second Street to the entrance to the Cornwall Square with various makers and artists lining the street. The fun continues further south to the Historic SDG Jail will there be a variety of family-friendly activities taking place on the front lawn.
"Dozens of artists, musicians, makers and community groups are taking part in the event," Prevost added. "It's a true community celebration."
In addition to the Art Walk activities, various shops and restaurants will be open for those looking to enjoy a drink and a meal on a patio or to seek out that special product or gift.
Live music
Enjoy live performances on two stages! The Art Walk music lineup features:
Pommier Stage (corner of Pitt and Second streets)
4pm Keegan Larose
5pm Katie Ditschun
6pm Subtle
7pm Lone Wolf & The Spaghetti Corner Band
Mexi's Stage (in front of Mexicali Rosa's)
4pm Too Young To Die
5pm Senorita Sin
6pm Castles
7pm Escape The Population
Performers
First Stage
4pm Powell School Of Dance
4:45pm Juggling with Michael Kosowan
5:30pm A one man comedy, juggling, acrobatic show with Rockabilly Joe
6:30pm Traditional Dance with Feryn King One of Akwesasne's best hoop dancers
7:15pm Fire and LED Performer, Buugeng specialist, resident Ninja, Solstyx
Mexi's Stage
4:45pm Spoken Word with Sandra McNeill
5:45pm Belly Dance with Yafa Goawily
Family Zone
Stop by the Historic SDG Jail to enjoy some fun family activities during Art Walk!
4pm Group drama with Miss D
5pm Dancing with Magoo
5:45pm Theatrical mask building with Miss D
7pm Puppetry with Michael Kosowan
Additional information
For additional information and updates on Art Walk, please check out the Art Walk Facebook page.
#ExploreCornwallON
Looking for other fun things to do in Cornwall? Check out the Explore section of our website for other fun-filled activities to keep you busy. Better yet, consider extending your stay with a night at one of our great accommodations!
Got a question?
Got questions? Need recommendations? We're here to help! Call or text us at 613-938-4748 or email us at info@cornwalltourism.com and we'll be pleased to help you with any questions you may have!
Also make sure to check us out on Facebook and Instagram for updates and more great reasons to visit Cornwall!