Discover treasures at Artisans in the Park
July 4, 2019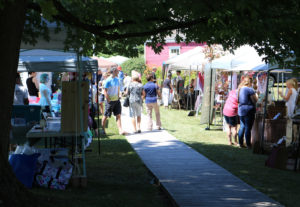 The Lost Villages Museum gives visitors a chance to discover a unique piece of our area's history. This Saturday, museum visitors will also have a chance to discover a unique treasure or two.
The historical attraction just minutes west of Cornwall will play host to Artisans in the Park on Saturday, July 6th from 11 am to 4 pm. The picturesque museum grounds will play host to a pop up market featuring more than 60 vendors scattered amongst the historic buildings on site.
The vendors will be selling a variety of items including clothing, jewelry, skincare and home décor products, flowers, giftware, knits, toys, woodworks and much more. The Lost Villages Historical Society will be hosting a BBQ on site, making it a perfect outing for the entire family.
"We have amazing artisans in our area and it will give visitors a chance to see all that we have to offer," said Debbie Poirier-Burns of W3G & Co. (We 3 Girls), the organizers of the event. "There will definitely be something for everyone."
It marks the second year that Artisans in the Park is held at the Lost Villages Museum. Year one was a huge success and organizers are expecting an even bigger turnout this time around.
"I'm always looking for unique venues to host events in and have always loved the Lost Villages Museum. The grounds there are so beautiful and although it is just outside the city, it does feel much more removed than that," added Mrs. Poirier-Burns.
The event will be held rain or shine. The Lost Villages Museum is located on Fran Laflamme Drive just off Highway 2 and there is ample parking on site.
For additional information on the event and vendors who are attending, please check out the Facebook event page.
About the Lost Villages Museum
Founded in 1992, the museum serves to document and preserve the aspects of life within the Lost Villages of the St. Lawrence Seaway. The museum consists of ten heritage buildings, moved and restored to Ault Park from The Lost Villages and surrounding townships by the Lost Villages Historical Society. The museum is open 10 am until 5 pm seven days a week from mid-June until the end of September. Admission is free however donations are gratefully accepted.
For more information on the museum, please click here.
Additional Events
Looking for other fun things to do in Cornwall? Make sure to check out our Events page for info on upcoming events in the area!
Stay with Us!
Planning to explore Cornwall? Extend your stay at one of our many great accommodations! For a listing of local accommodations, click here.
Additional Information
Planning a visit to Cornwall? Cornwall Tourism can help. Email us at info@cornwalltourism.com to request a copy of our Visitor Guide or contact us at (613) 936-0842. You can also stop by our seasonal Visitor Information Centre inside the Cornwall Community Museum in Lamoureux Park. The Museum is located at 160 Water Street West, just steps away from the children's splashpad and play structure. Free parking is available immediately north of the Museum along Water Street.
The seasonal Visitor Information Centre is open seven days a week (8:30 am to 4:30 pm) through the summer months.
Follow Cornwall Tourism on Facebook
Follow Cornwall Tourism on Twitter
Article by Kevin Lajoie
www.CornwallTourism.com