Downtown Cornwall hosts vintage market on Oct. 23
October 5, 2021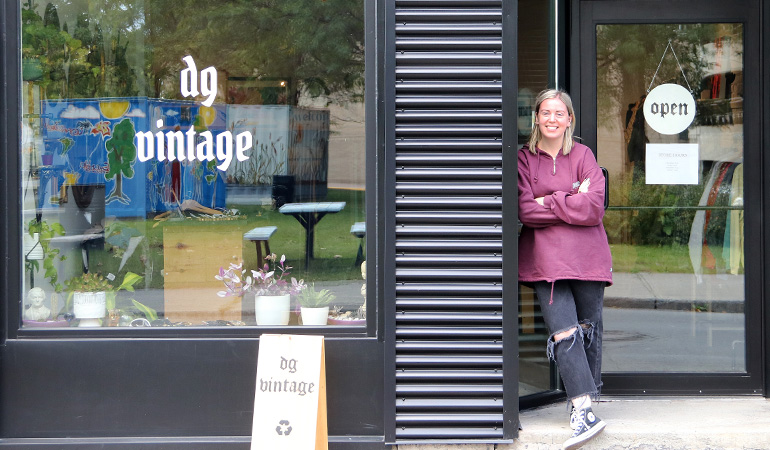 Downtown Cornwall is going vintage for a day.
The Vintage Collective is set to bring a day of retro fun to the Downtown on Saturday, October 23rd, with a total of 9 vintage vendors setting up in the Cornwall Square pop-ups and neighbouring dgvintage on First Street East for a one-day pop-up market that can't be missed.
For organizer and dgvintage owner Dayna Gunn, it's a chance to both celebrate her business and showcase the commercial district she calls home. The event coincides with the first anniversary of her business, and she decided to celebrate the occasion with the thing she knows best – vintage gear. It will also be a chance to showcase the Downtown's great mix of retailers and restaurants with shoppers who are checking out the pop-up market.
"It's going to be a fun event that can hopefully be continued for years to come," she said. "There's so many markets in other cities. I thought it would be nice to bring something like this to Cornwall."
In addition to dgvintage, shoppers will be able to check out vendors like Weft & Whorl, Thrift Sola, Royal 22 Thrifts, Delirium Thrift, Thrifting with Brady, Outlast Vintage, The BackWhen Shop, Wrong Generation and The Daly Thrift.
"There's 10 vendors total and there will be lots to choose from," Gunn said. "Every vendor has their own specific style. There will be band tees, Disney and Looney Tunes stuff, sports apparel, wrestling things and more, plus a lot of fall pieces."
The Vintage Collection will run from 11 am to 5 pm.
Explore Downtown Cornwall!
Planning to check out the Vintage Collective market on Saturday, October 23rd? Make sure to save some time to shop, dine and explore throughout Downtown Cornwall. Get your retail and food fix and enjoy the wide array of shops and restaurants in the Downtown area and the Cornwall Square. Or unwind at one of the spas or gather a group of friends and challenge yourselves to an escape room at Rush Hour Escapes. You can also unwind with an overnight stay at the charming Chesley's Inn!
For more information and inspiration, check out the Downtown Cornwall website.
Got a question?
Got questions? Need recommendations? Cornwall Tourism is here to help! Call or text us at 613-938-4748 or email us at info@cornwalltourism.com and we'll be pleased to help you with any questions you may have!
Also make sure to check us out on Facebook and Instagram for updates and more great reasons to visit Cornwall!
Play it safe!
We all have a part to play in combating the spread of COVID-19. Residents are encouraged to wear masks, practice frequent hand washing and physical distancing, and stay home if not feeling well. For the latest guidelines and restrictions related to COVID-19, please visit the Eastern Ontario Health Unit website.
#exploreCornwallON
Looking for other fun things to do in Cornwall? Check out the Explore section of our website for other fun-filled activities to keep you busy. Better yet, consider extending your stay with a night at one of our great accommodations!