EK Market showcases local food products
March 19, 2023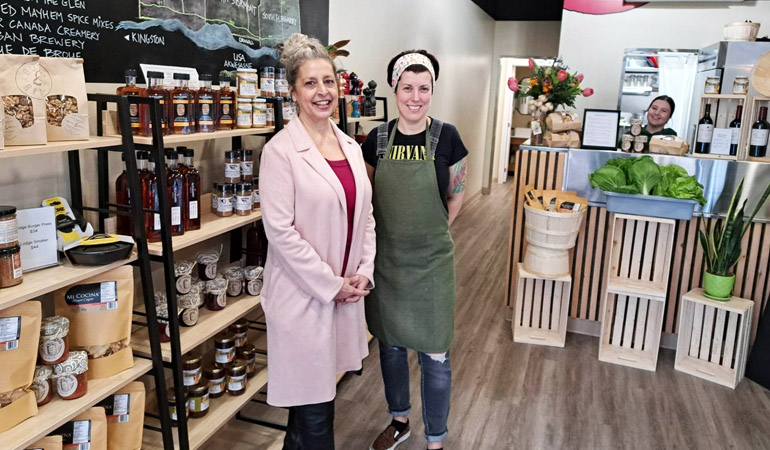 Things are cooking Downtown, especially with the opening of the EK Market, the latest venture from Stacia Carlton, owner of Essential Kitchen.
EK Market is a small market and bistro that provides a single stop for local foods. It is located at 150 Pitt Street beside Schnitzels European Flavours.
"It has always been the plan to have a separate space for the wonderful locally sourced food products," said Carlton. "We are happy to offer our customers better and more consistent retail hours and at the same time some great fresh food to grab and go or dine in!"
EK Market has an impressive lineup of delicious products make locally in SDG and area. These include organic milk, pasture raised eggs, sourdough bread, organic granola, local jams, honey, spices and salsa. The market also offers local beer and wine to go.
"We are excited to work with local producers and showcase these wonderful fresh products," said Carlton. "We have opened a little earlier than anticipated so watch our line up grow as we add more producers."
EK Market is also offer freshly prepared meals – and the menu mirrors that of Sugoi Ramen & Sushi Bar which previously occupied the space.
"We know that people love their Asian flavours and we are happy to feed that tradition," Carlton added. "We will be adding additional menu items as we continue to evolve the Market."
Stacia Carlton opened the Essential Kitchen Cooking Studio on Pitt Street in July 2022. The studio has become a popular destination for group outings looking for a unique culinary experience.
"EK Market helps us serve our retail customers while we concentrate on our Studio business, which is often booked solid for private parties," said Carlton. "We are happy to support our fellow merchants and businesses and make Downtown a vibrant destination for both residents and visitors."
Additional information
EK Market is located at 150 Pitt Street and can reached by phone at (343) 585-2520 or online on their Facebook page or Instagram account.
#ExploreCornwallON
Looking for other fun things to do in Cornwall? Check out the Explore section of our website for other fun-filled activities to keep you busy. Better yet, consider extending your stay with a night at one of our great accommodations!
Got a question?
Got questions? Need recommendations? We're here to help! Call or text us at 613-938-4748 or email us at info@cornwalltourism.com and we'll be pleased to help you with any questions you may have!
Also make sure to check us out on Facebook and Instagram for updates and more great reasons to visit Cornwall!