Concert Series returns with Ensemble La Cigale
April 1, 2019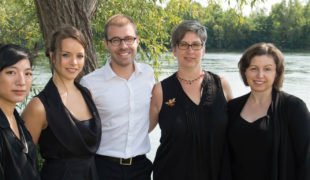 Ensemble La Cigale invites audiences to discover the roots of Celtic music with Rocky Road to Dublin: Baroque Music of the Celtic Countries, a program of Baroque music of the Celtic countries performed on period instruments. They open the spring concert season of the Cornwall Concert Series, on Saturday, April 6th, at Aultsville Theatre.
The cicada develops slowly, secretly, over a period of years before presenting itself in style with a song which everyone can hear and appreciate. In the well-known fable, the ants belittled the cicada for doing nothing but sharing its music. Perhaps they forgot how the cicada's song lightened their labour and allowed them to dream, to rejoice, to love and also to weep…
Formed in 2006 in Montreal, the early music Ensemble La Cigale takes its name from this most musical insect and hopes in turn to share its music with anyone who would like to listen.
Ensemble La Cigale specializes in music of the Renaissance and Baroque eras performed on period instruments. The ensemble adds its own arrangements and improvisations on Welsh and Scottish airs to create a joyous fusion of ancient and modern styles.
Their programs explore the links between literature and music, and bring to light little-known masterpieces. The musicians of Ensemble La Cigale have been praised for the warmth of their performances and for the complicity they share with each other and their audiences.
In 2013, the ensemble released a first CD, Tiorba Obbligata, with an unusual program of early Italian works featuring the theorbo as an obbligato instrument. Several pieces on the CD were world premiere recordings, and Ensemble La Cigale is one of the rare groups to make this repertoire their own. Tiorba Obbligata was nominated in Québec for a Prix Opus in the category "Disc of the Year—Medieval, Renaissance, Baroque and Classical music." The ensemble's second disc, Up in the Morning Early—Baroque Music from Celtic Countries, was released to international critical acclaim in January 2017 on Halifax's Leaf Music label.
The ensemble is often featured in concert series and festivals and pursues a wide variety of musical activities. Ensemble La Cigale has been featured at the Montreal Baroque Festival, at an exhibition opening at the Canadian Museum of Civilization in Gatineau, and for festivities at the Montreal Botanical Gardens. In their quest to share their musical passion, the group has performed outdoors on Rigaud Mountain (International Walking Day), in a gallery of modern art, and in a Montréal beauty salon. Musicians from the group have also had the pleasure of introducing music lovers to Baroque music (in a concert-conference at La Grande Bibliothèque du Québec) and have performed for conferences of the Cercle interuniversitaire d'étude sur la République des Lettres (CIERL, Université Laval) devoted to interdisciplinary research bringing together literature, iconography and music. The ensemble has produced programs of music traversing the ages from Spanish Baroque chaconnes to songs by the Rolling Stones.
In 2015, the ensemble received support from the Canada Arts Council to perform at the Agapé sacred music festival in Saltillo, Mexico. The ensemble has since returned to Mexico several times to perform at the Festival Cultural Sinaloa and the Festival Cultural Amado Nervo in Nayarit.
Ticket Information
The concert is held at Aultsville Theatre with an 8 pm start time.
Single tickets ($35) for all performances may be purchased in advance (cash or cheque) at these locations: TD Canada Trust, Cornwall Square and TD Canada Trust, 61 Ninth Street East; Caisse Populaire de Cornwall, 840 Pitt Street; and Jolly Tours, Eastcourt Mall. Single tickets and subscriptions may also be purchased at the door on the evening of the performance subject to availability.
About the Cornwall Concert Series
The Cornwall Concert Series has been a part of Cornwall and the surrounding communities for thirty years. The series' mandate is to enrich the cultural life of Cornwall by bringing the highest calibre of musical entertainment to the city at an affordable cost. All concerts are presented at Aultsville Theatre. The series is sold by subscription. To encourage an appreciation of music and the arts in young people, free tickets are offered to elementary and high school music and drama students through local teachers, schools and music festivals.
Series Finale
The Cornwall Concert Series closes out the season on Saturday, May 11th with pianist Charles Richard-Hamelin and Montreal Symphony Orchestra Concertmaster Andrew Wan. This duo continue their journey to perform and record the complete cycle of ten Beethoven sonatas for violin and piano, as they prepare for the second volume of this trilogy. Their first album in the trilogy was nominated this year for a Juno Award for "Best Classical Album: Solo or Chamber".
For further information, please visit www.CornwallConcertSeries.com.
Additional Events
Looking for other fun things to do in Cornwall? Make sure to check out our Events page for info on upcoming events in the area!
Stay with Us!
Planning to explore Cornwall? Extend your stay at one of our many great accommodations! For a listing of local accommodations, click here.
Additional Information
Planning a visit to Cornwall? Cornwall Tourism can help. Email us at info@cornwalltourism.com to request a copy of our Visitor Guide or contact us at (613) 933-0074. You can also stop by the Cornwall Tourism office inside the Cornwall Civic Complex at 100 Water Street East. The office is open Monday to Friday from 8:30 am to 4:30 pm.
Follow Cornwall Tourism on Facebook
Follow Cornwall Tourism on Twitter
Photo credit: Andre Chevrier