Artisans in the Park- Summer Edition
Aug 13, 2023
Sunday, August 13th from 10am until 4pm
The Lost Villages Museum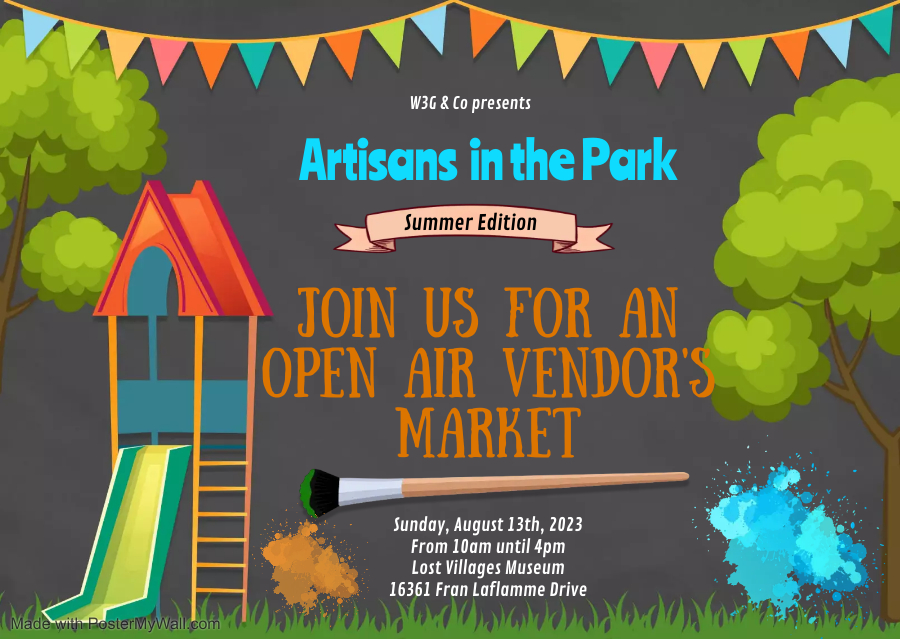 Mark your calendars open air Market is coming soon!
Join us on August 13th at Lost Villages Museum for our Summer edition Artisans in the Park!
Meet the vendors
Amaryllis kids, Apothekerry soap, Au naturel soy candle, Author – deb zabloski, Author – emily murray, B is for book – usborne, Bbcr mobile barista, Back porch stitching, Berkana designs, Birdie blocks, Cats & crows, Charleston  botanicals, Charming buttons, Cherish yourself, ckfx3d, Color street, Cornerstone organics, Dreambaked florals ,Dubois crafts, Emilie's candles, Epicure, Everleigh's creations, Forever green, Glamourously crafty, Harry tatters art co., Homemade minky and cotton blankets, Hummingbird gifts, Julu silver, Just a bit knotty, Kayla's crochet creations, Kneedlecraft knights, Laverdure lightblocks, Linda lue's craft shack, Lost villages candle co., Lovelier still
Ir woodworks, Maison bondoux, Mala nights, My recycled dreams, Nancy stitches, Nicolle, Once upon a coffee shop
Our fox valley, Paperboat farms, Peach tree & co., Pen & ink guys, Pretty cool pooches, ruby treats, Sagely made
, Sassy threads, Scentsy ,Spirit roots co., Sweetlegs, Tamara's toys, The art shop by lindsey, Tocara, Tom's pantry
Trillium hill, Tupperware, Verre l'infini, Winchester springs apiary ,Windchimes & stuff
Additional information
For additional information check out their Facebook page!
We're here to help!
Got questions? Looking for recommendations? Cornwall Tourism is here to help! Text us anytime at 613-938-4748 and we will be happy to assist with any questions you might have.
#ExploreCornwallON
Looking for other fun things to do in Cornwall? Check out the Explore section of our website for other fun-filled activities to keep you busy. Better yet, consider extending your stay with a night at one of our great accommodations!