Bridges to Better Business
Oct 19, 2022
Wednesday, October 19th
Saunders Hydro Dam Visitor Centre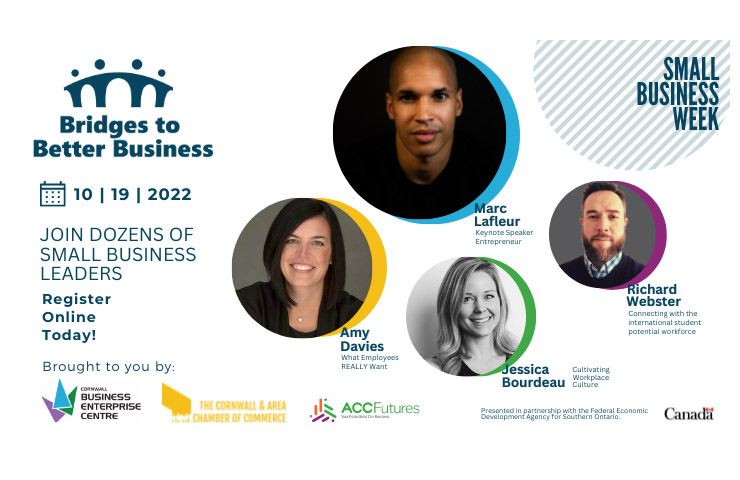 Bridges to Better Business is back with a full day of guest speakers to celebrate Small Business Month on Wednesday, October 19, 2022. This is the 9th year that the event has been organized by the Cornwall Business Enterprise Centre, the Cornwall Chamber of Commerce, and ACC Futures.
The event promises to be a dynamic full-day of information for business owners across the region to network, with opportunities to learn from industry experts and be inspired by keynote speaker Marc Lafleur.
"Building three businesses from the ground up has given me a deep understanding of what it takes to succeed in today's competitive business landscape," says Marc Lafleur. "I'm excited to be sharing my story in Cornwall."
Marc Lafleur is an entrepreneur from Cornwall that has been recognized for his business achievement by CBC, the Globe and Mail, Harry Rosen and most notably Dragon's Den. He took his company truLOCAL from a start-up to an eventual successful $16.7 million acquisition — all within five years.
"With the day starting off with an inspiring presentation from Mr. Lafleur, Bridges will be a great opportunity for all businesses to gain insights and build best practices," says Shauna Baggs, Business Consultant with the Cornwall Business Enterprise Centre. "Consider this event an investment in your business!"
Register now
Bridges to Better Business will take place Wednesday, October 19th from 8 am to 3 pm at the Saunders Hydro Dam Visitor Centre. There is a small a small fee to attend to help cover the cost of food.
Registration is limited to 75 seats. Register Early online to avoid missing out!
Additional information
For additional information on Bridges to Better Business, please check out the Cornwall Business Enterprise Centre website.
We're here to help!
Got questions? Looking for recommendations? Cornwall Tourism is here to help! Text us anytime at 613-938-4748 and we will be happy to assist with any questions you might have.
#ExploreCornwallON
Looking for other fun things to do in Cornwall? Check out the Explore section of our website for other fun-filled activities to keep you busy. Better yet, consider extending your stay with a night at one of our great accommodations!