Canada Day
Jul 1, 2023
Saturday, July 1st
Lamoureux Park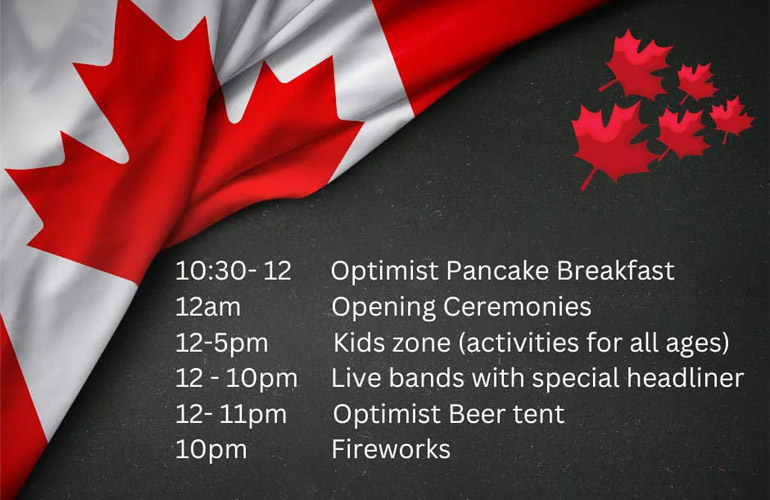 Celebrate Canada's birthday with the annual Canada Day celebrations in Cornwall's Lamoureux Park!
Enjoy a full day of live music, children's activities, food and much more fun while spending the day along the beautiful St. Lawrence River.
The fun will start with an Optimist Club pancake breakfast from 10:30 am to 12 pm and opening cermonies at the Lion's Club bandshell at 12 pm.
Come check your favourite local musicians at the Lion's Club Bandshell playing all afternoon right before our headliner, Wide Mouth Mason!
Opening ceremonies: 12:00-12:15pm
The O'Neils: 12:15-1:15pm
Grace & Eric Willison: 1:30-2:15pm
Parliament of Owls: 2:15-3:00pm
The County Lads: 3:15-4:15pm
Big Mule: 4:35-5:35pm
Escape the Population: 5:55-6:55pm
The Chesterfields: 7:15-8:15pm
Wide Mouth Mason: 8:45-10:00pm
Enjoy activities for all ages in the kids zone from 12 pm to 5 pm along with a full day of free live entertainment from 12 pm to 10 pm at the bandshell. There will also be a variety of food vendors and the Optimist beer tent will run from 12 pm to 11 pm with a beautiful fireworks display capping off the evening at 10 pm.
We're here to help!
Got questions? Looking for recommendations? Cornwall Tourism is here to help! Text us anytime at 613-938-4748 and we will be happy to assist with any questions you might have.
#ExploreCornwallON
Looking for other fun things to do in Cornwall? Check out the Explore section of our website for other fun-filled activities to keep you busy. Better yet, consider extending your stay with a night at one of our great accommodations!