Cornwall Culture Fest
Sep 23, 2023
Saturday September 23 from 10am until 4pm
Lamoureux Park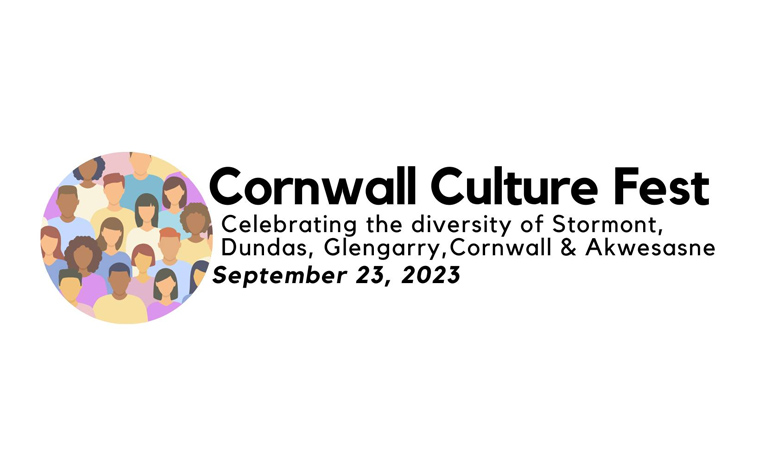 On Saturday, September 23rd at Lamoureux Park in Cornwall, Ontario, the community is coming together to host the first Annual Cornwall Culture Fest: Celebrating the diversity of Stormont, Dundas, Glengarry, Cornwall and Akwesasne (SDGCA).
The
Social Development Council of Cornwall and Area
,
Cornwall Police Service
and other local community agencies are proud to be part of the organizing committee of the Cornwall Culture Fest, a vibrant and diverse event celebrating our community's cultural heritage and diversity. We are excited to request your participation in this inaugural festival
Registration and sponsorships
The Cornwall Culture Fest will promote cultural understanding and unity through live performances, exhibitions, workshops, local cuisine and vendors.
*Please ensure registration for your engagement is submitted by August 1st.
Performers: Showcase your talents on our main stage!
Workshops: Interact with groups and teach them something new!
Food Vendors: Treat us all with your yummy fares from around the globe!
Booths: Showcase your culture, provide information, sell your product, promote your company or organization!
Corporate or non-local Booth: For organizations with an annual revenues of more than $500,000.00 or outside of Cornwall, SDG and Akwesasne. You will be invoiced $100.00.
Sponsorships: Help make this festival the best it can be!
Engage the community and demonstrate your commitment to supporting cultural diversity and enriching residents' lives by building strong cross-cultural connections and fostering goodwill. Help contribute to the success of this inaugural event. We welcome sponsorships of all sizes; all sponsors will be promoted on our social media page!
In order to ensure that this event is equitable, we have decided to waive table fees for small business and non-profit organizations from within the SDGCA area. Although we welcome participation by all groups who are committed to celebrating diverse cultures, corporations and groups outside of SDGCA will be charged a $100 fee for a table.
We thank everyone who applies; however, selection for performances, workshops, and booths will be based on curating a diverse representation from across cultures in our community.
Additional Information
For additional information contact the Organizing Committee for the Cornwall Culture Fest at cornwallculturefest@gmail.comcheck. You can also visit the SDCC's Facebook page and website. We hope to celebrate diversity and cultural understanding with your support.
#exploreCornwallON
Looking for other fun things to do in Cornwall? Check out the Explore section of our website for other fun-filled activities to keep you busy. Better yet, consider extending your stay with a night at one of our great accommodations!
Got a question?
Got questions? Need recommendations? We're here to help! Call or text us at 613-938-4748 or email us at info@cornwalltourism.com and we'll be pleased to help you with any questions you may have!
Also make sure to check us out on Facebook and Instagram for updates and more great reasons to visit Cornwall!