Disco Wheels 2
May 13, 2023
Saturday, May 13th      5:30 pm – 11 pm
Cornwall Square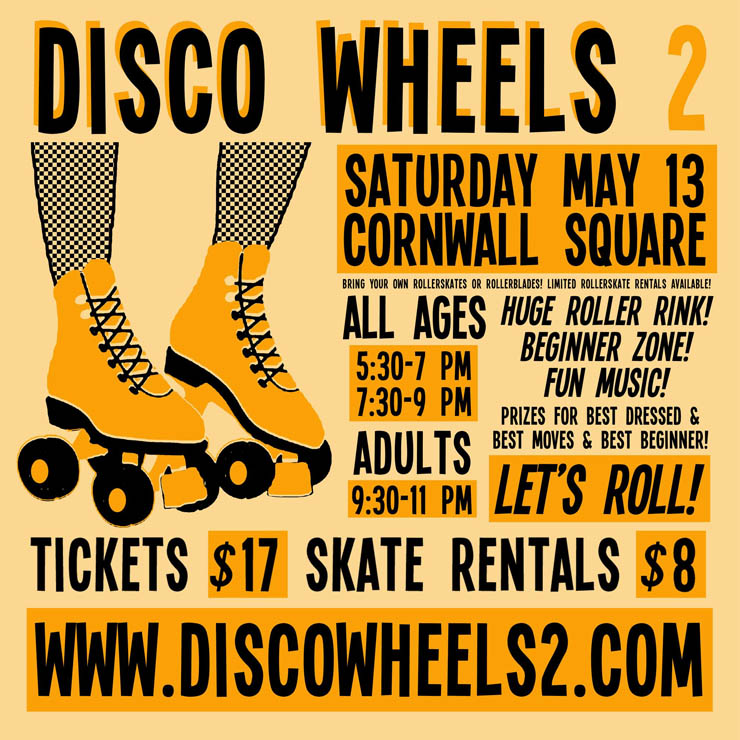 Are you ready for this, Cornwall? Let's roll!
Don't miss Disco Wheels 2, a one-night, one-time rollerskating extravaganza! Experience Disco Wheels—the legendary roller rink that operated in the late '70s and early '80s— reinvented for Cornwall in 2023!
The event will take place on Saturday, May 13th at Cornwall Square. Bring your own rollerskates or rollerblades! There will be a limited number of rollerskate rentals available.
There will be three different time slots:
All Ages
5:30 pm – 7 pm
7:30 pm – 9 pm
Adults
9:30 pm – 11 pm
Ticket information
Tickets are $17 and skate rentals are available for $8 (limited amounts).
Get your tickets on the Disco Wheels 2 website!
Additional information
For additional information on Disco Wheels 2, make sure to check out the event page on Facebook.
We're here to help!
Got questions? Looking for recommendations? Cornwall Tourism is here to help! Text us anytime at 613-938-4748 and we will be happy to assist with any questions you might have.
#ExploreCornwallON
Looking for other fun things to do in Cornwall? Check out the Explore section of our website for other fun-filled activities to keep you busy. Better yet, consider extending your stay with a night at one of our great accommodations!